Hi, my name is Dino. I'm Sierra's dog. I know what you are thinking, where did Sierra go? Well, while she is away on business, I am taking over her blog! I am no expert in writing, but I will do my very best. A lot of people do not know this, but beagles can be very talented. Yesterday, I was able to knock over the garbage can in my kitchen and devour last night's leftover chicken in under five minutes! And I only threw up twice! Don't worry, I am a "good boy" most of the time. It was just too easy not to! I don't think my owners have a large enough can for their trash; they never seem to empty it, but it is always full.
Today, I want to talk to you about myself. In particular, I am going to tell you some of my favorite things about being a dog. I know what must be going through your head, "Dogs are lazy; they sit at home all day." That, in fact, is a conspiracy. Dogs are not lazy. It takes a tremendous level of both concentration and skill to chew through an entire bone or try to communicate with the UPS guy. Just the other day, I was trying to notify him that his shoe was untied but for some reason, he did not seem to care. In fact, after tripping on the sidewalk and spilling his coffee on my driveway, he sped off like a crazy person. Cats, however, are complete morons, but we can save that topic for another day.
Without further hesitation, here is a list of why being a dog is pretty incredible! If you enjoy you what you read, please leave me a comment below! Also, follow me on Instagram: @dinoth2006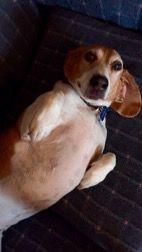 -When you get a really great belly rub. My favorite spot is the couch!
-When your favorite blanket is always there to keep you warm and cozy. Blankie and I go way back.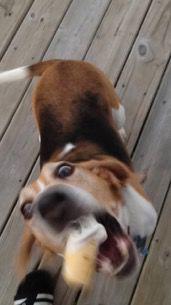 -When it's finally cheat day after a long week of making gains in the gym. Whether its Barkin' Bacon or ice cream, count me in! (don't count the calories though, yikes!)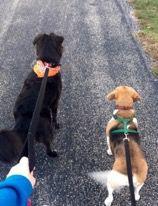 -Getting to spend the day with that special someone. Does this harness make me look fat? I was really nervous.
-When your owner gets home and is ready for "snuggle time." I miss Sierra the most, if I am being honest.
-Long walks! I prefer the beach, but downtown was very nice for the evening. Ever since my surgery, I cannot go as far as I would like to, but that is no excuse to sit at home all day! (that is only my Monday-Friday schedule)
-Enjoying a lazy day at home. Relaxing on the hammock, eating strawberries out of the garden (don't tell Sierra, she still thinks it's the bunnies) and sipping on some ice cold lemonade are some of my favorite "lazy day" activities!
-Naps of course!
-Taking a long drive. Listening to music and driving really helps me destress after a particularly tough day of cooking, cleaning and taking care of the family.