Donald Glover, also known by his stage name, Childish Gambino, has recently been on a Frank-Ocean-like hiatus since his Sophomore album, Because the Internet. You may know this man from his appearances in the movies, The Martian, Magic Mike XXL or even through his role as Troy from the comedy series, Community.  By deleting all of his tweets and giving not a peep on his whereabouts, all we knew was that he was working on his own Television special called Atlanta. (Check out the great Migos cameo). ATLANTA PREMIERES ON TUESDAY, SEPTEMBER 6TH.
This man has excited his fans with his multi-talented arsenal through music production, acting, writing, and rapping. Donald Glover does it all!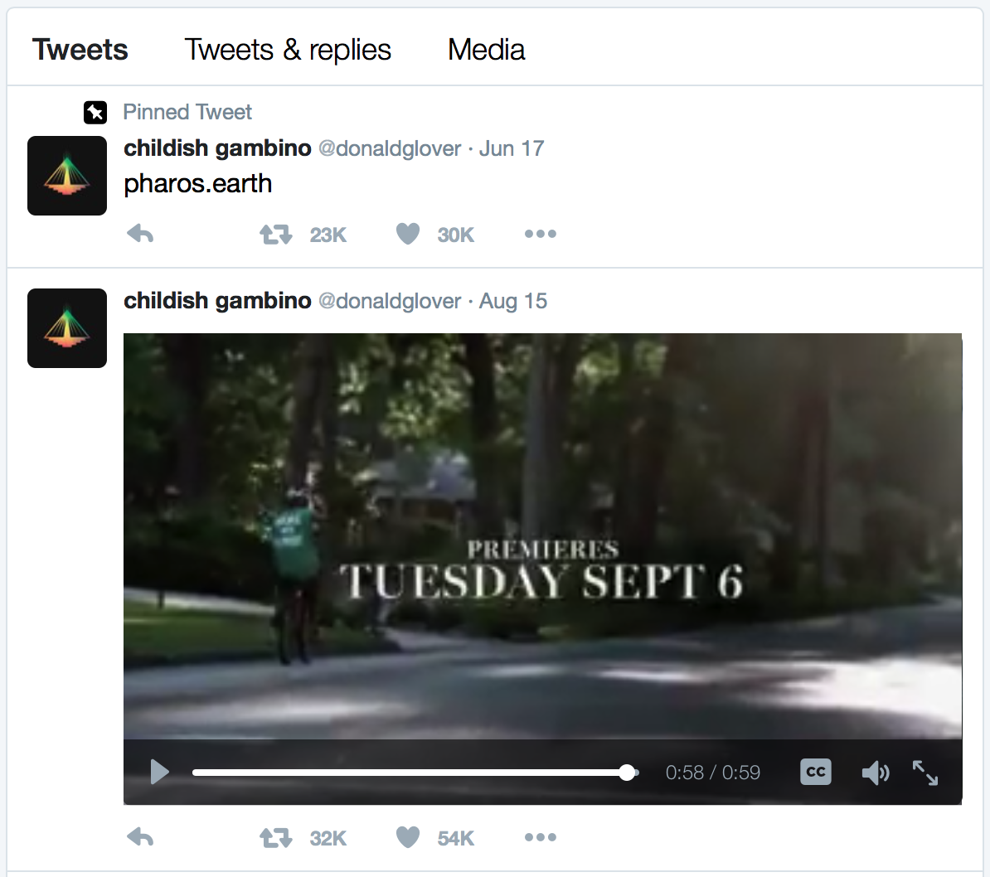 Currently, these are the only two tweets available on his twitter page. Donald Glover has deleted his tweets before but this has been the longest time passing. It seems like he is trying to use the supply and demand law to the full extent. These tweets obviously hold high importance. One addressing his new show, and the other addressing something else… What could "pharos.earth" mean? We will save that for later.
Atlanta is a show about two cousins living in the inner city. Earnest Marks (Donald Glover) is a Princeton drop out who decides to help his cousin, Alfred "Paper Boy" Miles launch his rap career as he struggles with family life and friendship. With the show coming out, Donald Glover drives his career to do something he has always wanted to. As a geeky rap fan, this is the most ecstatic I have been in a long time.
Now, about the other tweet. Earlier this year, Glover tweeted nothing but a link to an app called Pharos and announced that this would be his only performances for the entire year of 2016, again, giving a perfect execution to making his appearances worth more. Inside the app, we learned that Pharos was an innovative and interactive experience. Pharos is a music festival, but not any ordinary music festival. At this presentation, there are rules. Located in Joshua Tree, California at the Joshua Tree Retreat Center, those attending the event over the age of 21 had the option to bring camping equipment and stay within the campgrounds until the event ended. The rules also asked that no audio or video recording equipment to be brought in to withhold and protect any and all unreleased music.
Here is a list of the rules.
 This event took place from September 2nd to September 4th. Childish Gambino wore very exotic clothing as he performed all new music and ran episodes of Atlanta. This is really the most information we know about what actually went on at the festival which makes the whole thing much more exclusive. Childish Gambino is one of my favorite artists because of his plethora of abilities and the way he showcases his art. Tune in to FX on the 6th to see this new show. Now, all we are waiting for is this unheard album.