This Saturday, September 3rd Illinois State University Football is making its way back to Hancock Stadium.  The Redbirds will be facing Valparaiso's Crusaders. This weekend Redbird alumni, family and friends will flood the stadium to support Illinois State.  You've got your Red Alert Pass, hotdogs for grilling, and tailgate spot set. Unfortunately, you've completely blanked on an outfit for the game; fashion student Maddie Willer has all the answers for you.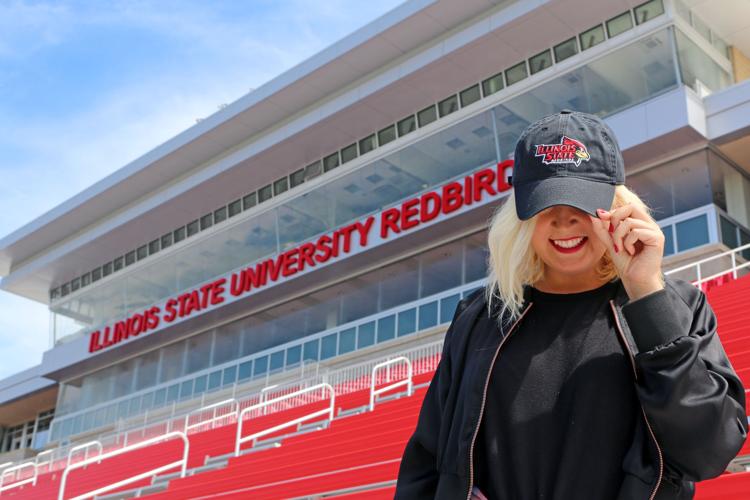 1. Functional Flannels
Look I'm with you; nobody wants to spend an arm and a leg on an outfit that you're only going to wear once.  Game day trends can be so versatile and easy.  Here I have a paired a T-shirt dress with a flannel around my waist.  This look is perfect to transition into fall; for now wear the flannel around your waist and as the weather cools off toss it over your shoulders for a little extra coverage.  With this look I love to toss on one of my bomber jackets for some added style and interest, but feel free to trade the bomber for a denim or leather jacket.  
      2. Trendy T-Shirt
Do you have an oversized ISU t-shirt you lounge in or wear to bed?  Looks like you've found yourself a new game day outfit!  Turning an oversized t-shirt into a dress is effortless and quite possibly the comfiest outfit yet.  Toss on your tee with a pair of sneakers or Converse and you're sporty chic and game day ready. 
      3. New Noodies
Another way to turn fall favorites into warm weather classics is my next featured look.  Everyone's favorite ISU noodie is cozy and classic. I have paired a graphic T-shirt dress with a classic pair of heeled sandals and my all time favorite ISU noodie. A simple way to change an everyday look to game day ready is by adding your favorite redbird hoodie.  Throw it over your shoulders or tie it around your waist and make it your own.  
      4. Redbird Ready
If your stash of redbird spirit wear is a bit less, this is the look for you.  Here I have taken a striped black and white T-shirt dress paired underneath my burgundy bomber.  In my opinion, as long as you're within the color scheme of the team you're cheering for than you are OK in my book.  Grab any red, black, or white clothing and head out the door to support your redbirds.  
       5. Spirit Jersey Style
There is nothing cozier than your Illinois State spirit jersey.  Unfortunately, with the 80-degree plus weather we have been having that is most certainly not a viable option for this weekends football game.   Luckily it looks just as cute wrapped around your waist.  Toss on your favorite graphic tee, a pair of jeans and wrap your spirit jersey around your waist to complete the look.  This way you're still repping your redbirds and keeping cool. 
Similar pieces to those featured can be found through the shoppable links above.