If you are anything like me, then you would most likely live in leggings and an oversized tee if that were appropriate for every occasion.  Since that is not the case I have found the next best thing; mixing casual and fancy pieces.  I love playing around with different pieces in my closet, whether that be mixing prints, textures or in todays case, casual and fancy.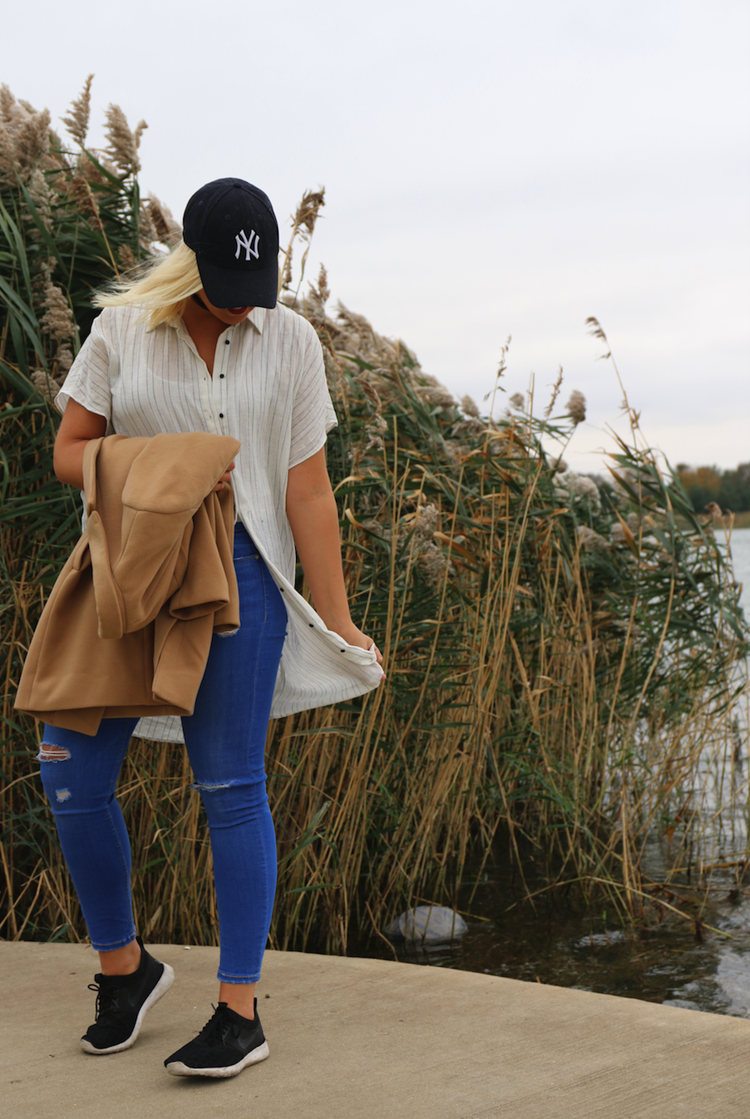 This idea is perfect for creating new looks with things you already have hanging in your closet.  Today I took this stripped collared T-Shirt dress, unbuttoned it and wore it as a button down blouse instead of a dress.  I typically wear this dress with a pair of orange heels and a red lip.  I would never have thought twice about wearing it for fall.  Pairing it alongside these ripped denim jeans and a comfy pair of sneakers gives it a more casual feel.  I layered two different chokers as well; a black lace one and my go-to everyday choker.  Mixing the two makes something old feel new again by giving a whole new look. 
I've built 3 different casual/fancy outfits, which are all available through the shoppable links below. Enjoy!
Outfit 1: Slip dress
| Dress | T-Shirt | Sneakers | Clutch |
Silk slip dresses have been all the rage in fashion lately.  These slinky dresses are the perfect layering piece.  Toss it over a sweater, under a sweater, or even over a classic graphic tee like I have styled here.  Pairing something with a rich texture like silk alongside the contrast of a cotton tee is perfect for fall.  Adding on a fun sneaker and printed clutch effortlessly completes the look. 
Outfit 2: Denim/Fur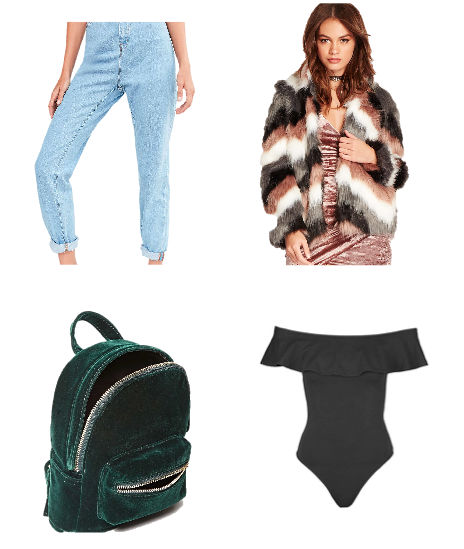 | Jeans | Coat | Backpack | Bodysuit |
Light washed denim is my go-to for a casual day.  To amp up a classic pair of jeans I like to toss on a stylish jacket.  Above I found this trendy diagonal stripped faux fur coat that would be more than ideal for any fall day.  I went simple on top with a just a plain black off the shoulder bodysuit. Topped the look off with an emerald velvet mini backpack for interest and you're ready to take on the day.    
Outfit 3: Joggers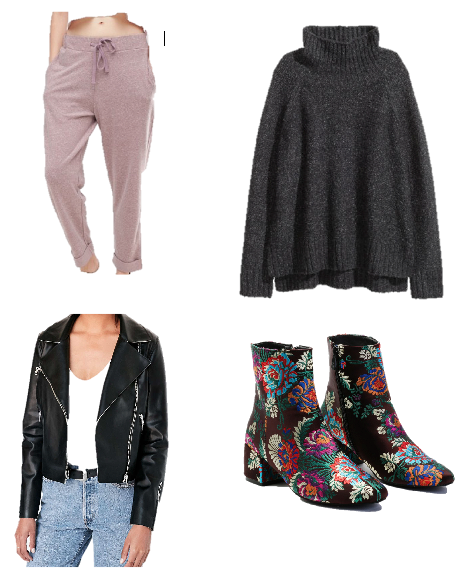 | Joggers | Sweater| Jacket | Booties |
Nothing is better than getting to wear your sweatpants in public, right?  Luckily with all the buzz coming from the athleisure trend, we can do just that.  Style your favorite pair of joggers with a leather jacket and chunky knit sweater for the day.  Add in a pop of color through a printed pair of booties or clutch for the cherry on top.