The model off duty look has been a trend growing in popularity and I am definitely a fan of it. Personally, I create all of my "model off duty" looks based off a balance between athleisure, professionalism and casual wear. I do not like to have too much of one and not enough of the others. If you are having trouble with this trend look up models like Emily Ratajkowski, Karlie Kloss and Taylor Hill and add "street style" at the end for some inspiration. I could easily pair black leggings with a white cropped shirt, throw on a leather jacket and some white Raf Simons and call it my model off duty look but I wanted to create looks with more color and personality for people with different styles so bare that in mind when looking at my examples. I also wanted to have looks that you could recreate with different colors and prints.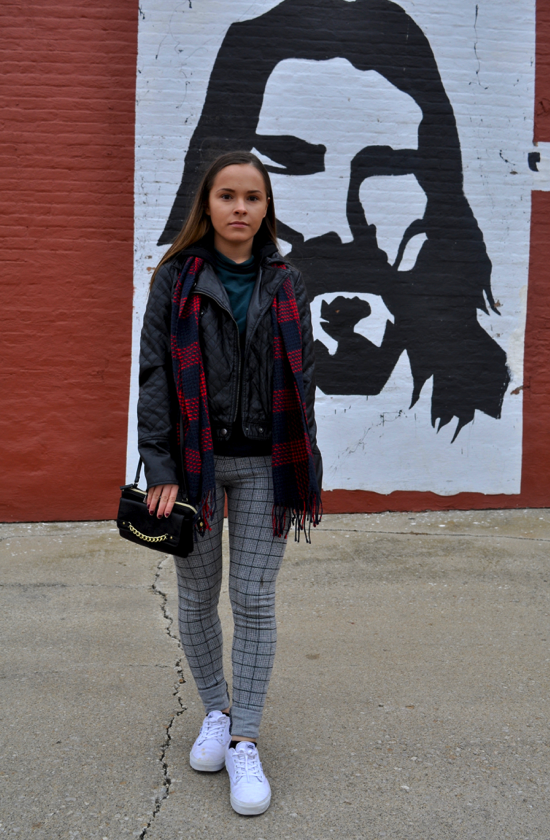 1. Leather Jacket, Scarves and Simple Prints
Leather jackets are a great add on to almost any model off duty look. For this look I paired it with a green mock neck. To add an edge to this look though, I wore printed pants. If pants like these are not in your comfort zone, denim skinnies work just as well. I also chose to add a colorful scarf. Scarves make any outfit look more put together. I also threw on all white tennis shoes to make the look a bit more casual and added a simple black purse because there were already enough prints and colors. If your style is more neutral, I would say to recreate this look with black leggings, a nude or gray turtleneck and a neutral color printed scarf.
2. Blazers over Graphic T's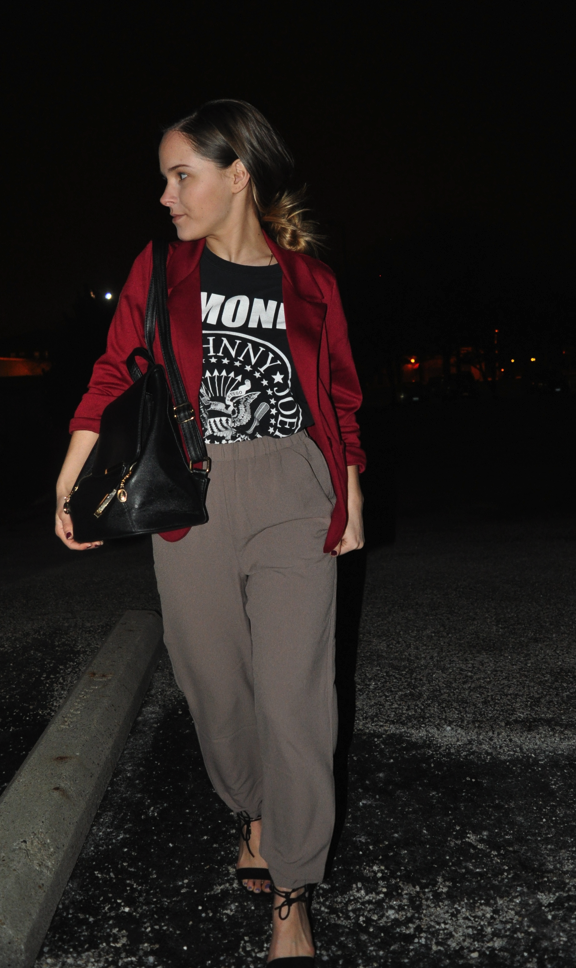 In this look I started with the trousers and created my look around them because I did not want all my looks to have black, form fitting pants. This look can be also be recreated with joggers. I kept the relaxed feel with the Ramones t-shirt but tucked it in for some shape. I paired it with a fun colored blazer to make it look more professional but relaxed the sleeves a bit. Because I did not want this look to be too "off-duty" I added some black heels to finish off the look. This look would also look nice with the fun color in the trousers were olive green and a neutral colored blazer like white-- just not all the color on bottom (pants and shoes) or all the color on top (t-shirt and blazer) there needs to be balance.
3. Relaxed Button-up and Cuffed Denim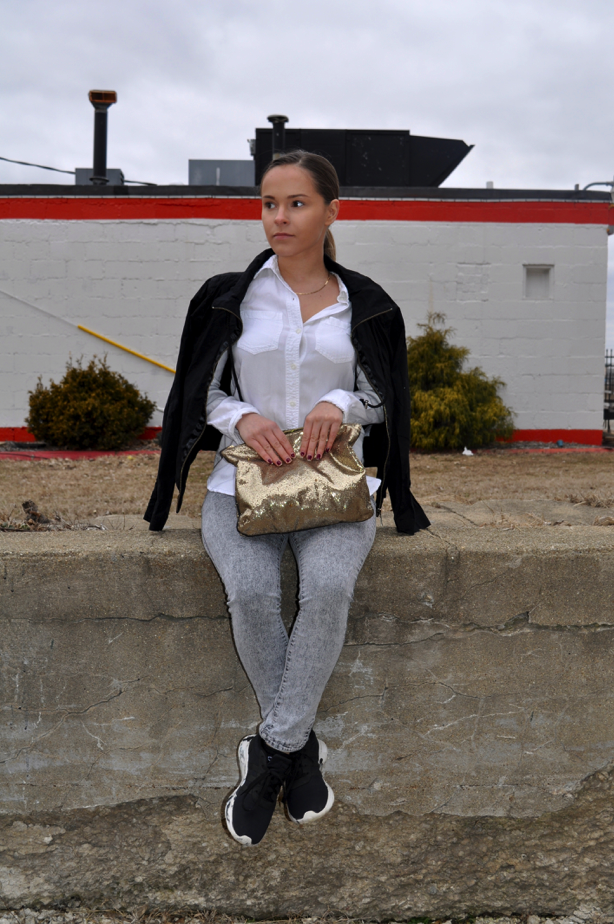 Button-ups are a staple when it comes to the model off duty look. To make it more casual, unbutton the top and bottom buttons and roll up the sleeves a bit. I paired the button up with gray denim and Adidas running shoes to tone down the button up. To add color, I added a sparkly gold clutch as well as to make it more fun. I also slicked my hair back into a low ponytail. To recreate this look to better suit a more neutral style I would recommend black denim skinnies and to cuff the buttoms once or twice. Cuffed denim looks more put together and tailored if you are shorter.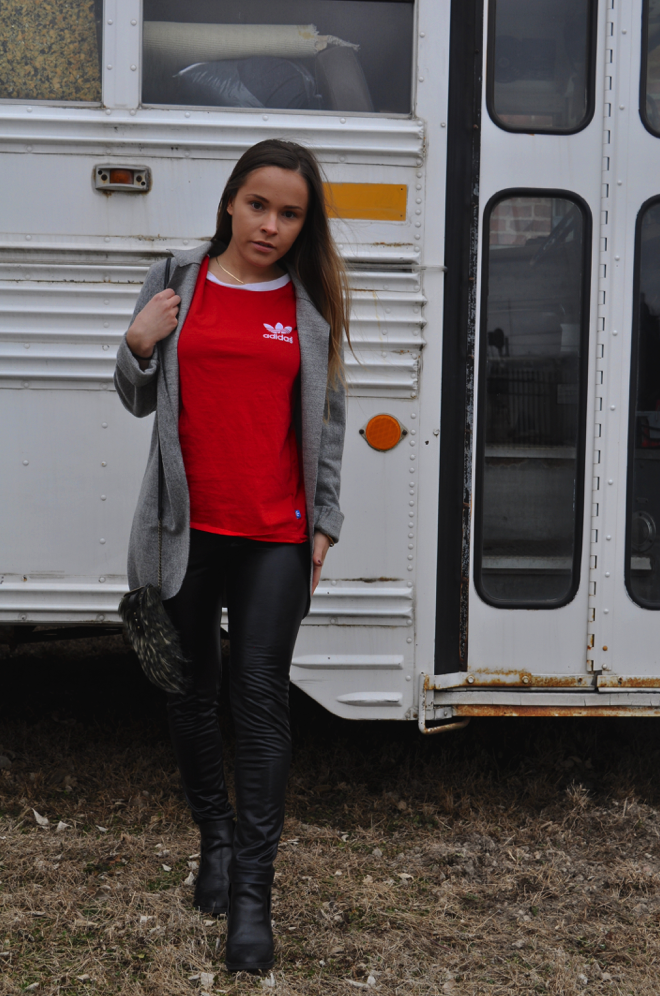 4. Ankle Booties and Light jewelry
For this look I based my outfit off of this red Adidas shirt. Nike, Fila, etc. any sports shirt is a great way to start your model off duty look. I added black pleather leggings and ankle booties so it would not be too much of an athleisure look. If I were to add running shoes and leggings it would be more gym wear. It is hard to see in this photo but I also threw on a structured cardigan to add shape. Lastly, I added a fun, small, fur purse. To dress up this t-shirt I added a gold chain necklace and two gold bangles. Dainty, simple jewelry is a nice way to add the finishing touched onto any outfit you make.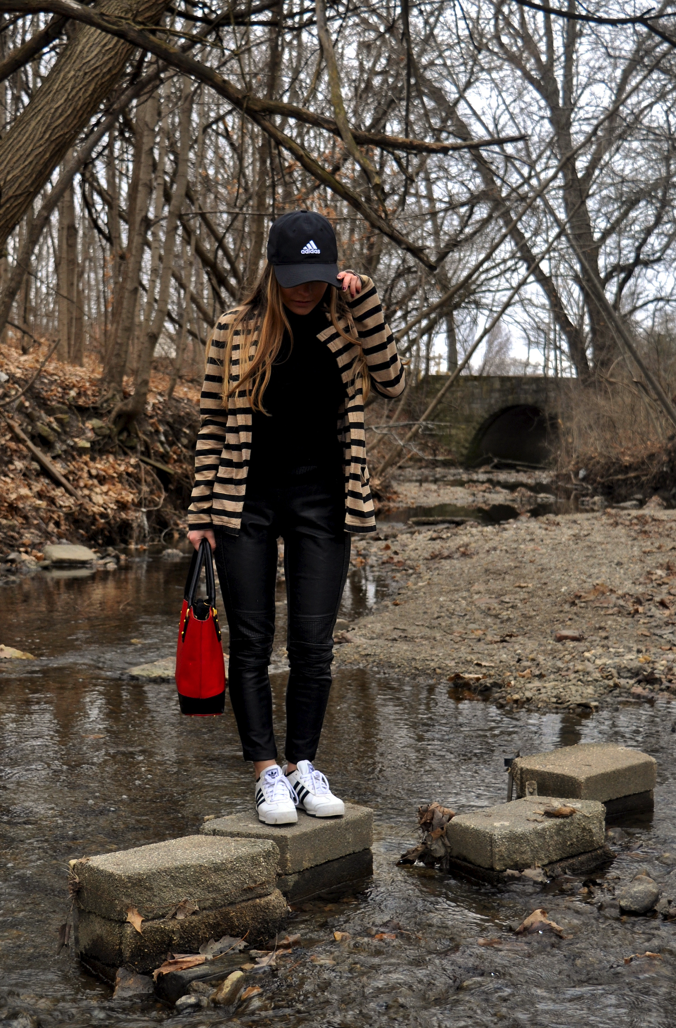 5. Layers and Hats
With all of these outfits you will see that layering is key. It adds extra opportunities to play on your outfit whether it is a mesh athletic jacket, a blazer, a plain cardigan, a denim jacket, a bomber or a leather jacket throwing on an extra layer gives you an opportunity to add personality to your outfit. I took advantage of that here. Unlike all the other looks, I wanted to add a pattern to my layering piece. To add more flare, I wore my bright red purse. In order to make this outfit more athletic I threw on my Adidas Superstars and an Adidas baseball hat. Hats are a great component to the model off duty look. A different way to incorporate a hat is to wear a brimmed hat. Even beanies are great to add.
Model off duty is a trend anyone can incorporate into his or her style. It is a fun way to dress and is perfect for what to wear to class or to wear when running errands. Pretty much all of my shirts and pants combinations can be mixed and matched and still successfully fit this trend.