I like to think of Instagram as a resource for never-ending amounts of inspiration. Whether that be fashion inspiration, lifestyle ideas, creative concepts or inspiration for your next #OOTD, Instagram is one of the best places to scroll through. Though some might not like to admit it, most of us have those few accounts that we cannot live without looking at (stalking) pretty much every day. For me, those tend to be fashion and lifestyle accounts where I can find inspiration, ideas and inventiveness that I can then incorporate into my daily looks and mindset.
Not only do these accounts provide wonderful images that inspire their followers to continue to follow them and look up to them, but most provide links to their personal blogs where you can go to find stimulation for not only fashion or style ideas but lifestyle tips, eating tips, and sometimes even just motivation on how to be the best version of yourself you can be. With that being said, I have created a list of some of my favorite fashion Instagram accounts or bloggers that I continuously get style inspiration from! If you are not following these style accounts, you definitely should add them to your radar.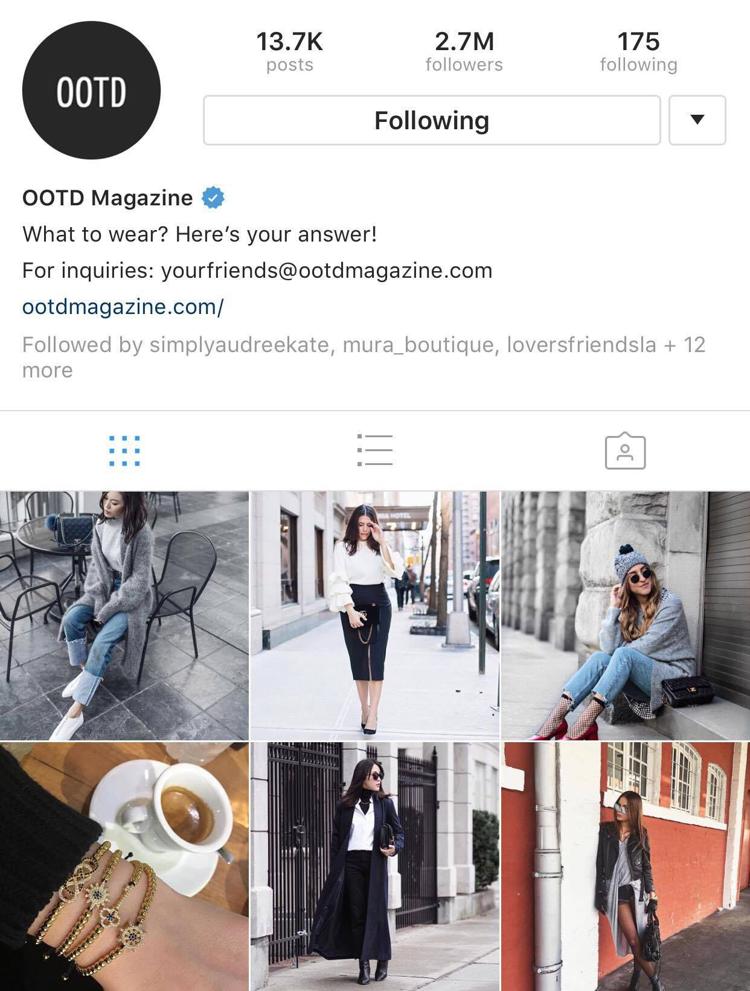 1. OOTD Magazine (@ootdmagazine) – Do you ever feel like you have nothing in your closet, no idea what to wear to a specific event or even just coffee with your bestie? OOTD Magazine has perfect amount of style inspiration for anyone's desires. From business casual to edgy street style, they offer the perfect amount of #OOTD images that will get your creative juices flowing while digging through your closet, trying to find the perfect outfit.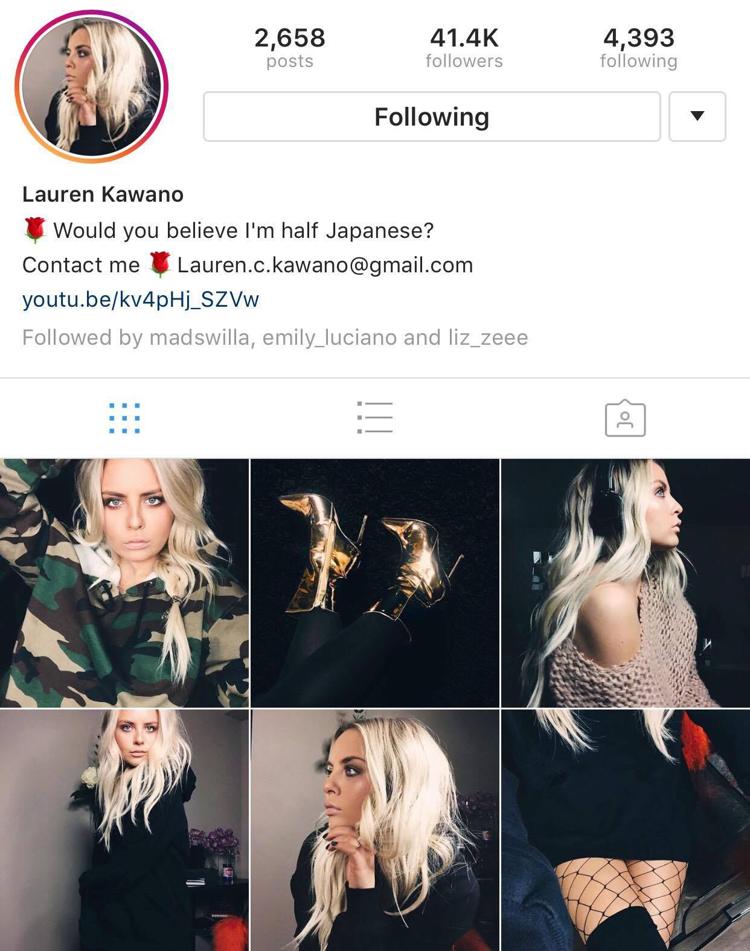 2. Lauren Kawano (@laurenkawano) – This is by far one of my favorite Instagram accounts to follow, perhaps because I adore her style. Lauren provides the perfect blend of edgy but chic vibes with all of her looks and posts. With mostly street style attire, she gives you inspiration for days, literally. All of the looks she posts come with tags on the image of brand names therefore you can purchase some of her exact pieces and then style them to your own liking. Lauren's account is filled with everything effortless, edgy and motivating! Not only are her photos amazing, she also offers a link to her YouTube channel in her bio where she talks about her favorite beauty tips, style inspiration, some of the latest and greatest trends and more.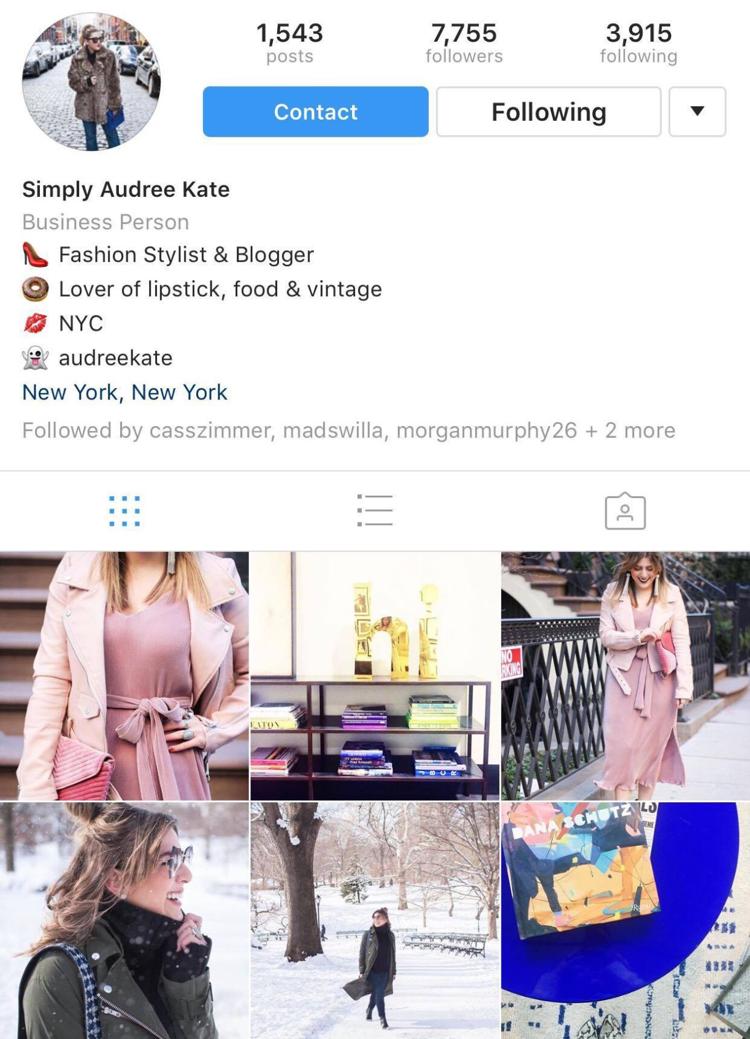 3. Simply Audree Kate (@simplyaudreekate) – Based in New York City, Audree has one of the best blogs and Instagram accounts I can think of! Not only does she provide style inspiration that almost anyone can relate to, she is a real person who is passionate about fashion and just wants the world to know it. Her posts are relatable, making it almost impossible to not be inspired by her passion. She mixes her everyday life with her style blog and it makes you feel like you can relate to her, which is amazing! From everyday wear to street style looks, Audree is always on top of the up and coming trends. But, the fun doesn't stop there. In her bio, she provides a link to her blog where you can go more in-depth about all her posts. She truly is someone you want to see scrolling through Instagram.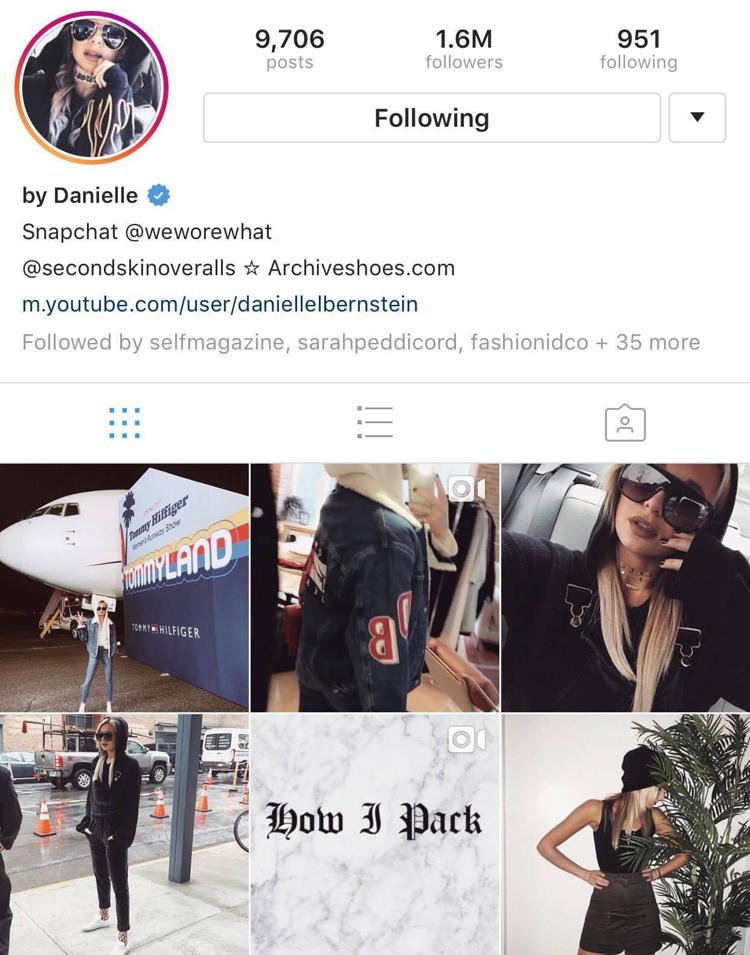 4. WeWoreWhat by Danielle (@weworewhat) – Not only is Danielle Bernstein one of the most up and coming entrepreneurs in the fashion industry, she not only slays the fashion blog game, but she has also started two of her own brands this past year. Her posts range from everyday life hacks to amazing fashion inspiration for men and women. From edgy street style to the perfect "athleisure" looks, Danielle has inspiration that no one can pass up. Not only does she provide style inspiration, but also she offers blogs and YouTube videos about her favorite makeup products, most efficient ways to travel and tips on pretty much everything and anything you could image. Just like Lauren, Danielle provides links on her website and in her Instagram bio so you can shop some of your favorite looks and creativity!
5. Sincerely Jules by Julie Sarinana (@sincerelyjules) – Last but absolutely not least, Sincerley Jules was one of the first fashions Instagram accounts that I followed, and I cannot imagine still not following her today! Switching up the style a bit, Julie has more of a simplistic and pure vibe to her everyday look and it couldn't be more inspirational. Her everyday travel looks to her vacation attire; she knows the perfect balance between simple and edge. She makes it so easy to pick up on certain looks or ideas when scrolling through her account. Not only can you access her blog from her Instagram bio, she also provides the link to her website so you can shop her look and add your own style to it!
I hope you all go give all these wonderful bloggers a follow for some daily fashion inspiration and enjoy everything they have to offer in their own ways!