There have been many suggestions about what this years Spring and Summer fashion trends are going to be and with a lot of research, I think I have the list of predictions based off of the popularity of trends on the runway shows and many reoccurring themes.
1) Mixing pinks and reds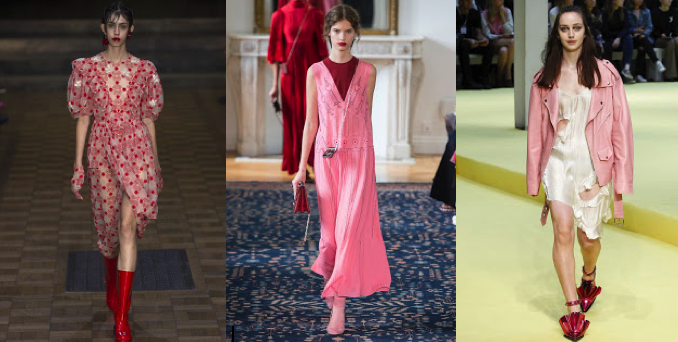 Cupid is in the air. I think mixing colors will be a refreshing change in SS2017 as opposed to monochrome like these past seasons. An example I saw a lot of, was pinks and reds. This theme was very popular in the Valentino Spring RTW collection. This trend was subtle in some looks such as Cushnie et Ochs' where the gown was solid pink but the red peeped through the lips. The red was also sometimes subtle through socks, heels or sunglasses. Most of the time however this color trend was broadcasted throughout runway shows this season. Although red did not make Pantone's 2017 fashion color report I still suspect it might be a color coordination that sparks this year. I see a good future for this blend. Also, I noticed many tints of orange added to the mix. I suspect this trio will have a great debut in the future!
2) Bold contrasting stripes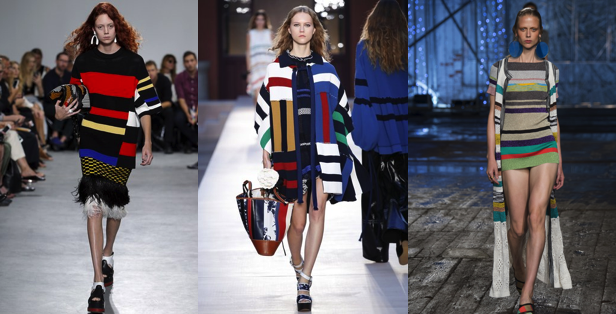 Although there have been some accusations about polka dots and floral being the prints of Spring/Summer, I definitely think stripes are what to pay attention to. Some online sources suggest they will be more nautical, however, based on Missoni, Fendi, Proenza Schouler, Adam Selman and Chloe, I think they will be more of a bold statement. SS17 is all about color!
3) Metallic & Pleather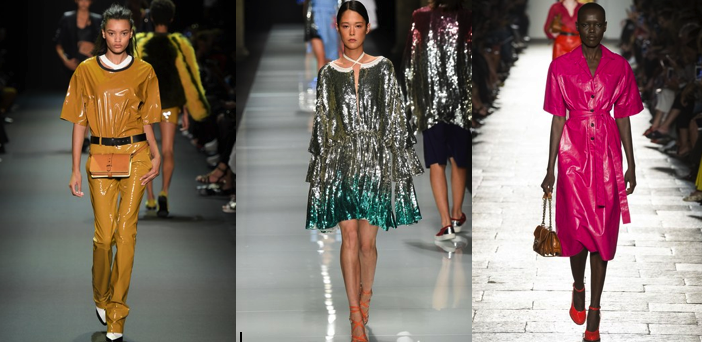 I can't be the only one who has been seeing this influx of pleather and metallic everywhere. These shiny fabrics have been made into fun jackets, shoes and dresses. Pleather has been giving cool vibes as opposed to the negative tacky connotations it had in previous years.
4) COLOR.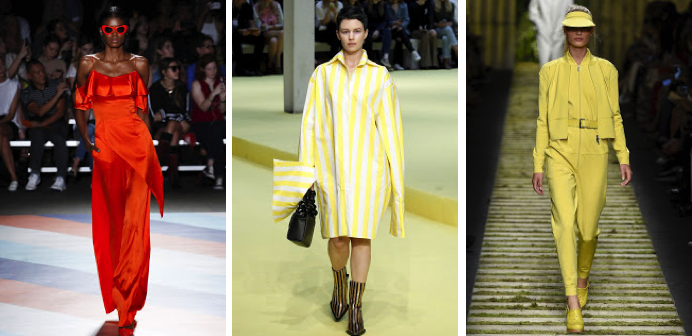 Yellows and oranges are kicking out the neutrals this season! PANTONE Flame (17-1462) and Primrose Yellow (13-0755) are two colors that are going to make a huge debut in these upcoming seasons. However, yellow is a color not many people feel confident in so I think different variations of yellow will be big too depending on confidence level, skin tone and style. Zac Posen also just Instagramed a picture in his atelier with sneak peaks and there were definitely some yellow garments in the background. Balmain, Givenchy and Dior included many orange garments in their collections for 2017. "Flame" looks great on women with dark skintones. If you are scared to wear this striking color, I suggest taking inspiration from the runway shows and incorporating an orange handbag, hat or belt to add this trending color to your wardrobe. 
5) Off the shoulder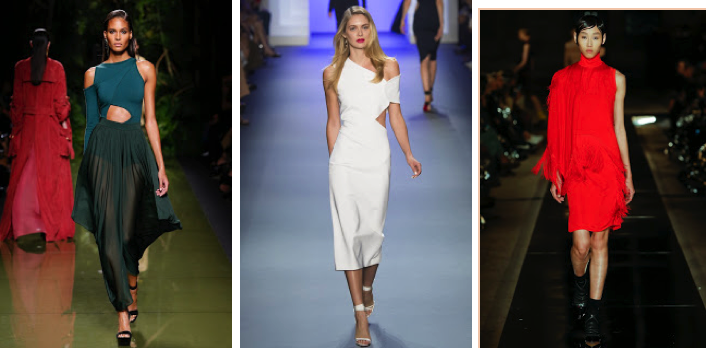 At least once in every collection there appeared to be the one sleeve trend. This trend was an obvious reoccurring theme throughout ALL the collections. I did not imagine this coming but with the popularity of it show after show I cannot imagine it not being a popular style this year in SS and in FW.
I hope that this list can give you some insight of what to look forward to in SS17!