I didn't think it was possible, but Mitchell Trubisky looked even worse Sunday againstthe Saints than he ever has.
If the Chicago Bears were looking for a sign of what to do with their third-year quarterback, it couldn't have been any clearer.
While it isn't fair to blame Trubisky entirely for the loss, it was astounding to see them trot him out time and time again to miss standard NFL throws and struggle to pick up even a single first down.
You'd think that the Bears would try to lean on the running game or at least give Chase Daniel a shot, but head coach Matt Nagy continued to call passing plays for Trubisky, and Trubisky continued to show that he is undeserving of an NFL starting job.
I hate to use a played-out cliche, but it really was like watching a bad car wreck. No matter how consistently Trubisky displayed his ineptitude, the Bears continued to run the same plays. I found myself continuing to watch simply out of disbelief that the Bears wouldn't make a serious change in the offensive game plan.
The usually stout Chicago defense also turned in a subpar performance, which I attribute to demoralization regarding its quarterback's inability to take advantage of its defensive stops.
Offensively, Chicago has weapons; Tarik Cohen is an explosive running back who excels in the receiving game and can gain yards after the catch and play through contact. Allen Robinson is an athletic wide receiver who can gain separation with great route running.
It's becoming abundantly clear that the main ingredient to tapping into the Bears' potential is getting a quarterback who can actually hit these receivers downfield and in stride.
There is still time to set the Bears in the right direction, but it starts with benching Trubisky and finding a more capable quarterback now. If you still believe in Trubisky's potential, he could learn from the new quarterback in a backup role, develop more in practice, and perhaps eventually be given another chance at starting.
In order to reroute the Bears' trajectory from inevitable failure toward eventual success, they have several options.
Many have pointed to Cam Newton or Eli Manning as potential targets as both seem to be benched for the foreseeable future, and while both these options would improve our situation, I think there is a better option that less people seem to be talking about: Colin Kaepernick.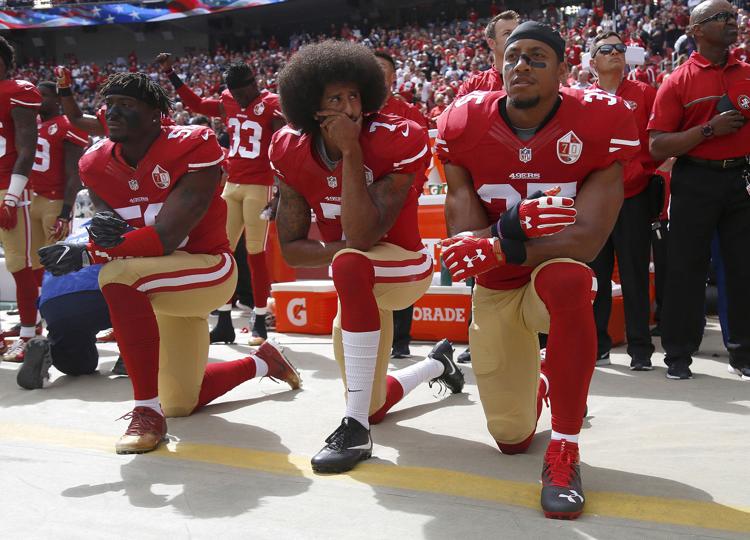 Due to the absence of Colin Kaepernick from the NFL following his national anthem controversy, people have seemed to forget how good the 49ers quarterback actually was. He led San Francisco to a Super Bowl and turned in an impressive individual performance despite a loss to Baltimore.
Therefore, we know that he doesn't tend to struggle in high pressure situations, as Trubisky seems to. Another contrast to Trubisky is that Kaepernick knows who he is. He knows what he stands for, and more importantly, he knows who he is as a player.
Both Trubisky and Kaepernick thrive on the run, but part of Trubisky's failures have been as a result of his reluctance to scramble, and his emphasis on pocket passing, which is not a personal strength.
Kaepernick was never and will never be afraid to pick up first downs with his feet, and his running game should open up a dual threat offense that will create more opportunities for offensive weapons like Cohen and Robinson. Kaepernick also has shown that he can throw the ball downfield effectively and consistently, which has been Trubisky's biggest weakness and handicap the offense as a whole.
If you're not familiar, the reason Kaepernick has been absent from the NFL is his perceived disrespect to the United States flag.
But making social statements is not the worst thing in the world and criticizing police brutality and racism in our country is something to be commended, not condemned. While most teams have played it safe and shied away from signing Kaepernick and risking losing fans due to the controversy, Chicago is the team, if any, that should take the chance.
Not only should the Bears be desperate for a capable quarterback, they are also from one of the most progressive minded and liberal cities in the country. As a result, signing Kaepernick will likely not result in a significant loss in fandom.
And if the experiment turns out successful, I'd hazard a guess that any fans who were upset with the signing would be so happy to be winning games that they'd be willing to overlook their personal disagreements with the quarterback's social stances.
Signing a proven quarterback who knows who he is could provide the Bears with an essential element to any Super Bowl contender: identity. If the Bears could embrace Kaepernick, they would still have a chance to turn the season around and go to the playoffs this year.
If Kaepernick works out well, it would also provide the Bears' upper management with a sense of confidence that they took a risk that nobody else was willing to take, and it paid off. If not, so be it. It couldn't have gotten much worse than it currently is with Trubisky.
With a sense of hope that I believe could be provided by this signing, there is no reason that the Bears organization should not have a positive outlook, and fixing issues outside of the quarterback position will likely no longer seem like such a tall task.
Put simply, Kaepernick wants to play NFL football again and the Bears have nothing to lose; so why not find out how much the forgotten quarterback has left in the tank? The answer might be surprising.