With spring being at our reach, we are all in that awkward, transitional stage where we don't always know what to wear or what will be appropriate for the weather that day. If there's one thing we can predict about spring weather, it's the fact that it's completely unpredictable. Due to the irregular weather here in the Midwest, it is so hard to justify outfits in the morning not knowing exactly what will come of the weather. Generally, it's easy to toss on a jacket halfway during the day starts out at fifty degrees but changes to thirty degrees while you're in class. However, what about shoes? I don't know about you but it's neither trendy nor convenient to be carry around 2 + different pairs of shoes in your bag to accommodate the unexpected Midwest weather.
There is a simpler solution to this madness my friends, transitional shoes that take you from winter to spring! Genius, right? Looking more into this I have came up with a couple of my favorite ideas and styles for this concept. Trendy, beneficial, convenient and versatile shoes that will make you strive during this awkward stage. What else could you ask for?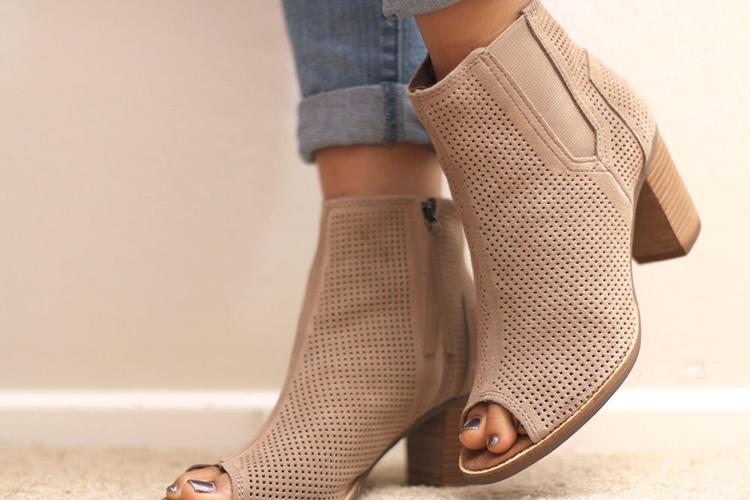 1. Peep Toe Ankle Booties – How perfect is this concept? You get the best of both worlds with these adorable shoes! Getting that touch of spring we all desire by having a peep toe, but still covering a majority of the foot if the weather is still chiller than expected. Pairing these booties with winter or spring attire, they are a staple transitional piece in my eyes.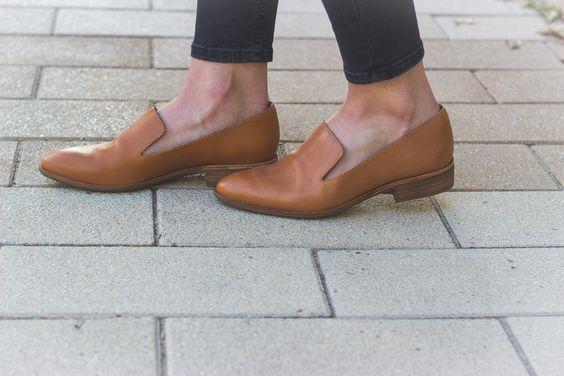 2. Loafers – Yes, some of you might be in disbelief over this but, loafers have made a return and in the most stylish of ways! Weather you have a presentation, work or are just causally running errands for the day, these transitional shoes can be paired with dress pants, a pair of denim or even a pair of tights. No matter what the unpredictable weather throws your way, you can always incorporate a pair of loafers!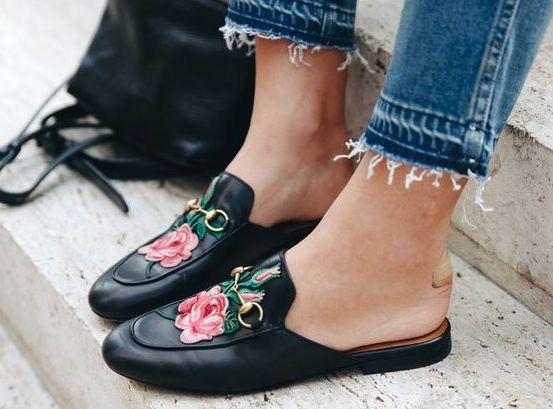 3. Mules – Just like the loafers, this 90's shoe inspiration is back in action and here to stay! To me, these are the best, ugliest shoes ever and the perfect transition into spring. I mean, how could you not have an endless love for these classics when Carrie Bradshaw could incorporate them into any outfit at any given time. Whether you are sporting a dress, pants, denim or even shorts, mules are the perfect cherry on top of a transitional look! Whether they are flats, healed or even filled with design, these chic and comfortable shoes will have you more prepared than ever for spring.
4. Slip-On Sneakers – This sporty, chic and comfortable slip on sneaker is one of the hottest trends this spring. These transitional shoes can be worn in almost any outfit you place them in, how perfect is that? Whether you are embodying that athleisure look or that edgy street-style vibe, these are the perfect shoes for you and pretty much any season!
5. Lace-Up Chunky Heels – Stand tall and proud my friends, even when the weather is super unpredictable! These go-to heels are the perfect transition piece for when the weather can't make up its mind, but you still have to look fabulous. No matter what the weather, these heels can pair with almost anything making sure to spice up you're winter or spring attire. These are a definite must have all year round!