The start of spooky season means that filing FAFSA for the 2020-2021 school year is upon us.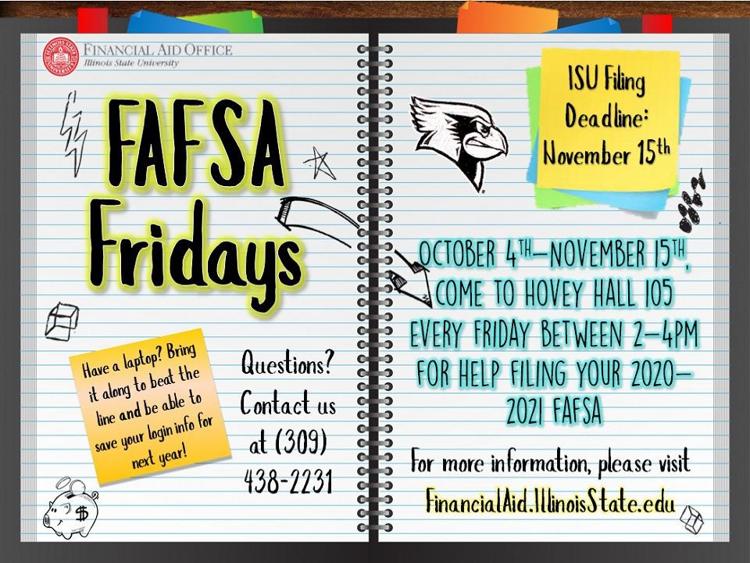 Sessions are held from 2-4 p.m. every Friday from now until Nov. 15 in Hovey Hall, Room 105. 
Students should come with their laptop and all the necessary information needed to accurately fill out the form. The more information you bring, the less mistakes you'll make and have to fix when reviewing it. 
Students can fill out the entire FAFSA form during the workshop or use it as a time to at least get it started. 
"It's time we set aside for students to come work on FAFSA. Students are encouraged to come during the designated time so we can help them," Sharon Carr from the Office of Financial Aid said. 
FAFSA Fridays offer students a quiet space to work on the application individually. If the student needs help or has a question, a financial aid adviser is on hand to help them. 
"It's great when people come to it. We are here to help with FAFSA as needed," Carr said. 
Students do not have to set up an appointment or stay the entire time. Students can drop in anytime during the two-hour period on Fridays. 
The 15th of November marks ISU's preferred filing date for FAFSA. To get the maximum award package, students are encouraged to file FAFSA for the next school year as soon as possible. 
Attending sessions is not required, but if students need help or want a quiet area to work on their 2020-2021 FAFSA, FAFSA Fridays are a great resource.