Healthcare is a continuing debate in America, more specifically the cost of insurance and who gets to obtain it.
Illinois State University alumna Laura (Brebner) Robbins '10, M.S. '12, has partnered with her brother Ryan Brebner to create Advocatia Solutions.
Advocatia Solutions works to provide hospitals with the tools necessary to make healthcare more affordable for uninsured or underinsured patients.
Chief executive officer Ryan Brebner came to Robbins with the idea for the company after working in the healthcare industry for 14 years.
Brebner wanted to take initiative after seeing how an uninsured elderly woman tried to navigate the healthcare system.
The woman was unaware that she was eligible for several coverage programs, including Medicaid, but did not seek treatment until her health reached a crisis point. She later died during a hospital visit from cancer that could have been detected at a much early stage.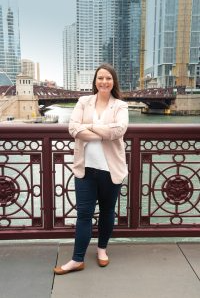 "More that 28 million people are uninsured and 11.7 million of them qualify for healthcare programs, but they are just unaware," Robbins said.
One of its many solutions involve health systems that inform patients of their financial assistance policies.
The Chicago based company helps those from local communities all the way to national programs.
There are many inefficiencies in the healthcare benefit enrollment process. These include shortages of clinicals, poorly managed patient flow, lengthy hospital stays and high readmission rates.
Advocatia specifically allows patients who have been discharged to seek care and affordable healthcare options. The company is live in three different healthcare facilities in the Midwest.
"Hospitals that partner with Advocatia decrease bad debt, optimize internal work flow and create an audit trail of enrollment," Advocatia's website states.
Most of Advocatia's searching process happens while an individual is hospitalized, though Robbins and Brebner work equally as hard to be proactive in securing insurance benefits.
The uninsured and underinsured are very vulnerable communities that deserves to be protected.
Robbins may not be a doctor, but that doesn't mean she's not saving lives every day.