Aimlessly walking through the endless hordes of NBA jerseys, face masks and fishnets, past the cornucopia of national flags waving against the Chicago skyline, through the millions (maybe billions) of selfies taken in front of Buckingham Fountain and all passing different stages and sets on a closed off Michigan Avenue, one felt insignificant in a sea of 160,000 people.
Hot air mixed with the cloudless sky each day, which offered no resort to comfort anyone in the sun's way. Summer in Chicago was at its peak during the four-day annual music festival. All walks of life surrounded each stage, both main and askew. The EDM stage Perry's constantly crawled with moving colors, a kaleidoscope of people immersed in high-powered bass drops and glitter as steam endlessly smoked off sun beaten teenagers. The more intimidating Bud Light stage attracted larger crowds with bar tents surrounding the perimeter of the caged area.
T-Mobile's stage spotted the largest crowd numbers hosted by living rap legend Lil Wayne and triple-threat Childish Gambino, sharing this space with both bands and R&B artists alike. T-Mobile's lawn, covered in community softball fields, created a combined audience with Lake Shore's stage at the southern end of Lollapalooza's confines.
People swarm everywhere you look with no regard to privacy. Everything's out in the open — outfits, relationships and in the middle of it all, surrounded by the one thing that brings these people together: music.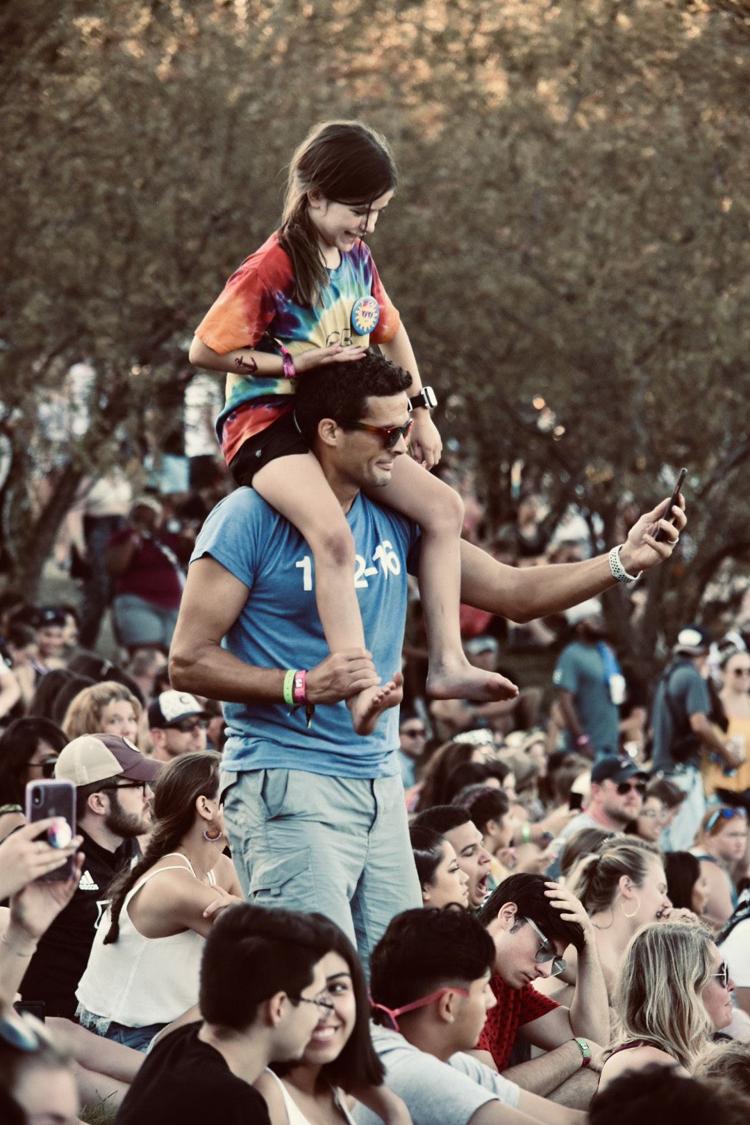 Music has a certain knack for connection — a connection that doesn't seem to falter in the eyes of society. The artist leaves interpretation up to the listener, while their personality remains remembered. It's a culture that crosses boundaries, countries, languages and timeframes because it's not about what is heard, but what is felt. Music is key to human connection, bringing meaning in times of doubt and solace in times of hardship – regardless of time, age or place. Loving or hating a song, an artist, a set or whatever it may be, music's ploy is simple: relatability.
These selected artists of the 170 in attendance not only succeeded in impactful performances, but left audiences restless by set's end. They told a story, were unique in their approach and made Lollapalooza worthwhile.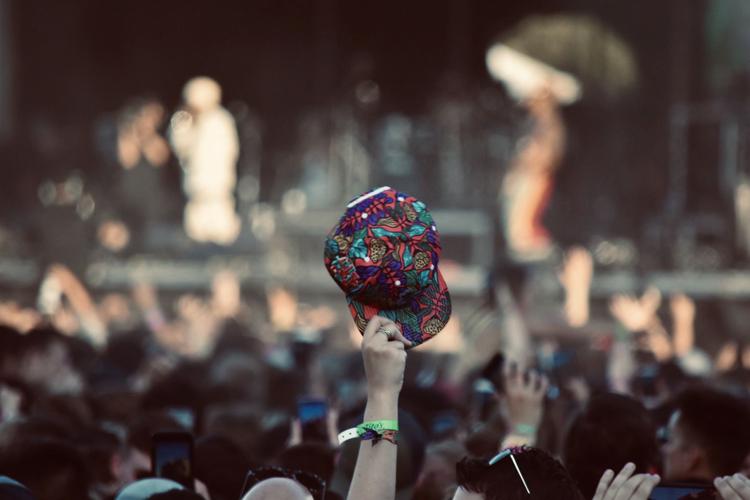 H.E.R: Thursday afternoon, T-Mobile
H.E.R. mimicked her recordings and some, not repressing in showcasing her range. She took the stage in iridescent orange pants, a green racer top and one foot-high combat boots. Donning dark brown sunglasses, it wasn't her look that stole the show, it was her sheer talent to keep her fans on their toes. Unsure of how a pure R&B artist set would play out live, H.E.R rushed onto the stage with an acoustic guitar, playing an opening riff ignited from backstage up to her microphone. A jam session ensued with her playing a variety of instruments in the process. Guitar, bass, keyboard and drums were all a part of her skit, playing each with a sense of mastery that coincided with her singing. And with that, she still sung flawlessly. When it comes to artists that will be and should be remembered throughout generations, it's those with pure talent that defines their legacy. And she's just getting started. H.E.R. boasts platinum hits in '2,' Daniel Caesar assisted 'Best Part' and crowd favorite 'Focus' which all were included in her performance. She let her voice carry her unhinged reputation, belting high pitching vibrato and ad-libs that wooed the crowd at T-Mobile's main stage. Still relatively on the cusp of breaking the mainstream, her talent is surely undeniable. With a clear electric guitar strapped against her chest, it felt as if those in attendance were granted access to an all-inclusive studio session. She tried new things, played instruments and kept it interesting for an audience that may have never seen her perform before — the intimacy card played in her favor. Count this performance as her defying moment, solidifying her functioning at the top of her game. It's best to stay out of H.E.R. way.
Childish Gambino: Friday night, T-Mobile
The city stopped for Childish Gambino when he took T-Mobile's stage Friday night. Gambino (aka actor, writer, stand-up comic Donald Glover), might have very well performed his last act as a singer for quite some time. Moving away from music which caused his rise to stardom, the triple threat says he will go back to focusing on his acting and his stand-up comedy. Crazy to think someone with this much influence resisting his roots with a whole discography of new experiences. Glover wears many hats and he does each with an artistic vision that is unable to be recreated. The last five minutes of Glover's set, he not only performed 'Redbone' but lived in every moment of it. Paired with white tied loose-leaf pants, Glover was shirtless, glistening in sweat the entirety of his hour and 15 minute final ballad. Dancing and seemingly leaving every ounce left of his music career on the stage, witnesses in attendance were almost too many to count. His crowd backed to the trim of T-Mobile's allotted lawn, bleeding into Lake Shore's stage behind it. You couldn't take your eyes off him. "I can feel your energy tonight, Chicago," Glover preached in front of a packed lawn of people standing shoulder to shoulder. He was scruffy with a long beard and uncut hair — looking more like his character from the Lion King than when he first burst into stand-up after his stint on NBC's 'Community.' Glover's moves echoed a sort of James Brown-esque vibe during 'Redbone.' Yet, his whole album 'Awaken My Love' appears to not only pay homage to the late Godfather of Soul, but emulates some of his deconstructed technique throughout. Screaming, shouting, crooning and most of all dancing, Glover jumped into the crowd, ran along the photo pit, stopping to touch hands with fans, grabbing them all while continuously singing. Talent is immeasurable, but Glover went above and beyond. It felt as if every molecule in his being was left on that main stage, as it was his last (reportedly). "Chicago, I love you," he added with his mic drop, setting it in the middle of the stage walking off to dimming lights but into brighter things, leaving the music behind and the crowd wanting more.
.@donaldglover Childish Gambino with a mic drop to end the second day of #Lolla. The largest crowd of the festival so far. #Redbone works wonders for the thousands in attendance as Gambino shouts, "I can feel your energy, Chicago." pic.twitter.com/edPqYdXH9X

— The Vidette (@The_Vidette) August 3, 2019
Smino: Saturday afternoon, Tito's
Smino's electricity mirrored the crowd he was performing in front of. The St. Louis based rapper took Tito's main stage with a pink Pontiac G6 behind him, headlights shining off his pale yellow t-shirt and matching baggy shorts. Small black dreads draped the sides of his face as energy was his focus for Lollapalooza. Performing from his 2018 album 'NOIR,' mixing in hits from his debut album 'blkswn' in 2017, Smino took the stage just excited to be in close proximity to his native St. Louis. "We're like cousins or something, I'm just right down the street," Smino said in between NOIR singles 'KLINK' and 'Z4L.' Of the artists at Lollapalooza to show you what it's like to live in their world, Smino did it best. From the stage art to his collaborators, to the squirt guns and bright colors, Smino definitely showcased the alternate universe he resides in. He played with the crowd, leading in games and wave sequences, saying that he picks out one person at each concert to choose a side between two: the "Legendary Left Side" and the "Ratchet Right Side." Smino's set was overall fun, engaging and most of all covered with a fan base who knew who he was. It felt as if no one was trying to pronounce his name correctly, but instead sang along perfectly to his lyrics. Connecting the dots in Chicago, Smino made it more worthwhile when Chance the Rapper made his second surprise appearance of the fest during their joint collaboration 'ETERNAL' on Chance's latest release 'The Big Day.' Steaming on a hot day, Smino capitalized with an even hotter performance, ultimately blowing some fresh air into the festival's weekend-long heat wave.
.@smino X @chancetherapper 🔥🔥Chance with a surprise appearance during the St. Louis rapper's set — performed collab song 'ETERNAL' on Chance's latest release 'The Big Day.' #Lolla2019 pic.twitter.com/GSk5pctnUq

— The Vidette (@The_Vidette) August 3, 2019
6LACK: Saturday afternoon, Bud Light
6LACK's mystery is still one to be solved as the Atlanta R&B rapper does one thing well: translating experience into story. After 6LACK rattled off three songs in 'Unfair,' 'Loaded Gun,' and 'Let Her Go' off of his 2019 release 'East Atlanta Love Letter,' he had a message for his fans standing in the melting pot in the middle Bud Light's main stage. "I performed Lollapalooza once before, but it wasn't on any main stage. Now we're here, performing in front of this many people. I want to say thank you for being a part of this journey with me, I love you all." Kevin Betts, a student at University of Louisville, drove 10 hours from his home state of Kentucky to see 6LACK live in this sort of atmosphere. "When it's somewhere like Chicago, the energy is always so much better, especially at Lollapalooza," he said. "So far, [Lolla has] been really fun, but really hot the whole time. The sun just keeps finding a way to hit you at any time of the day, I got sunburnt on Thursday man." 6LACK imitated pop legend Michael Jackson walking out draped in a red leather jacket complementing an otherwise blacked out outfit. Primarily an R&B artist, 6LACK gave his fans everything they wanted — a mix of the old and the new. The old, being from the archives of his variety of original singles and 2016 debut album 'Free 6LACK,' which worked in his favor. Although slower, the crowd left elated by a strong outing from Atlanta's R&B savant. 6LACK continues to be the forerunner of quality song writing and eerie soundscape — it's where he's made a living and crafted his image. He appeared somber and moody, yet engaging and interesting during his hour long set Saturday. Mirroring his premeditated reputation of the hazy emotion-ridden depressive, 6LACK's knack for storytelling came alive when playing records off his album, channeling the emotion in his voice and edging the crowd to join in. Triumphantly veering backstage, 6LACK made his mark at Lollapalooza all thanks to his authentic live presence, as intimacy brought both himself and his fans closer together.
Lil Wayne: Saturday evening, T-Mobile
Lil Wayne doesn't have many songs that his entire fan base doesn't know word for word. With T-Mobile's lawn filled to the brim Saturday afternoon, Weezy's discography is so deep that he barely rapped to his own lyrics — the crowd did that for him. Generational classics in 'Bedrock,' 'Lollipop,' 'How to Love' and among many more played against Lil Wayne's affliction for the uncanny. Using a full band in his background, his sound, although accompanied by laptop-clad background beats and voices, offered a more inviting experience for the audience. Hills were piled with people laying out towels while rows of mobs clung atop a metal 'Lolla' structure to get a small glimpse of Lil Wayne. As Childish Gambino collected a staggering amount of audience members, Lil Wayne seemed to top him with ease. As multigenerational superstar, bleeding in between the height of his power in the early 2000's to mid 2010's, bridges the gap between both old and new followers alike.
Multiple generations, @LilTunechi connects them all. Beats @donaldglover's crowd last night by a long shot... #Lolla2019🤫 pic.twitter.com/SZBbNmofnu

— The Vidette (@The_Vidette) August 4, 2019
JID: Sunday midday, T-Mobile
JID made it a goal of his to say Lollapalooza as many times as he could if he ever landed the gig. He said it 70-plus times at T-Mobile's main stage, as JID's set was personalized to his sense of authenticity. But before even saying Lollapalooza once (out of 70), he made sure to pay homage to those afflicted by the El Paso and Dayton shootings with moment of silence.
Before @JIDsv rapped one word of his set, he led the crowd in a moment of silence to honor those affected in both #ElPaso and #Dayton this week. #Lolla2019 pic.twitter.com/ARXDeldyWS

— The Vidette (@The_Vidette) August 4, 2019
Energy was his mantra, touting new material from Dreamville's latest release 'Revenge of the Dreamers III,' but still played crowd favorites from sophomore album 'DiCaprio 2.' A middle strip exposed the center of the stage, diving the crowd like a road block as JID used it to his advantage, even if it wasn't built for him. "This was supposed to be for Ariana Grande, so I'm Ariana Grande right now." Tracks like 'Never', Off da 'Zoinkeys', 'Westbrook,' appeared in the first portion of the set. His sound — mixing early jazz and piano schemes — blended together with modern drum patterns. And his voice is the perfect fit to match. His set enticed the crowd in every paging song, feeling a constant state of excitement, especially if JID is on your top 10 Lollapalooza must-sees. He didn't act alone either, performing alongside  Smino and Dreamville collaborator EarthGang during the artists' 'Revenge of the Dreamers III' collaboration set. JID spit verse after verse tightly and clean, surely impressing with a solid performance on a Lollapalooza main stage act. When he comes back, swearing his return to the crowd, maybe he'll say Lollapalooza over 100 times.
The Revivalists: Sunday afternoon, T-Mobile
In between streets wandering off to the different stages near the south end of T-Mobile's gates, its stage reeled patrons in with a sound unheard before. Motivated by a catchy hook, the sound of real instruments backed up their claim. Walking closer to the railing, feeling their sound more and more with each step as New Orleans-based alternative group The Revivalists were the cause of it. Wearing a bright red Bulls jersey with 'The Revivalists' etched across the back, lead singer David Shaw crooned along with guitarist Zack Feinburg tapping the riff to 'It Was a Sin.' Woozy and dreamlike, a rock ballad usually doesn't turn many heads. However, 'The Revivalists' sound was different, a saving grace piercing through background filler from surrounding stages. Pop-infused cadences took over Shaw's ability, but rock and funk roots eventually shined through in the band's live version of its 2018 album 'Take Good Care,' sporting tracks like 'All My Friends' and 'Oh No.' While debut album 'Men Amongst Mountains' (2015) touted top songs in 'Wish I Knew You' headlined The Revivalists full set. Overall, lasting impressions equaled the first. Maximizing both somber and upbeat, no crowd revival was needed for an impactful and touching performance. The Revivalists did so emitting comfort all while transporting you to somewhere much simpler just by being themselves.
They put on a great show last night, and an even better one today! @therevivalists are so incredibly talented! #Lollapalooza2019 #Chicago #TheRevivalists @The_Vidette pic.twitter.com/nozCWhSgzN

— Ali Rasper (@alirasper4) August 4, 2019
Shaq Diesel: Sunday afternoon, Perry's
Sunday afternoon seemed more like a Saturday night as Shaq Diesel prepped to perform at the EDM main stage Perry's. Yes you read that right, Shaquille O'Neal. NBA Hall of Fame center O'Neal, who performs under the DJ moniker Shaq Diesel, is the epitome of making two dreams come true. As a teenager in the early 90s, Diesel DJ'ed to earn extra cash on the side throughout high school and college, trading in his former old school hip-hop beats for dubstep in his professional career. Shaq isn't one to care about the money anyways. To him, it's always been about bringing people together both on and off the court. According to Forbes.com, Shaq has said in the past that he there are two things that bring people together: "sports and music." That's exactly what he did. Perry's lawn clogged any physical standing room possible. It felt as if it was an outdoor nightclub, as the pulse of Diesel's beats was the lifeblood to the crowd's energy. Photographers entered the pit preparing for battle, earbuds in hand and lining up like soldiers shipped to war. With deep bass and blaring synths, Shaq made Sunday's swelter even hotter, blowing off flames on both front sides of the stage. He was instantly recognizable and by far the biggest DJ on the planet — physically that is. Diesel's performance consisted of head blistering dubstep but featured a speedy remix of Nirvana's 'Smells Like Teen Spirit.' Other than that, Shaq did his thing and the crowd seemed to really enjoy his music. Mostly, everyone just stayed a bit longer to ogle at how large Diesel truly is.
.@SHAQ Diesel is the modern day Thanos. #Lolla2019📸: @alirasper4 pic.twitter.com/ld7CcVwkBh

— The Vidette (@The_Vidette) August 4, 2019
In a nutshell, Lollapalooza was a confined oasis for music to be cherished, appreciated and enjoyed. From artist perfromances to the event as a whole, I took away one important thing from the four-day haul: music's reality doesn't exist in what the artist wants you to hear, but in what they want you to find out about yourself. Festivals offer a connected intimacy that is unable to be replicated. It's the experience that matters most and that experience is why live performance personalizes these artists, making them real, relatable and something more than just names compiled through a streaming service. Half the battle is understanding who you are and who you aren't, as music isn't one to choose for you, it chooses you instead.