Ratings by the Motion Picture Association of America are: (G) for general audiences; (PG) parental guidance urged because of material possibly unsuitable for children; (PG-13) parents are strongly cautioned to give guidance for attendance of children younger than 13; (R) restricted, younger than 17 admitted only with parent or adult guardian; (NC-17) no one 17 and younger admitted.
(Critics' Choices capsule reviews are by Kenneth Turan (K.Tu.), Justin Chang (J.C.) and other reviewers. Openings compiled by Kevin Crust.)
OPENING IN HOLLYWOOD THIS WEEK
"Angels on Tap" _ A reporter stumbles into a bar where the heavenly messengers hang out when they're not looking out for humanity. With Ed Asner, Jamie Farr, Marion Ross, Ron Masak, Alan Rachins, Vince DonVito, Byron Mark Newsome. Written by Burt Prelutsky. Directed by Trudy Sargent. (1:15) NR.
"Custody" _ An embittered, divorced couple are awarded joint custody of their son leading to an ugly, intensifying struggle. With Denis Menochet, Lea Drucker, Thomas Gioria. Written and directed by Xavier Legrand. In French with English subtitles (1:33) NR.
"The Devil's Doorway" _ Priests are sent by the Vatican to investigate unholy happenings at a convent for "fallen" women in Northern Ireland, 1960. With Lalor Roddy, Ciaran Flynn, Helena Bereen, Lauren Coe. Written by Martin Brennan, Michael B. Jackson, Aislinn Clarke. Directed by Clarke. (1:17) NR.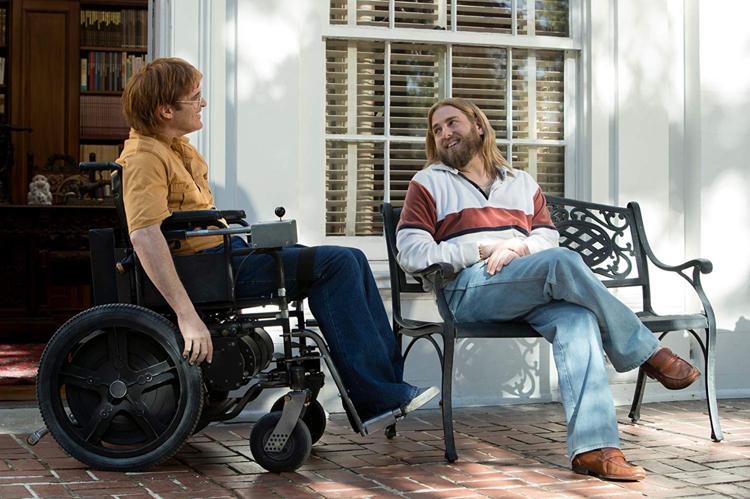 "Don't Worry, He Won't Get Far On Foot" _ Joaquin Phoenix plays a man who discovers a talent for cartooning after a devastating drunken driving accident. With Jonah Hill, Rooney Mara, Jack Black. Written and directed by Gus Van Sant; based on John Callahan's memoir. (1:53) R.
"Eighth Grade" _ The endless final week of middle school stands between a young teen and her future. With Elsie Fisher, Josh Hamilton, Emily Robinson, Jake Ryan. Written and directed by Bo Burnham. (1:34) R.
"Gauguin: Voyage to Tahiti" _ The 19th century French artist leaves his family behind to seek inspiration in the South Pacific. With Vincent Cassel, Tuhei Adams. Written by Edouard Deluc, Etienne Comar, Thomas Lilti, Sarah Kaminsky. Directed by Edouard Deluc. In French with English subtitles. (1:42) NR.
"Hotel Transylvania 3: Summer Vacation" _ The extended family of monsters heads out on a luxury cruise ship. Voices include Adam Sandler, Andy Samberg, Selena Gomez, Mel Brooks. Written by Genndy Tartakovsky, Michael McCullers. Directed by Tartakovsky. (1:37) PG.
"Les Parents Terrible" _ New restoration of Jean Cocteau's 1948 comedic drama about a young man who upends his parents' lives when he unwittingly falls in love with his father's mistress. With Jean Marais, Yvonne de Bray, Marcel Andre, Gabrielle Dorziat, Josette Day. Written and directed by Cocteau. In French with English subtitles. (1:45) NR.
"Marsha Hunt's Sweet Adversity" _ Documentary on the centenarian actress and activist, from her days at MGM, through the blacklist and the many social causes she has championed. Featuring Harry Belafonte, Ed Asner, Anne Meara, Margaret O'Brien, Valerie Harper. Written by Richard Adkins, Joan Cohen, Roger C. Memos. Directed by Memos. (1:41) NR.
"A Midsummer Night's Dream" _ Shakespeare's classic fantasy reset in modern Hollywood. With Rachel Leigh Cook, Finn Wittrock, Hamish Linklater, Lily Rabe, Paz De La Huerta, Avan Jogia, Fran Kranz, Ted Levine, Mia Doi, Charity Wakefield, and Saul Williams. Adapted and directed by Casey Wilder Mott. (1:45) NR.
"The Night Eats the World" _ A man awakens to discover he May be the lone survivor as zombies overrun Paris. With Anders Danielsen Lie, Golshifteh Farahani, Denis Lavant. Written by Jeremie Guez, Guillaume Lemans, Dominique Rocher, based on a novel by Pit Agarmen. Directed by Rocher. (1:33) NR.
"Poor Boy" _ Brothers concoct a scheme to save their houseboat and escape their desert town. With Michael Shannon, Amanda Crew, Justin Chatwin, Andy Bean, Dale Dickey, Lou Taylor Pucci. Written by Robert Scott Wildes and Logan Antill. Directed by Wildes. (1:44) NR.
"Ryuichi Sakamoto: Coda" _ Documentary on the noted Japanese composer, musician and environmental activist. Directed by Stephen Nomura Schible. (1:42) NR.
"7 Splinters in Time" _ The discovery of identical, alternative versions of himself leads a detective on a frightening journey. With Edoardo Ballerini, Greg Bennick, Austin Pendleton, Al Sapienza, Lynn Cohen, Sean Gaffney, Giuliana Carullo, Emmanuelle Chriqui. Written and directed by Gabriel Judet-Weinshel. (1:15) NR.
"Shock and Awe" _ The story of the Knight Ridder journalists who questioned the Bush White House's rationale leading to the 2003 Iraq War. With Woody Harrelson, James Marsden, Milla Jovovich, Jessica Biel, Tommy Lee Jones, Rob Reiner, Luke Tennie and Richard Schiff. Written by Joey Hartstone. Directed by Reiner. (1:30) NR.
"Siberia" _ An American gem dealer and his lover are trapped between a buyer and Russian law enforcement when a business deal falls apart. With Keanu Reeves, Molly Ringwald, Ana Ularu, Aleks Paunovic, Pasha D. Lynchikoff, Veronica Ferres. Written by Scott B. Smith; story by Stephen Hamel & Smith. Directed by Matthew Ross. (1:44) NR.
"Skyscraper" _ Wrongly held responsible for a fire in the world's tallest building, a former FBI agent and security expert played by Dwayne Johnson must bring the guilty parties to justice and rescue his family. With Neve Campbell, Chin Han, Noah Taylor, Roland Møller, Byron Mann, Pablo Schreiber, Hannah Quinlivan. Written and directed by Rawson Marshall Thurber. (1:42) PG-13.
___
"The Cakemaker" _ A provocative, unexpected and very moving German/Israeli co-production that is as unusual a love story as you are likely to find. (K.Tu.) NR
"Hearts Beat Loud" _ A musical in everything but name, this joining of stars Nick Offerman and Kiersey Clemons features some terrific songs and proof that sometimes wearing your heart on your sleeve is the only way to go. (K.Tu.) PG-13
"Incredbles 2" _ There is good news in the world tonight: Writer-director Brad Bird has brought everyone's favorite superhero family back to the big screen, and we are all better off for it. (K.Tu.) PG
"Hereditary" _ Anchored by a bravura performance from Toni Collette, writer-director Ari Aster's devastating, implacably terrifying film depicts an American family coming apart in the wake of tragedy. (J.C.) R
"RBG" _ One of the great services that this clear-eyed and admiring documentary on Supreme Court Justice Ruth Bader Ginsburg provides is to emphasize not just her work on the court but how extraordinarily influential she was before she even got there. (K.Tu.) NR.
"Three Identical Strangers" _A scientific and philosophical inquiry by way of a detective story, Tim Wardle's intensely compelling documentary tells the twistier-by-the-minute story of identical triplet boys who discovered one another 19 years after having been separated at birth. (J.C.)
PG-13
"Won't You Be My Neighbor?" _ The goal of this exemplary documentary is not to tell the story of TV host Fred Rogers' life, but to show the way someone whose formidable task was, in his own words, "to make goodness attractive," and made it happen. (K.Tu.) PG-13
___
(c)2018 Los Angeles Times
Distributed by Tribune Content Agency, LLC.