Endlessly dodging raindrops and cold gusts of wind, the conditions at Illinois State University's Homecoming game proved to be a survival of the fittest.
Fans seemed to do everything they could to stay out of Hancock Stadium's hurricane — stacked against the brick walls of the concourse and concession stands, coat and sweatshirt-clad to keep warm.
Peeking through the edge of the west side tunnel, long-time Redbird fan and Normal resident Jared O'Brien, 34, stood bracing it all, immersed in the world he's always known and cherished.
Graduating from Normal West in 2004, O'Brien may be one of the most dedicated — if not the most die-hard — ISU fans the community has in stock.
From basketball, football, cross country, women's tennis to local politics, registered student organizations and everything else in between, O'Brien's affection for Illinois State doesn't just stem from its athletic department.
O'Brien is a super-fan in his own right. His social media consists of posts inviting endless scrolls of Illinois State sports, news as well as local and student-run media outlets.
"I follow everything equally, I really don't have a favorite," O'Brien said.
Falling in love with the university at a young age came with the joy of watching Illinois State football with his father. O'Brien still attends games with his family to this day, saying that he "wouldn't trade that time away for anything."
"When my dad would ask me if I wanted to go to an ISU game when I was a kid, he could barely get the letters I-S-U out of his mouth before I said yes," O'Brien joked. "It was always 'Yes, right away' when it came to anything related about ISU."
Whether it's on campus or in Redbird Arena, throughout his life, O'Brien manages to keep a positive attitude toward everything he's involved in – facing one constant adversity that he overcomes daily.
"I don't really like talking about it, but I do have autism," O'Brien said. "When I was younger, everyone thought that I wouldn't communicate well with others, but I know that I can. That adversity is what makes me stronger. The people who have been in my life have been really good to me every step of the way."
A superfan, by definition, is "a person who has an extreme admiration for a particular person or thing."
O'Brien embodies that spirit multi-fold, supporting ISU-related teams and organizations even when they think they are not being supported.
Social media is a huge driving factor for O'Brien's impact. School of Communication's Director of Convergent Media Nathan Carpenter sees a lot of good for both O'Brien and ISU drawing from his posts.
"He is the only one that I've seen with this level of Illinois State content," Carpenter said. "I think the best way to think about him is as a super fan."
O'Brien's Twitter account (@jaredObrien17) has a personal following of 347 followers (which includes Illinois State's verified Twitter), racking up 54.8K tweets while following over 1,800 accounts.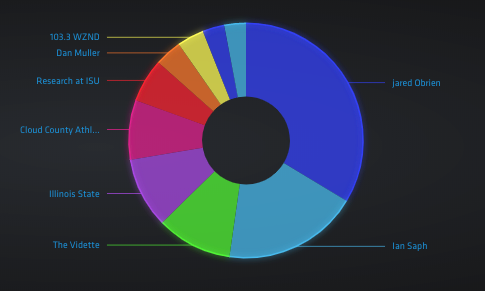 His tweets? All Redbird-based.
While to some, O'Brien's volume of social media activity might seem like "bot activity," Carpenter said "he's following everything Illinois State related possible. I think that's something we don't see a lot of."
"I just like putting my stuff out there for everyone to see," O'Brien added. "Sometimes my parents say I post too much, but they just joke with me. I appreciate that everyone says nice things back to me."
Along with his social media impact, Carpenter thinks that O'Brien's importance to Illinois State extends far beyond the confines of Twitter.
"The importance lies in taking an identity, and making it central to their general daily existence," he said. "I think that's really special thing. He's a tiny dot in the constellation of social media makeup, but he still helps draw page views to ISU content. And he spends his time doing it."
Illinois State University Redbirds Cross Country Men's And Women's We Are On The Road At Stillwater Oklahoma We Are In The NCAA Midwest Regional At 11:00AM Friday Morning

— jared Obrien (@jaredObrien17) November 11, 2019
Not only does O'Brien continue to make an impact on campus, when he is not immersed within his Redbird fandom, he turns to support his alma mater.
"He's one of the coaches," Normal West head football coach Nathan Fincham said. "He's on our sideline. He may be Mr. Redbird for [ISU and its students], but he's more like Mr. Wildcat to us. He's on our Wall of Fame as well as being a Wildcat super-fan."
As an assistant coach for Normal West high school's football team, he plays no favorites when it comes to his teams, with no in between of who and what he supports.
Fincham has been the head coach at Normal West for 13 years. Knowing him for the entirety of his time as head coach, not only does O'Brien serve as an ambassador for the Wildcats, he preaches positivity every chance he gets.
O'Brien doesn't feel any pressure from supporting both programs, or even for the number of tweets he posts daily – feeling overly welcomed and appreciated.
Even when RSOs, teams and students struggle in achieving their short-term goals, it seems as though O'Brien will be there to pick all of them right back up, rain or shine.
"I've always wanted to go to Illinois State ... It was my dream school. But I feel like I'm living that dream out now [through my fandom]. Since I can't give back from a money standpoint, putting out updates and promoting ISU-related things is what I do instead. Getting to know all of the past players and coaches, the way that they've treated me ... it's been awesome."