The Macy's Thanksgiving Day Parade is a classic of the holiday season, gathering around 50 million viewers across the globe.
Bloomington-Normal was able to have a moment of representation during the iconic parade.
The Gamma Phi Circus is the oldest collegiate circus in America, celebrating their 90th anniversary during their home show last April.
During this show, it was announced that the troupe would be travelling to New York City to perform in the Macy's Thanksgiving Day Parade.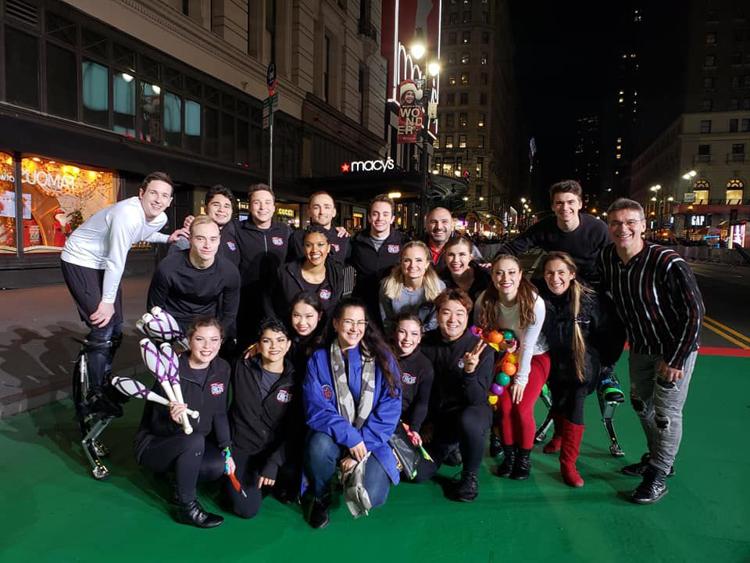 During a practice at the beginning of the school year, circus Director Marcus Alouan and Artistic Director Ivan Stoinev announced who would be representing the troupe and the university in the parade.
"Immediately when they said 16 people, I was counting who I thought was going to go and I was not one of them," performer Danny Less said. "[When they said my name] I was shocked. I texted my parents telling them I was going to have a rain check for Thanksgiving."
The fall semester was filled with hard work from the troupe, preparing and perfecting their routine for the big day.
"It was, legitimately, a lot of blood, sweat and tears," Less said.
"Specifically pertaining to what we did, it was a lot of time just preparing for it," performer Cassie Weigel said. "There was a lot of work that went into that performance."
Gamma Phi walked alongside Coach's float and performed with none other than Emmy winner Billy Porter on the Macy's star.
The parade is a historic event and this year was the 95th anniversary. Along with the anniversary, Coach was also the first luxury fashion brand to have a float in the parade.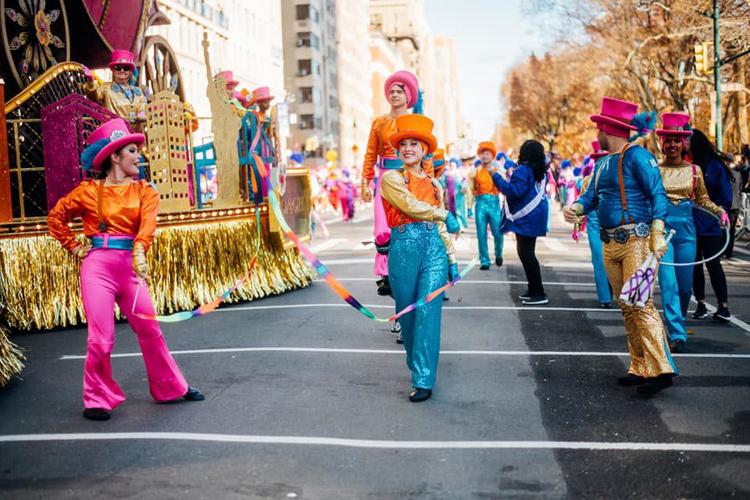 This was the first time the Gamma Phi Circus has performed in the parade, so history was also made for the organization. However, the troupe was also the second circus to performing on the Macy's star, second only to Cirque du Soleil.
The Big Apple Circus also performs during the parade, however, Gamma Phi was given a specific performance slot on the star with Billy Porter at the end of the parade.
Sunday, Nov. 24 the performers, along with their directors and coach, took of to the big apple.
During their time in the city, members were able to sight see, visit Central Park, watch Broadway shows, see the Statue of Liberty and more. The troupe got to watch Circo Vazquez perform and even got a backstage tour.
"Everyday was a full day," Less said. "But it brought us a lot closer."
While the trip was filled with fun tourist adventures and getting ready for the performance, Less adds one of his favorite memories was in the hotel one night.
"Marc [Sorensen] was my roommate and one night we just sat in our room and talked for three hours," Less said. "I knew I liked him as a person but that just gave me a whole new friend. It was probably my favorite night of the entire trip."
On Monday, the troupe was let into the Macy's store on Herald Square for their costume fitting. Alterations were made and on Tuesday the circus had their rehearsal on the star.
Before and after their rehearsal, members we able to watch other performances.
"It was a little concerning because we wanted to get it perfect so we didn't mess anything up," Weigel said. The jump rope trick that was cut was one that Weigel performed with member Brendan Kim.
They rehearsed another acro trick to put in the place of the previous one.
"It was really scary because we weren't getting the trick for some reason," Weigel said. "But, when we did it for the performance it was perfect. That's honestly all that matters."
Gamma Phi had 30 minutes to rehearse in front of Macy's. However, it only took them 10 as they were already ready to go.
On Thanksgiving, performers had an early start as they had to meet in the lobby at 4:30 a.m. with makeup on. They hopped on the subway to the New Yorker Hotel to get their costumes on before heading to the parade route.
"[The night before] I was laying in bed and I didn't know if I was going to be able to sleep," Weigel said.
"At one point I was just thinking about how I was going to be on TV and you only get once chance. I was laying in silence and I just screamed "Oh my God!" because it all hit me that this is happening. We would be doing a performance for live TV."
Before the parade started, performers were able to meet Billy Porter before walking next to Coach's float.
The parade route consisted of members performing on jumping stilts, Russian Bar, dancing, acro, juggling and more.
"The morning was pretty cold, I've got to say," Sorensen said. "But once we got to the point when we were at the float and we started to march it felt good to be in the cold. I felt more awake and aware of everything going on."
And, just before they knew it, they were turning to corner to perform on the Macy's star in front of millions.
"Once the music began, I felt like I kind of went into a mechanical mode where my body just knew exactly what to do," Sorensen said. "I felt so calm and happy to be there with everyone else."
And with the twirl of ribbon, the performance was over. Months of practice and preparation had paid off.
"Two days before we left [for NYC] we were not at our best," Less said. "That got me very nervous but I'm glad it happened though because that made me extra cautious about spotting Russian Bar and catching every single [juggling] club."
"It helped me get in the mindset that this has to be perfect," Less said.
After their big performance, Gamma Phi had Thanksgiving Dinner with the Big Apple Circus.
"It all hit me when I was at Thanksgiving dinner. I was almost about to cry," Less said. "I was just thinking, "This is crazy. We just did that and I'm in a circus in Macy's because of a fifteen second difference. Because of a decision I made to join Gamma Phi last year.'"
Gamma Phi Circus had a large network of support behind them throughout their journey to Macy's. Weigel adds that the support wasn't just for each individual performer but for Illinois State and for the circus as a whole.
"I had been looking forward to watching the parade since I got home. I think everyone has been looking forward to it since the announcement during show last year," GPC member Jeremy Cifonie said.
While Cifonie did not travel to NYC to perform in Macy's he adds that he was still proud of the organization to be at the Thanksgiving Day Parade.
"I was nervous [watching it] because I wanted everything to be perfect for the people there," Cifonie said. "We're all so proud of them. I just really wanted to see them do well and they did."
Gamma Phi had one last day exploring the city before getting on a flight Saturday morning to come back to ISU.
"Everything happens for a reason," Weigel said. "You never suspect that something will happen. I'm so grateful to have had this opportunity and that my decisions in life had led me to this."
Less adds that his goal before the performance was to get a definite answer that, "this is for me."
"I got that answer, this is what I want to do," Less said.
"We were in front of all these people doing these crazy things," Less said. "The smiles on our faces were genuine."