More than a decade after the second installment of the "Man on the Moon" series was released, Kid Cudi revisits his past to grow and end the trilogy on a brighter note.
The founding father of sad-boy rap hums his way back into our hearts and playlists with this third and final (maybe) installment of the "Man on the Moon" trilogy, "Man on the Moon III: The Chosen." Cudi has released four solo projects and a collab record with Kanye West in between the two latest "Man on the Moon" albums, but none of those projects have been able to project Cudi back into rap prominence, until now.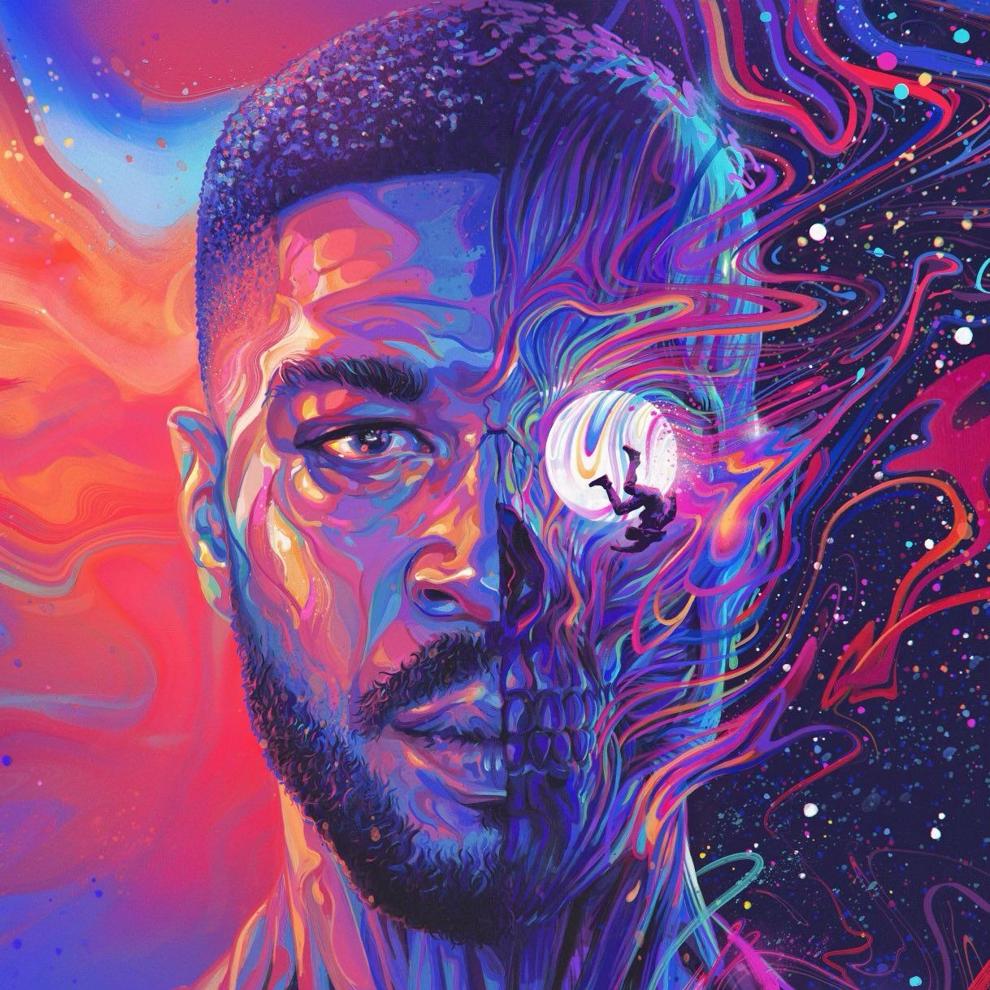 Over the past decade Cudi has been very experimental with his track selection and production, delving deeper into an alternative rap/rock funk, so it's great to see Cudi returning to his roots of electro rap on his latest. Cudi brought back a slew of his "Man on the Moon" producers to aid his creative resurgence, most notably Pain Pat and Ratatat, as well as Da Dot Genius. Cudi employs the new era production duo Take a Daytrip to support his production vets for the project, and they do a good job supporting the "Man on the Moon" legacy while also shaking things up a bit in the booth.
While enjoying great commercial success over the span of this series, Cudi has often been bashed by those in the music industry for his depressing antics and failure to diverge from his "eternal sadness." The albums in between the "Man on the Moon" series, ["Indicud" (2013), "SATELLITE FLIGHT" (2014), "Speedin' Bullet to Heaven" (2015), "Passion, Pain & Demon Slayin" (2016) and the collab album with Kanye West, "KIDS SEE GHOSTS" (2018)] all received similar critical reviews, claiming the music industry needed Cudi to move past his druggy depressing act. Though his spokesmanship on his battle with anxiety, depression, substance abuse and mental health has been the real cornerstone of his work according to his cult fanbase.
Fans come back to Cudi time and time again to listen to something not only relatable, but painfully and beautifully raw. Cudi doesn't shy away from revealing his true emotions and that aspect of his music really resonates with his fans.
Cudi has dealt with some real struggles since last touching on "The Man on the Moon." Overall, his commercial success has been trending downward since the second "Man on the Moon," and most will argue that resulted from a depreciation on the overall quality of his music. This could be a result of Cudi experimenting with new sounds over the past decade, testing his luck in new genres within the music industry. But music sales were the least of Cudi's concerns through this period; in October 2016, Cudi checked into a rehab clinic to deal with his anxiety, depression and suicidal tendencies.
"Man on the Moon III: The Chosen" really is the perfect comeback story of 2020, as Cudi narrates his battle with adversity and resurges back into raps upper echelon of artists.
The introduction to the album is a 37-second track titled "Beautiful Trip" which sets the stage for the album's best song, "Tequila Shots." The track references Cudi's past projects and reveals that Cudi regressing toward yet another depressive episode. Cudi shows that while he may be falling back into a period of struggle with his mental health, he isn't afraid of the challenge this time, in the chorus he sings, "Hm, hear me now, hey/ This time I'm ready for it/ Can't stop this war in me/ Can't stop this war in me, in me, in me." He continues to plead with his listeners that he has tried to cope with his depression; he doesn't want to be known as a sad artist, "Never thought I would be back here bleeding/ I'm not just some sad dude/ You can see my life how I grew/ I want serenity." He continues to apologize to his fans, friends and family for his struggles with depression throughout his discography, a trend that is evident in this track as well.
Cudi employs many high-power guest verses throughout this project (Trippie Redd, 2021 Grammy nominated Phoebe Bridgers and Skepta), but perhaps the most notable comes from the late Pop Smoke on "Show Out" also featuring Skepta. "Show out" is certainly the track that packs the largest punch on the project, and perhaps the track on which Cudi is most out of his genre comfort zone, as Cudi takes a stab at Pop Smokes Brooklyn Drill. While Cudi delves into a new speed and cadence in this song, he finds a way to share a message that is so truly his over a beat that is unfamiliar to him, "Look in the mirror, see who you are/ All of this evil that's in the way/ I pray to God with open arms/ No, can't trip, can't grip, hands all over these chips." Pop Smoke provides the short chorus to this song, his raspy voice fueling the immense energy of the drill. Skepta shows out flexing in the first verse, urging those who oppose him to test him and see how it goes.
Cudi also continued his "Solo Dolo" journey on "Man on the Moon III: The Chosen" with "Solo Dolo, Pt. III." The first "Solo Dolo" track came from Cudi's debut album, "Man on the Moon, End of Day," and the second comes from "Indicud" and features a verse from Kendrick Lamar. All three tracks carry the same motifs, Cudi continuously claims he doesn't have or need anybody else, he's all good by himself yet he's aware of his insanity and drug addiction, suggesting that drugs keep him company when no one else will. "Solo Dolo, Pt. III" adds to the motif that Cudi has transitioned more toward abusing alcohol as opposed to the psychedelics that were evident in his earlier works.
Generally speaking, Cudi had a lot to prove on this album. He wanted to show he could bounce back from the early adversity he has been facing his whole life, while also striving to add to the legacy of the "Man on the Moon" series without it seeming like a quick cash grab. Cudi hammered on the new points that he has been making surrounding his mental health and overall growth while still relating to his fans that have looked to his music for an escape since day one.
He proved he can make music that doesn't fit his typical genre, while proving he's still the king of the ever popular sad-boy-rap subgenre. "Man on the Moon III: The Chosen" charted as the No. 1 album on the Billboard hot 100 for the week of Dec. 18 (Cudi's first #1 charting album). This album is deserving of the credit it is receiving early on, the fans love to have Cudi back on top and this album gives us a hint of just what Cudi has in store for us in the future. I rank it as an 8.4/10.
If you liked Kid Cudi's "Man on the Moon III: The Chosen," get prepared for the deluxe version which has been slated to release in early 2021. Cudi's next project to drop will likely be the long-awaited "THE SCOTTS" collab album with Travis Scott, supported by the No. 1 charting single "The Scotts" which was released in April of 2020. Cudi will also appear on Playboi Carti's highly anticipated album, "Whole Lotta Red" coming out on Dec. 25, 2020.