"Do or Die" is a motto said often by members of Illinois State University's Gamma Phi Circus.
Now, more than ever, that phrase is being tested. Members of the circus train all school year for one weekend in April. But with a blink of an eye, that weekend was gone.
"I literally felt my heat drop," GPC President Sophie Remmert said. "I've been disappointed, or heartbroken before, but certainly nothing like this feeling."
On March 11 ISU President Larry Dietz sent out a campus-wide email stating that due to the coronavirus pandemic, the university will be extending spring break a week. Classes would also switch to online-only format until at least April 12.
"I was overwhelmed," GPC Treasurer Clare Maylone said.
Maylone adds she was wondering about a lot of things after the initial email. This included class requirements and stress about her on campus job.
"As a circus member, I was wondering if we would still be able to have our shows," Maylone said. "As a leader in Gamma Phi, I was dealing with so many questions from the rest of the troupe that I didn't know the answers to. I felt really hopeless and lost."
However, the fate of the 2020 Gamma Phi Circus home show, "The World of Music," wasn't known yet.
On March 12 members in the German wheel act were going to have a professional German wheel artist work on the act with them. This ended up getting canceled due to the email and the safety of those in attendance.
"It's safe to say we didn't have it, but man I would have killed to do my tricks again," Remmert said. She not only serves as president but is also Co-Act Captain of German Wheel.
Gamma Phi had plans to have spring break practices the following Friday, Saturday and Sunday to run through and perfect the show multiple times. However, these practices were canceled as spring break was extended.
On March 12 Gov. JB Pritzker ordered a shutdown of all events with more than 250 people until May 1. The Gamma Phi show was set for April 17 and 18 in Redbird Arena.
On March 14 it was officially announced that the performance was canceled.
In a statement released by Illinois State University, the show was canceled due to "the COVID-19 situation and the Illinois governor's ban on events with over 250 people. The health and safety of our student performers, staff and audience members are always our top priority."
"It wasn't until the official cancellation that I let it sink in, I tried to stay optimistic about the show happening," Third-year member and Co-Act Captain of Perch Phoebe Naylon said. "I assumed that for everyone's safety the show would be postponed."
Gamma Phi is the oldest collegiate circus in the United States, as this is its 91st anniversary. In those years, the only time the troupe hasn't had a performance was during World War II.
A lot of emotions were being felt by members of Gamma Phi.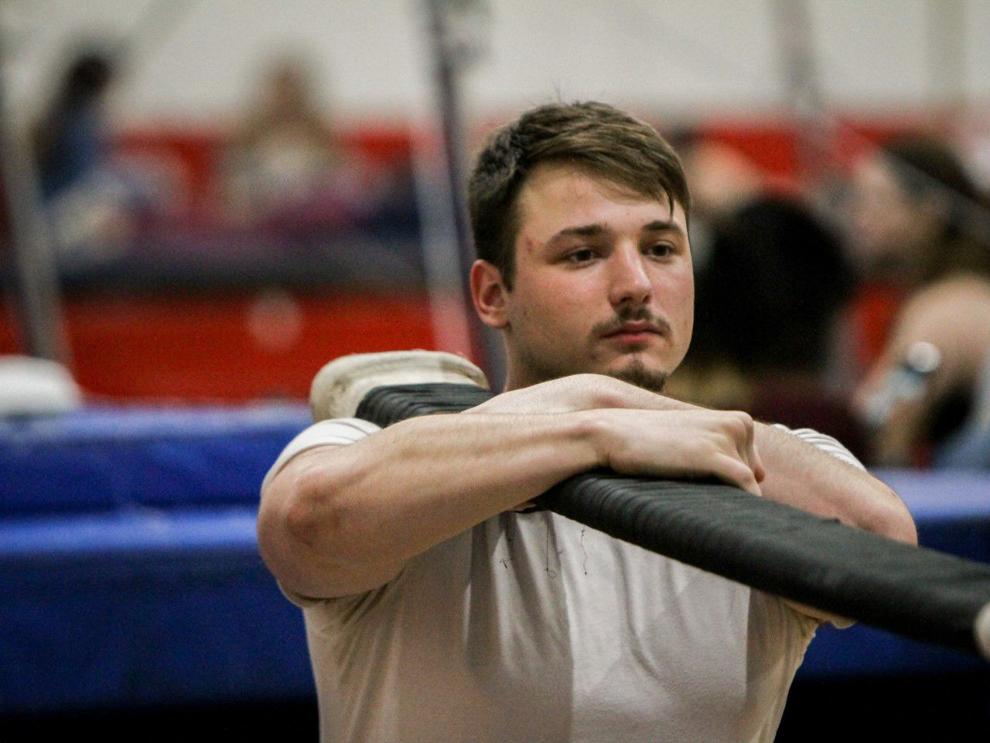 "Sadness, disappointment, regret and a little denial still," Maylone said. "I took it for granted that I would get my last opportunities to soak everything in and appreciate my favorite moments one more time."
Maylone adds that through all this she's become more aware of how quickly her time at ISU is going by and how she's "ready to make the most of it with my circus people, even if we can't be in the gym and arena."
The cancellation and lack of practices impacts a lot of different types of members.
"All year long we have heard the [returning members] hype up what a rush it feels to perform in the arena in front of a crowd," first-year member Sydney Brust said. "Now I won't get to know what that feels like for at least another year."
Brust was going to be performing in tumbling, which was themed after the iconic band Queen to fit the show's overall music theme.
"Situations like these can always bring people together and unite us because we went through it," Brust said.
For some members, they know what a performance in the arena feels like for Gamma Phi and they also don't have to say goodbye to it all just yet.
"So many of my friends are graduating this year and I was looking forward to experiencing [their last show] with them," Naylon said.
Naylon would have been performing in aerial chandelier and perch pole during the big show.
"I think [this experience] will allow me to appreciate things more," Naylon said. "Especially things that I would sometimes overlook like going to class, going to circus, seeing my peers or being able to buy toilet paper from Walmart. This experience has made me realize how much I value certain things in my life."
But for some members, they had performed their last Gamma Phi home show without knowing it.
"We have worked so hard, and it all just disappeared in one moment," Maylone said. "Anyone who knows me knows that show week is my absolute favorite part of circus, so it was heartbreaking to know that I wasn't looking forward to that anymore."
Maylone is a fourth-year member of Gamma Phi and went to the Gamma Phi Circus Summer Camps for two years before coming to ISU. This year, she would have been performing in clowns, bike built for 10, aerial cube and a brand-new jump act that was set to premiere during show.
She adds that there's so much more that she will miss aside from the arena performance.
"I'll miss leaving the arena at 4 a.m. some nights and still being excited to come back the next day. I'll miss having a word of the day [during show week] that nobody ever remembered," Maylone said. "I'll miss listening to 'Piano Man' while doing our makeup in Clown Alley. I'll miss when we all wear our 'Ask me about circus tickets' shirts and jokingly saying, 'Hey can you tell me about circus tickets?' when we see each other around campus."
Home show was to include moments that members have been waiting for. Whether that's the rush of show week or performing a trick that took years of training, members have shared sadness for missing out on certain things.
For Remmert, serving as president was one of the "biggest honors of my life," as she's worked her way up in GPC leadership in hopes of filling this role.
"I thought about our 'Go Go Gamma Phi' chant that the president leads after every show. Thinking of that brought on a whole new wave of tears," Remmert said. "All year I just kept thinking about that chant for the final time with all the alumni at show, and now to think I might not ever lead it again."
Remmert is a fourth-year member and would have been performing in aerial cube, tumbling, aerial bamboo and German wheel.
"The part that is really difficult for me to come to terms with is the fact that we have no closure," Remmert said.
"Sure, some days I didn't want to go to practice, or I complained about doing the hard aerialist workout after four hours of practice," she said. "Now I would take back every single thing if it meant I could have one more show."
However, this is by far not the end for the Gamma Phi Circus.
In 2019, the organization not only celebrated their big 90th anniversary, but also got the opportunity to perform on a national level in the Macy's Thanksgiving Day Parade alongside Coach and Billy Porter.
Community members, circus family and alums have given support to the circus during this difficult time. Any ticket sales that are not refunded will go to Gamma Phi as a donation.
"At this point, I think the most important thing is for us to be there for each other, because everyone's lives are being affected," Naylon said. "It's important to be sensitive to everyone's losses and to know things will turn around eventually."