The COVID-19 pandemic that is ravaging the United States is tragic, but it is also presenting some unique learning opportunities for students at ISU, namely the timely addition of a new class in the sciences: "Pandemics, Plagues and People."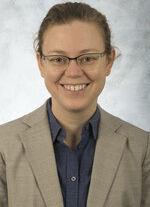 The class, taught by assistant professor Abigail Stone, who is an anthropologist as well as an archeologist, will cover pandemics of the past and their far-reaching influence, and how they permanently shifted the course of the human race. In particular, the course will focus on two specific diseases: the bubonic plague that ravaged Europe in the 1300s and malaria.
"I think it'll be really awesome to show students how these diseases altered things in the societies they touched, down to an evolutionary level," Stone said. "For example, when you think about something like sickle cell anemia, which spawned from having two copies of an allele that can be preventative of malaria in highly endemic regions. We tend to think that modern medicine has provided some sort of immunity to natural selection, when in reality we are evolving faster than ever before."
The information provided by this course is obviously pertinent. With the coronavirus hanging over the world's head, it can be hard to see past this tragic event, but it might be able to provide an avenue for seeing into our future once this whole thing blows over.
"I really wonder about whether or not future archeologists will look through our trash and see that our society started to use masks more commonly," Stone said. "Personally, I think masks will fade from daily use, but I think American society will see them as a way to keep your germs from spreading when you're sick. I do think we're going to be more conscious of crowded rooms, but humans are social creatures. We have an innate desire to be close to each other, so social distancing might be tricky."
Despite the conditions, Stone feels cautiously optimistic. Even with the pandemic, social movements like Black Lives Matter have kept society moving toward progress and technology like Zoom is allowing for more remote access to work, which could potentially impact our carbon footprint.
"At the very least, the pandemic is highlighting something we've known for a while, which is that diseases affect minority communities much more than they affect others," Stone said. "Pushing these issues to the forefront is a good thing, even though it shouldn't have taken a pandemic to do so. I'm hopeful that these turbulent times will bring about structural change to American society, even with the tragic conditions that brought it about in the first place."