Two new trustees were appointed to the Illinois State University Board of Trustees by Gov. JB Pritzker Monday.
Dr. Kathy Bohn and Robert Navarro, were appointed to the board to serve six-year terms.
Bohn is a physician at Vein Specialists in Bloomington and received her bachelor's and master's degree from Illinois State. She has served on several boards including the Alumni Association Board of Directors, and the Family Violence Council for several counties in Central Illinois.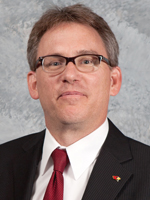 Navarro is a tourism manager for the Heritage Corridor, which is the area between the Illinois River and Lake Michigan. The area includes Joliet, Starved Rock and parts of Route 66. Navarro is also a former student of Illinois State, receiving his doctorate degree in education administration and foundations. He was a founding member of Illinois State's Alumni Latino Network and served as the assistant director of housing.
As a member of the board, Navarro said he wants to focus on retaining students and increasing diversity and inclusion.
"Illinois is losing a lot of students to outward migration of other states," he said. "I think we need to stop that, jump in front of that and do what we can to keep more students in Illinois."
"I'm excited and certainly humbled," he told The Vidette. "I was first generation, nobody else in family had gone to school before, that's something else that's really important to me."
Navarro has also started a scholarship to support first generation and undocumented students.
In addition to new appointments, Pritzker reappointed members Rocky Donahue and Mary Ann Louderback. Their terms had expired in January and will now continue until 2025.
Pritzker did not reappoint trustee John Rauschenberger. His term was not set to expire until 2023, but will now no longer serve on the board. Bob Churney was also not reappointed, his term expired in January.
The board is next scheduled to meet on July 26 at ISU.