Carrillo is the first openly queer and first Latinx councilmember. After securing her position, Carrillo aimed to lift up the voices of marginalized groups within the city.  
"Generally, I have dedicated most of my adult life to work around social justice issues, so that's a perspective that I'm bringing to the council and something I hope to lift up in my tenure there," Carrillo said.  
Carrillo was born in Mexico and immigrated to Chicago when she was 10 years old. She spent several years as an undocumented person in the United States. 
By day, Carrillo works as special assistant and adviser to the director at People's Action, a national network of social justice and community organizations. 
Carrillo said her passion for community organizing began during her time as a psychology student at Illinois State University. 
"My interest in psychology wasn't so much to work with clients in a clinical setting, but it was actually to research empathy," Carrillo said.  
"I understood that this was something people in the financial industry did intentionally to make money," Carrillo said. "I just couldn't fathom how anybody could do something like that and sleep at night." 
As an ISU student, Carrillo met community organizers on campus who inspired her to follow that career path.  
"I just knew as soon as I started that work that that's what I wanted to spend my time doing," Carrillo said.  
Carrillo enjoys the work she is doing now and doesn't have any current plans to run for higher office. 
"I'm happy with the position I am at," Carrillo said. "I think if there was an opportunity to run for another office to help further the same agenda to advocate for working class people and marginalized people in other capacities, I would consider it." 
Though she had opportunities to work in other cities, Carrillo stayed in Bloomington because she felt a connection to the area.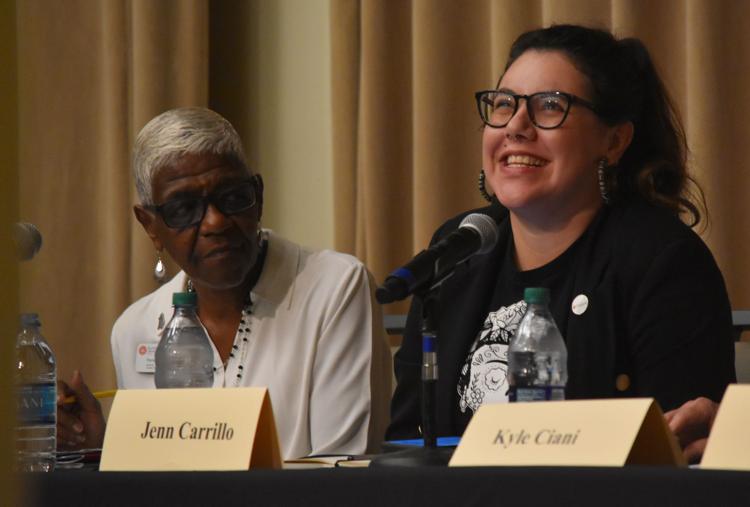 "I think that there's something special about places like this. Most people in America do not live in places like New York or Chicago or San Francisco. They live in places like Bloomington and rural central Illinois," Carrillo said. 
"To me, if all the people who are queer and different and minoritized go move to cities, then places like this sort of get stuck in a weird time warp and progress isn't made," she continued. 
Carrillo's plan is to "continue advocating for the people who struggle most in our community." 
At the end of the day, Carillo enjoys taking some time to drink local craft beer and relax with her dog and cat at home. 
"I love a good IPA. I like craft beer, and I like especially local and area craft breweries. I have a really good group of friends that I hang out with," Carrillo said.