With Thanksgiving and Fall Break right around the corner, the month of November can be seen as a time for giving back.
Illinois State University students all across the Department of Criminal Justice Sciences, Criminal Justice Association, Alpha Phi Sigma and Breaking Barriers are currently living up to the idea of giving back through its' second annual clothing closet drive. 
For the entire month, the department is collecting men's clothing donations for the Sheridan Correctional Center facility, including pants, shirts, jackets, coats and scarves.
Donations must be new, gently used and free of stains or holes. The department also encourages students to donate professional attire.
These donations can be delivered to the bins found in Schroeder Hall, the ISU Police Department and the Campus Religious Center. 
 "We're going to try to make this an annual thing. It's open for everyone, so if you're an art major or theater major, you can most definitely get involved, help donate and spread the word," CJA President Helena Gill said.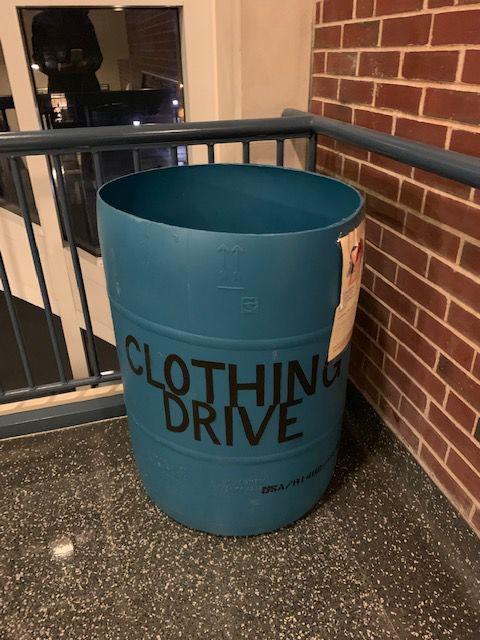 "The way you get things is the word of mouth basically. Everyone can get involved, it's community service."
Since the Sheridan Correctional Center is an adult male, medium security, 100 percent drug treatment facility, many of the offenders have four years or less remaining on their sentences before re-entering into the community. 
The purpose of the drive is to provide these males within the facility with clothing and hope after they are released.
To Gill and the rest of the department, just a small donation of clothing can assist the men to become valuable members of society and to regain confidence to achieve self-sufficiency. 
"[We want to be able to help by] allowing them to be able to come home in clothing instead of the regular gray jogging suits so they won't have that label on them that they are just out of jail as well as clothing for interviews," CJA Vice President Nastasha Powers said.
"[This will allow them] to be able to adapt to society versus having that gray jogging suit which is a label within itself."
Some of the bins located throughout campus have already been filled with a variation in men's clothing within the first few days of the drive happening.
Those involved within the drive encourage those who are looking to get involved beyond just donating clothes to think outside the box and utilize their talents, skills and majors to the best of their benefits. 
Within the Criminal Justice Department, everyone involved in the making of the drive sees this as an opportunity to for Criminal Justice students to see understand the reality of what these people go through after their release from jail. 
"The mentality that we are creating and instilling in our students to look at these people as potentially employees of a community or of a job is something that is really great because sometimes we do have that narrative or they're just going to go right back [into jail]," Co-adviser of CJA Tamekia Bailey said.
"Even having that mentality that they would do something better with their life and they will make better choices this time around is a mentality that is good to have," she continued.
While the drive includes students of all majors, the criminal justice department believes that this drive helps to reshape the narrative of how people typically view those who are just released from jail.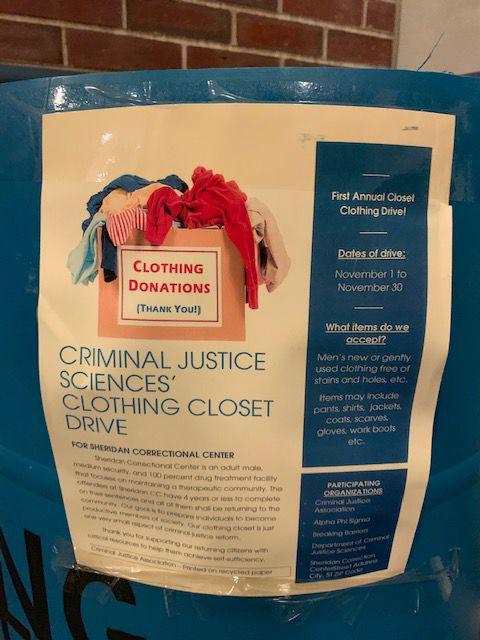 For Bailey, the purpose of the drive and seeing its overall outcome has changed her mindset in a similar way. 
"I think this [drive] created a whole new narrative for me because I am new to the whole criminal justice piece. I think that awareness that you can do something post-release is something that I get excited about [and is] something that the reason that I jumped on board as well is because of that reason of looking at it from post-jail," Bailey said. 
For the department, the clothing drive goes beyond just donating.
To them, it's about going above and beyond in order to provide and give back as much as possible because it makes that much of an impact on society. 
"The sky is the limit. If you limit yourself to 'well, I can't do this' or 'they will think this,' you never know. This clothes drive, who would have thought about doing this? We can go read to people in the prison or go on a tour, but giving back just a shirt can really make someone's day. Just go out and do it," Gill said.