Incumbent Rep. Rodney Davis (R) and Democratic challenger Betsy Dirksen Londrigan made the argument tonight for why voters should choose the more ideal candidate to represent the 13th Congressional District in Washington, D.C. 
WGLT hosted a debate between Londrigan and Davis asking questions regarding healthcare, gun and police reform, agriculture, taxes and climate change. 
During opening statements, the candidates laid out why they are fighting to be the people's voice in Washington, D.C. 
Davis has been elected into office since 2013. Davis believes he has tried his best to be a fighter for the people in his district ever since. 
"I stood in Bloomington-Normal, and Normal to be exact seven and a half years ago and I talked about what I was going to do if I was elected to be your representative in Washington. I said I was going to Washington to work in a bipartisan manner to get things done," Davis said.
Londrigan's reasoning for wanting to represent the people of central Illinois in the 13th Congressional district is protecting healthcare after her own experience that lead to her son being hospitalized at the age of 12.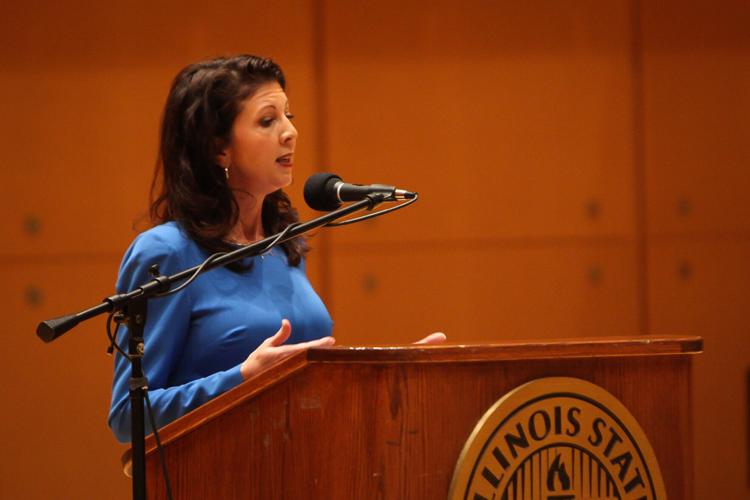 "I got into this race to protect healthcare," Londrigan said. "I got into this race because I saw our current congressman, celebrating on the White House lawn the day that they voted to take health care away from millions of Americans and to gut protections for people with pre-existing conditions. I know what that means for families and I got into this race to protect it," Londrigan said. 
The candidates also discussed handling COVID-19 and issues that need to be fixed to ensure a safer return to school, work and normal life for everyone to remain healthy. 
Londrigan called the University of Illinois saliva-based testing a "model for success" in helping fight the spread of the coronavirus. She urges that the national government needs to do more in making a nation-wide plan and offering universal testing for everyone in order to safely start returning to normal.
Davis pointed out that Congress is working with the U of I to get Food and Drug Administration approval for the test for places like Illinois State University so they can utilize the test in containing the spread. Davis made the argument that the United States does have some of the best testing readily available, but Londrigan went on to rebut, stating universal testing is not readily at the hands for everyone and that results can lag.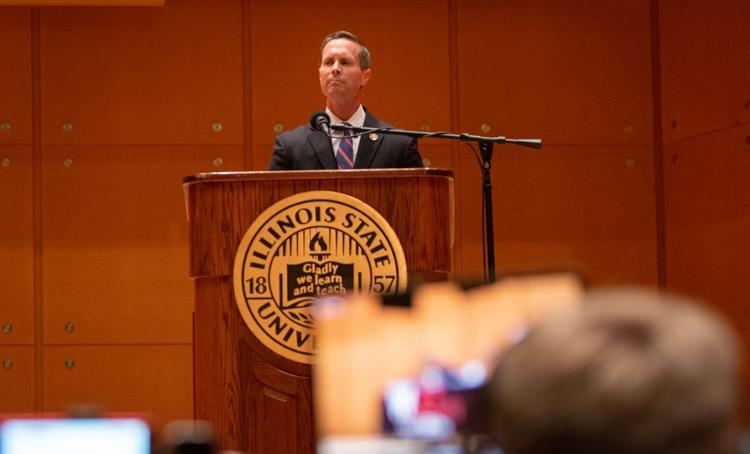 Candidates were also asked about combating systematic racism, especially within law enforcement. 
On the co-sponsored JUSTICE act bill, Davis stated that the bill requires more police transparency and required training to prevent situations like George Floyd's wrongful death. Davis said he does not believe in defunding the police and wants to "invest more in law enforcement, put more school resource officers in place." 
Davis believes that "what we need to do is address the issues many in the African American community have against our police officers." He believes people should get to know and build relationships with law enforcement. 
Londrigan, who says she was proud to attend and be a part of peaceful protests over the summer, believes that "if we aren't talking about the systematic injustices, then we are missing the point." She believes that law enforcement needs to have implicit bias and crisis intervention training along with members on the team who are trained in dealing with addiction and mental health since not every 911 call needs an armed response. 
Climate change was also discussed among the two candidates. 
Davis does believe climate change is real and is man-made. He believes the U.S. has the right approach by reducing emissions which he believes exceeded what was on the Paris Climate Agreement Accord. Davis pointed out the Paris agreement held the U.S. to "higher standards" and we need an "American Agreement to hold [other] countries" accountable in how much emissions they produce. 
Londrigan believes that the U.S. should be leading the way in fighting climate change and that college-aged students show a high interest in combating climate change for a healthier earth for years to come. Londrigan thinks the U.S. pulling out of the Paris Climate Agreement Accord was a mistake and does not agree with Davis voting against to rejoin the accord. 
She goes on to say that central Illinois has made investments to create jobs in renewable energy and calling them "jobs of the future." 
Candidates closed the evening stating that the people of central Illinois deserve to have someone representing the heart of Illinois and someone who will fight for what is right in Washington, D.C.