The chants of "Hands up, don't shoot!" and "What's his name? George Floyd!" overpowered the music of nearby restaurants. Protesters closed the streets of downtown Bloomington, demanding that their voices continue to be heard. They don't want violence. They don't want anyone else dying. They just want justice. 
On Wednesday, a group of approximately 600 peaceful protesters marched the streets of downtown Bloomington. 
"Enough is enough, so we decided to do something about it instead of just talking about it," said Dominique Stevenson, a 24-year-old lifelong Bloomington resident. 
He and several others are looking to sit down with law enforcement, school officials and others to try and have discussions about how to solve this issue.
The protesters held a moment of silence at the City of Refuge Ministry for eight minutes, the amount of time that Floyd had a knee pinned against his neck before taking his last breath.  
Outside of the McLean County Jail, protesters shouted the names of people who were locked up inside. While the protesters chanted, someone from the crowd tossed a blue smoke bomb to try and get the protesters riled up.
Protesters scattered, running away in fear from the blue smoke. They believed it was something the police had thrown, while others who saw the man toss the smoke bomb stopped them and explained how it wasn't the police. Once the protesters calmed down, they continued to march.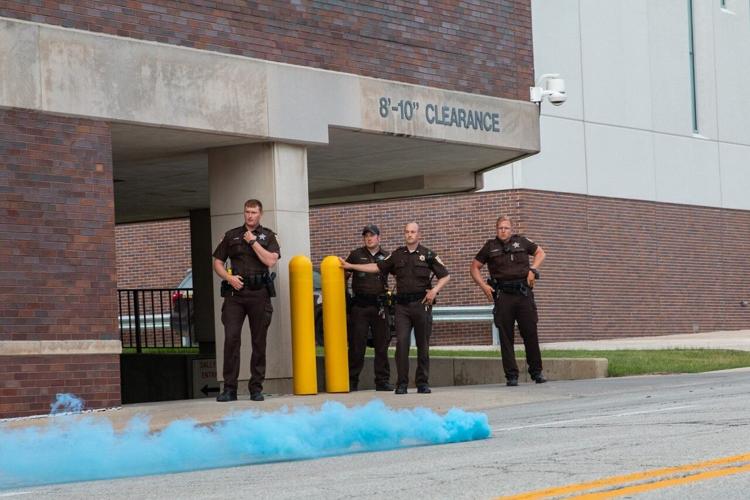 Dion Allen, 46, was another individual who shared stories of how he had grown up watching his family members be slammed up against cars by the police. He also shared a very personal experience about how he, his wife, and one of his friends from back home in Chicago had the cops break into their home and terrorize them.
Throughout the story he fought tears behind his eyes and broke down asking "why," searching for the reason these kinds of actions happen to the black community.
Rafael Menchaca, who also heard Allen's story, said that it was hard to listen to what had happened, but that it needed to be shared.
As we know these protests aren't just for the justice of George Floyd, they are for all the black lives that have been affected by racism and police brutality. For people like Stevenson, Allen and Floyd who have grown up in fear. The protests are to show that all black lives matter. 
Approximately 600 protesters take to the streets to march downtown Bloomington. | @The_Vidette pic.twitter.com/EVheoesLq0

— Alex Gant (@AlexGant16) June 3, 2020