Nearly one month after scrapped stadium seats were spotted outside Redbird Arena's visitor and media entrances, things seem to be on schedule in Illinois State's seating enhancement renovation to RBA.
With the entire lower bowl ripped from the arena, starting from scratch was the alternative to ISU Athletic Director Larry Lyons' original blueprint — all in effort to create a more comfortable and "intimate" seating space for students, fans and visitors of the university.
"We were unable to secure replacement seat parts at first and we were given a timeline that would take us many months past this year," Lyons said. "This will be the first major renovation to wear and tear on a licensed building [at ISU]. We've seen a good 30 years with the lower bowl, so it was time."
The Redbird Arena Seating Enhancement Project is an upgrade to the current seating of Redbird Arena's lower bowl. The original seats to the building's initial construction were removed to allow for "necessary" revitalization, according to Lyons.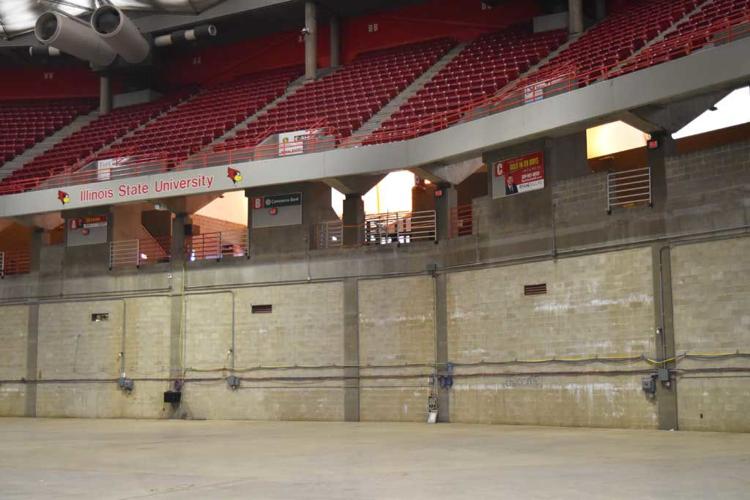 Included in the enhancement will be additional courtside seats, loge seating, wider aisles with handrails, larger seats and a new numerical system to locate sections, tossing the arena's former letter organization.
"It'll definitely be more comfortable," Lyons said. "America is not the same size as it used to be. The seats will be wider with more knee room and everything will be pushed closer to the floor. From an athletics perspective, the home court will be much better since it will be more intimate. This is where seating is going and we're taking advantage of that. We think everybody is going to enjoy it."
The project's budget is expected to cost around $6.2 million, but Lyons is "pretty confident" the renovation will come in well under that number when it is all said and done.
Let the spring cleaning begin 😏Day 1 of the Redbird Arena Seating Enhancement is in the books! pic.twitter.com/XZwBPIMFoz

— ISU Redbirds (@ISURedbirds) May 13, 2019
Lyons also foresees the new Redbird Arena fulfilling the needs of not only student-athletes and fans, but campus organizations, groups and events.
"Modernizing the lower bowl will definitely impact [ISU] athletes but it will also impact other user groups on campus and in the community such as IHSA state basketball tournaments, Gamma Phi Circus, etc. Commencement is also very important in this regard as well and I just think it's a plus for the university in total because of the many uses for the building."
With this overhaul of product, labor and a deadline corresponding to Redbird volleyball's home-opener Sept. 13, fan intimacy could potentially cause a problem as the corners of the court are closer than ever before.
"We're going to have to be very cognizant of player safety and movement of people around the floor because of its intimacy. We're going to have to restrict that. It's going to look fuller and the players always look bigger when you're closer to the action."
Big things happening at Redbird Arena! pic.twitter.com/LATw0WXXhj

— Illinois State MBB (@Redbird_MBB) June 4, 2019
Other internal changes include a shift of both home and visitors benches, honing in on the conventionality of player movement to and from the court.
"We're going to be moving our home bench to the south end. The home team and visiting team come out of opposite tunnels at the beginning of the game, which is great for the handshake but it's more convenient to have teams come out adjacent to their bench."
Taking into consideration of student-athletes' routes to their respective sidelines, Lyons also plans to reserve another student section on the south end of the arena, working directly with ISU's Student Government Association and Red Alert in an effort to create a heightened game-day experience.
"With moving the home bench on the south end, usually you prefer your student section near the visitors bench. The primary student section will be on the north end with the band's [stage] on that end as well, the south end will remain a student section. We've wanted to increase the number of seats for students in the lower bowl and the best way to do that was to split them up. Everybody was positive about that. They think it was something to affect the visiting teams on both ends of the game and I think contributes in creating a better atmosphere."
Declining student attendance is a problem that plagues most college sports today. Although Lyons and company make strides to bump attendance rates and ticket sales, he feels that improved seating won't be cause for its immediate turnaround.
But hopes for it nonetheless.
"If we can say the seats [will spike attendance] that would be great. But it all comes down to how the kids are performing on the floor. We think the seats will have something to do with it and we hope students will be energized to be on both sides of the floor. More people in the building augments better atmosphere."
In Lyons and the athletic department's pursuit to drive attendance up by allowing more comfortable seating, moving the primary student section to the north end of the arena only helps their cause.
"[The ticket office] has really paid close attention this past year and 60% of our students enter through the north door. It'll be much more convenient for students to come in and out of the building towards the primary student section."
As the new Redbird Arena is still months away from completion, Lyons hopes that its progress ultimately pays off in the long run.
"We're looking at this as more of a package to enhance these things, hoping that fan engagement is better. If fan engagement is better, that'll hype up the players and if the players play well, that'll hype up the fans. It's kind of a chicken and the egg deal. We're hoping it will be a really great home court and that everyone will enjoy the new Redbird Arena."