For Illinois State University alumna Grace O'Brien, following her dreams and participating in the equestrian world were two things that were a huge part of her life.  
O'Brien has been involved with horseback riding since the age of 10. Her love for horses and horseback riding came from a video game that she had seen and played as a kid. From there, she knew that she wanted to try it out herself.  
Despite trying every other sport as a kid, she found a way to convince her parents to let her be involved anyway with lessons from a woman who lived fairly close to them.  
"My parents basically wanted me to do anything but [horseback riding] because of the cost of horseback riding," O'Brien said.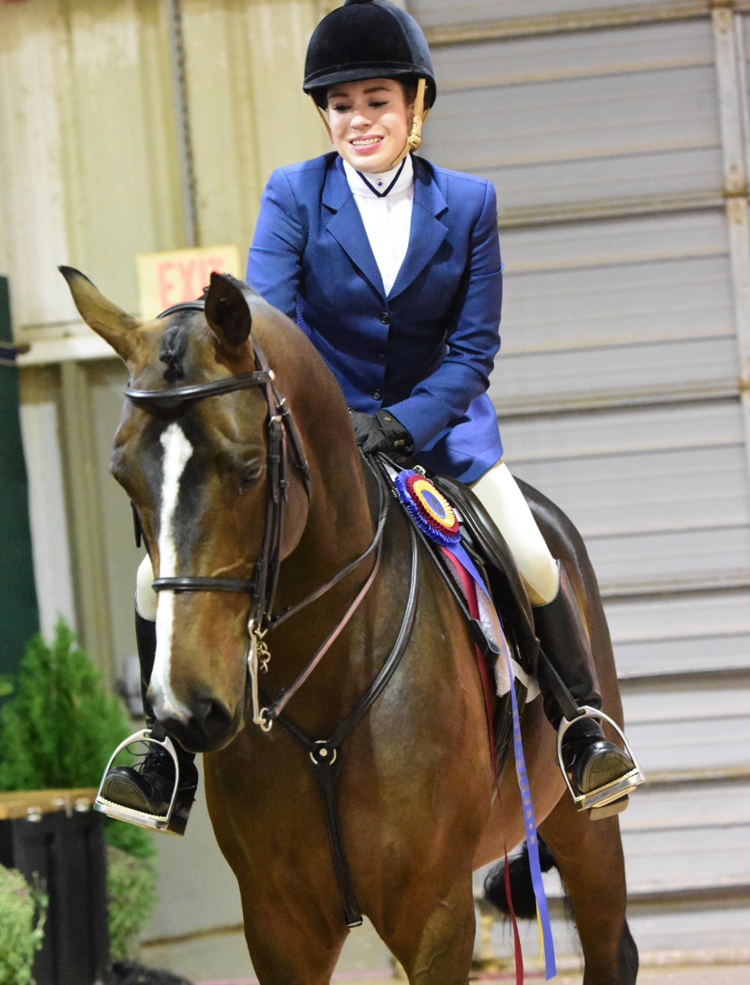 "They didn't really want me to get into it, but I did every other sport possible and horseback riding is something I just wanted to do for so long." 
She knew right away that she wanted to be a part of the equestrian team the second she came to ISU. Coming from Lake Barrington, O'Brien was lucky enough to bring her horse to experience college alongside her.  
"When I was in college, being on the ISU Equestrians Team and having my horse at ISU helped me keep my skills sharp," she said. 
"I was still able to have my horse there and have that bit of the dedication." 
Recently, O'Brien has been able to showcase her years of hard work and love for it with the current horse she rides called Dantree Debutante CH. 
Taking place in Oklahoma City, O'Brien and her horse participated in the 37th annual Grand National & World Championship Morgan Horse Show. 
The competition was held from Oct. 10 through Oct. 17 and is known to be one of the country's premier horse shows. This year's show offered more than $300,000 in prize money and awards to owners and exhibitors of the 1,000+ horses competing, like O'Brien and Dantree, from 45 states and four nations.  
At one point in the competition, the ending result did not look so good for the pair. Right before they were supposed to compete and warm up, Dantree had gotten sick with a stomachache, known as colic.  
O'Brien believed that they would not be able to compete due to Dantree's health condition at that point. In the equestrian world, it's always about putting the horse and its health first. 
For O'Brien, she was willing to pull out of the competition if Dantree's health was not good enough for them to compete. 
"We think it was due to the pressure changes coming from Illinois to Oklahoma, so I actually wasn't going to compete that night in that event," O'Brien said. 
"We had the vets come out and they were able to pump her stomach. Whatever it was that was upsetting her, they were able to get it out." 
Keeping a positive mindset and staying calm through all of it was not easy for O'Brien, especially with the rollercoaster of Dantree's health before the competition. 
The intimidation of the other horses and riders in the warmup ring was something that struck O'Brien's mindset.  
Despite her initial feelings, O'Brien knew that there would always be next year whether they would have won it all or not. However, that did not stop the pair's overall success and performance at the competition.  
Even with the rocky situation throwing them off mentally, the pair was able to go out and win the national championship along with two reserve national championships and top five in the world championship. 
"I think by that point, I was so focused on my horse that muscle memory just took over," O'Brien said. 
"When I was in the event, I was like 'Oh my gosh, we weren't even going to do this.' That was just what made the win so surprising, and I was just so shocked." 
With her dreams finally coming true after so long, she encourages those who have big dreams like her to never give up and to keep going no matter what situation they might be going through.  
"Everything that is meant for you is not going to pass you by. It showed me too with my horse getting sick. We weren't going to compete and then her health just turned around. [And everyone was] like, 'go out there,' and we won," O'Brien said.