Gov. JB Pritzker released a press release stating that holding elected officials accountable is the "most patriotic thing we can do" after President Donald Trump was impeached for a second time.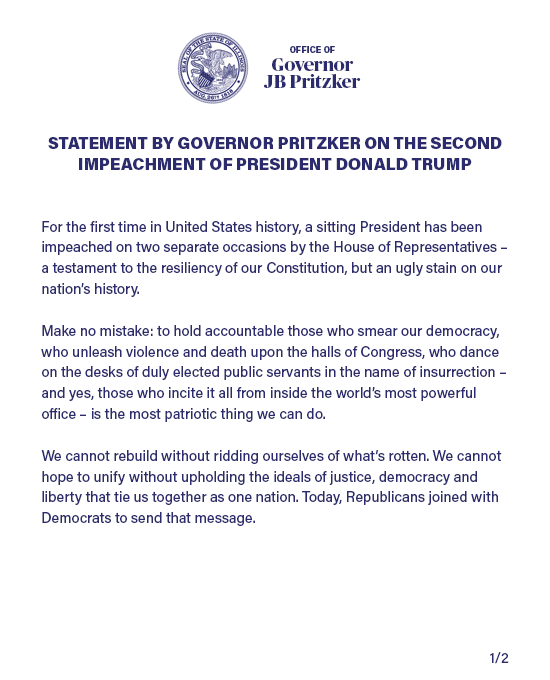 Pritzker said the impeachments were a "testament to the resiliency of our Constitution" and that it is vital we hold our elected officials accountable for actions that incite violence and undermine democracy. 
"Make no mistake: to hold accountable those who smear our democracy, who unleash violence and death upon the halls of Congress, who dance on the desk of duly elected public servants in the name of insurrection — and yes, those who incite it all from inside the world's most powerful office — is the most patriotic thing we can do." 
Pritzker goes on to say that in order to unite, we must uphold the ideals of "justice, democracy and liberty" that tie our nation together.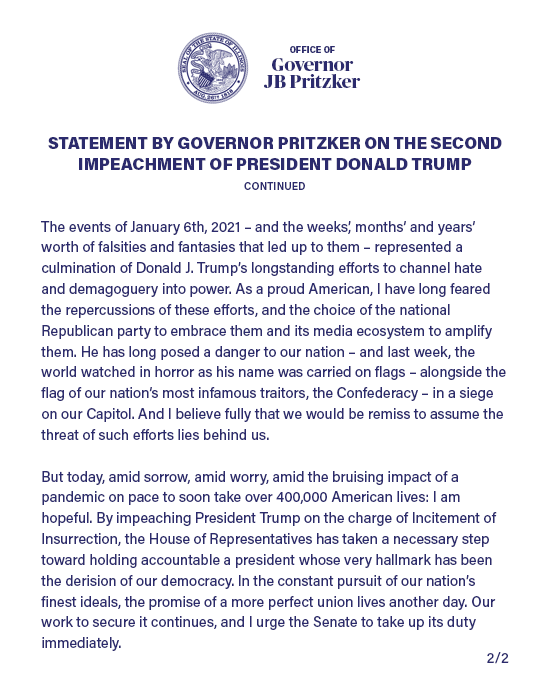 Amid the ongoing worry, sorrow and impact of COVID-19 and the effects from the attempted coup, Pritzker remains hopeful. 
"By impeaching President Trump on the charge of Incitement of Insurrection, the House of Representatives has taken a necessary step toward holding accountable a president whose very hallmark has been the derision of our democracy. In the constant pursuit of nation's finest ideals, the promise of a more perfect union lives another day. Our work to secure it continues, and I urge the Senate to take up its duty immediately."