Editor's Note: This article is part of a series of ongoing coverages in the search for the next ISU provost. To read about the other candidates, refer to the links attached to this article. 
The search for the next ISU vice president of academic affairs and provost continued on Thursday afternoon with candidate Menah Pratt-Clarke speaking. 
Pratt-Clarke is currently the Vice President for Strategic Affairs and Diversity and Professor of Education at Virginia Polytechnic Institute and State University. She is a member of the President's Executive Staff at Virginia Tech and oversees the Office for Strategic Affairs and the Office for Inclusion and Diversity and the Council on Virginia Tech's History as part of the Sesquicentennial Committee. 
Before Virginia Tech, she served for about ten years at the University of Illinois at Urbana-Champaign as Associate Chancellor for Strategic Affairs, Associate Provost for Diversity, and Title IX Officer. At UIUC, she also led multiple projects involving diversity efforts and strategic planning.  
Pratt-Clarke earned her bachelor's degree in English with minors in Philosophy and African-American Studies and her master's degree in Literary Studies from the University of Iowa. She also received a law degree and a master's and doctorate in Sociology from Vanderbilt University. Pratt-Clarke's teaching and research interests focus on issues of race, class, gender in education and the transdisciplinary analysis of diversity in higher education.  
 At the forum, each finalist is given about 20 minutes to talk about their background and share their vision for how they see the university moving forward.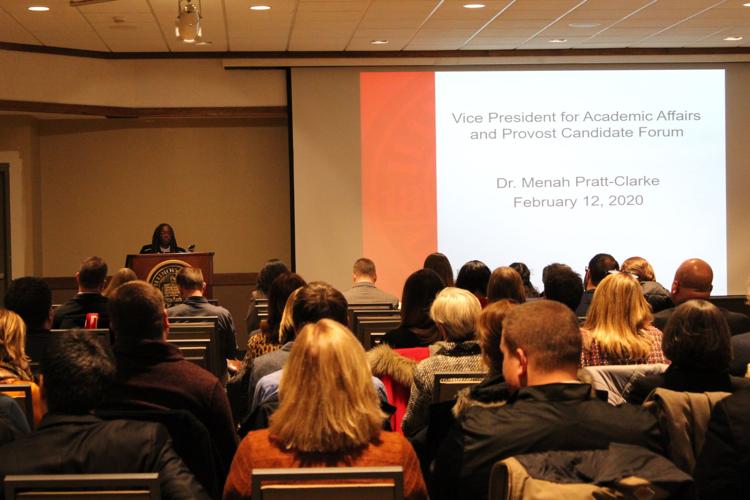 From there, she connected this metaphor to ISU students, faculty, staff and administration. She spent some time speaking about how the metaphor applies to each as well as the many stages of life that humans go through before college, during college and after college. 
"My own life journey fits remarkably into these stages. In my new book project, I dissect, categorize and analyze 45 years of data in personal journals to track my own initiation journey through these stages. Ironically the reason I am here today is that my journey began here at Illinois State University," Pratt-Clarke said.  
Pratt-Clarke discussed the importance that each part of the institution holds in one's journey, stressing that guidance, experience and searching are the biggest pieces to learning and success. She also highlighted that this guidance and support often begins with the parents who send their children off to college and leaves it to the institution to give their children what they're searching for.  
"When parents send their often teenage students and children to our institutions, it's like the first stage. The bargain is not knowing. It's a bargain often made by parents to support the development of their child. The students do not know what they will experience [and] what they will find, but it is an act of faith [and] of trust in an institution in its values and its promises to deliver an education," Pratt-Clarke said. 
She then went on to discuss how that faith and trust in an institution should be valued and used to the benefit of both the students and the institution.  
Pratt-Clarke also used this as an opportunity to relate it to the stages of life that faculty, staff and administrative members within the institution go through, highlighting her vision of giving positive experiences and success for everyone within the institution no matter what it takes.