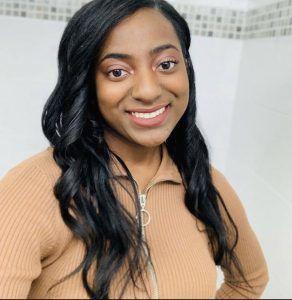 Affording the cost of professional wardrobes while balancing the prices of everything else college related comes with sacrifices and worry for many college students.
This expensive wardrobe can be a necessity for many classes on campus and possible job interviews that are offered for students.
This situation has been very familiar for student body Vice President and College of Business junior Jada Turner. As a result, Turner has taken on the role to help out her peers and fellow students at Illinois State University by instituting a professional clothes closet. 
For the Student Government Association, the idea of the clothing closet was created last school year by former student body President Mike Rubio. However, with many other things to plan and work on, the production process wasn't completely fulfilled. 
Giving her the position to officially kick off the production of the closet, the idea and planning of it was passed down to Turner this year. Turner took on that role head-on and has been doing research and planning for the closet and the events that will follow since September. 
"[Rubio] kind of passed it along to me once I fulfilled my role as Vice President, that's why I decided to take it on more. Once I took it upon myself to actually get it going and doing it, I went and did some research," Turner said. 
In September, Turner started the planning process with the help of that research and inspiration from other universities along with the help of ISU faculty and staff members. 
Visiting those local universities, such as Heartland Community College and University of Illinois, gave Turner a sense of what they do with their closets and seeing how she could incorporate that inspiration into the ISU community to fulfill the specific needs of students. 
Turner encourages students, local alumni, faculty and staff who have any professional attire to donate to the clothing closet before Jan. 17. Professional attire donations can include dress shirts, slacks, blazers, ties and skirts. 
Those looking to donate can bring items to the College of Business, the Office of Sustainability, the Alumni Center, the Center for Community Engagement and Service Learning and the Financial Aid Office in Hovey Hall.
Her plans with the closet going into the spring semester includes a free pop-up shop before the Spring Career Fair. Although the date for the pop-up shop isn't finalized, Turner plans on having the Career Center and the Office of Sustainability present at the shop. 
As for the Career Center, they will have a booth present to help students go over their resumes and to give career advice and tips. The Office of Sustainability will also have a booth to provide information about the positive environmental benefits of recycling clothing. 
Turner has also talked and worked with the Office of Sustainability's program director, Elisabeth Reed, to have Fix It Friday present at the pop-up shop in case an outfit has a snag or hem that needs a little touch up. 
As the project has grown with her experience over the past semester, Turner has seen the stressful side of the planning process but knows that this will pay off in the end.
Turner said her experience has been very memorable and positive for her especially with the support and help she received from the Career Center and the Office of Sustainability.
She knows that this closet may have a similar message as other drives when it comes to helping those in need.
However, she believes that the main difference in comparison is that it goes beyond that message because it's students helping students and she believes makes the ISU community stronger when it comes to depending on one another. 
While she is a junior, her plan for next year is to have a younger SGA member help her plan and run the closet and pop-up shops to make this project an annual thing for the university. 
Her planning process and experience has also included keeping a binder full of specific information, details and contacts that she has learned or utilized over time.
The idea of this is to help future SGA members run this project going forward, see what is to be accomplished and what can be improved in the coming years. 
Turner's long-term goal for the project is to host the pop-up shop before both of the Fall and Spring Career Internship Fairs. Turner also hopes for this project to have a permanent location on campus within the next five to six years.
"This has been very beneficial for me to just gain wonderful connections with other people on campus," said Turner.
Turner said she was very fortunate to have been able to work with Assistant Director for Annual Giving and Alumni Engagement Amanda Highland. 
"She's been very helpful throughout this whole planning stage and making things a lot less stressful for me because she's been able to support me in so many ways."