Last season, Illinois State University track and field star Jack Anstey shattered several personal and school records. Now, the junior turns his attention toward a national title.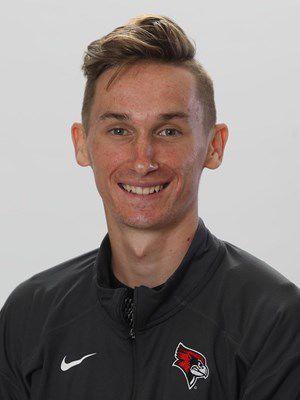 Highlights from the previous campaign include being named a 2019 Outdoor First Team All-American, the 2019 Outdoor Missouri Valley Conference Champion (800m), the 2019 Indoor MVC Champion (mile), the 2019 Indoor MVC Champion (DMR) and an outdoor school record of 3:41.81 (1,500m).
Anstey believes that one of the keys to his success has been comfort, both within the organization and in the transition to life in the United States.
"I think just coming over here, being from Australia, you know, it's not easy. It's a transition," Anstey said. "I think last year I just got more comfortable in my own skin and with the way that things are done here. It probably took the first couple of years to really grasp that."
A high comfort level allowed Anstey to combine his previous flashes into a consistent body of work.
"Look, I think one of the biggest things was probably just consistency," Anstey said. "I think in years before that, I guess I've threatened or I've been showing glimpses. And then last year I guess was just a culmination of what I experienced in previous years and just putting it together when it mattered.
But I think last year was just, it was big for me, it was big to be consistent throughout the whole year and I think that showed."
This mindset led Anstey to realize his new role as one of the team's leaders.
"Oh yeah look, I think I am a leader now," he said. "I probably didn't see it that way last year, but I think in track and field you lead through performance. And sometimes I think I've realized, especially this last year, that you don't have to say anything special to be a good leader."
"You can go out and lead by performance and I think that's really one thing that I tried to do last year. I think we've got a good balance of leadership."
Anstey prepares a certain way depending on the meet, which helped him run a sub-four minute mile last season.
"I think it depends what kind of meet it is," Anstey said. "Last year before I ran my sub-four minute mile, it was a lot of time off my feet. I knew I had to be 100% on the day if I was going to do something special like that. So I think the days leading in it was just time off my feet, making sure that I'm getting rest, eating the right things."
The junior is poised for a bigger year than ever, and set his goals accordingly.
"If you had told me last year that I would've been an All-American, I wouldn't have believed you," he said. "I think now that I've done that, I think the next step is to try to win a national title." Anstey said, "I think that's the goal this year, is to win a national title, and I'm not really scared of saying that."