As I sit and watch another Redbird-less March Madness, I realize it's a tough time to be an ISU basketball fan.
Illinois State basketball has seen more adversity than expected this past season, as mediocrity seemed to unveil itself where there was more than one problem.
Historically, ISU has seen only a few NCAA Tournament contending teams.
There is Redbird coaching legend Kevin Stallings' 1996-98 squads, who set the standard with back-to-back Missouri Valley Conference titles and two NCAA Tournament appearances.
There is the more recent tale of MiKyle McIntosh and Paris Lee, as McIntosh inadvertently stained the program's image in exchange for greener pastures while leading an ISU team to a school-setting 28-7 record.
And then there was Dan Muller's 2018-19 Redbirds, comprised with the likes of Phil Fayne, Milik Yarbrough, Keyshawn Evans and Zach Copeland.
The Redbirds have yet to dance in the midst of March Madness since 1998 - a team in which Muller played a key part in the 'Birds MVC Championship title and NCAA second-round loss.
Two years removed from the departure of Wichita State, a NCAA Tournament regular during its time in the Valley, you would think things would've gotten a bit easier for ISU.
A surprise return from Yarbrough this past summer, strong cases made for both Evans and Fayne and to top it off, the experience Muller brings was all that was needed to give the Redbirds a high preseason ranking.
Now expectedly ending with a loss in the MVC Tournament, ISU's future postseason chances garner the opportunity to conjure something missing all season: clear leadership.
Where has it been? What is considered leadership? Is it found within the score columns and stat lines, attributing to on-court pressure?
Or, was it something else this season?
Unanswered questions swirled surrounding the Redbirds second-round loss to Drake in Arch Madness as ISU is just that: an inquiry fit for its biggest of wins and most complacent of losses.
But inconsistency on the court was not the only problem. Although an outcome of poor play, consistency wasn't found within this group of talented players because even Duke has its off-nights.
Rather, it is found in values seemingly lost in translation by a veteran-led yet immature Illinois State program.
Who held who accountable? Who was not on the court that should be? Did depth play a role in its downfall, defeat or, even worse, dissatisfaction?
It wasn't Yarbrough, Fayne or even anything to do with the coaching staff.
It's the student-fans.
These questions would be relevant if they even pertained to the team, but a team without people supporting them through time and time again is, well ... nothing.
Not all fans are at fault, for the loyal and Redbird faithful have their voices heard loud and clear every home game.
But it feels like that sometimes; late nights in Redbird Arena can mirror the lifeless nature of ISU's lackluster fortune.
Sure, big games and a rivalry week with ESPN-type coverage will draw crowds, that seems to be a given. Yet, entitlement and incentive remarkably cast themselves as the unforeseen villain, plaguing an almost nonexistent student fan base.
"Why should we care?" asks the student. "What's in it for us?"
ISU's second highest attended game this season was against Loyola Feb. 2 with 8,017 fans seated in the Redbird Arena (10,200 max capacity).
All eyes were planted on the ESPN primetime matchup as the athletic department promised free pizza in effort to attract a crowd.
ISU and Bradley's Feb. 16 rivalry matchup reeled in the highest of the season at 9,011 total fans with a packed student section.
The average student attendance during a regular mid-week game?
Roughly 50.
Sad? Sure. Unacceptable? A stretch. But really, it was almost unbelievable.
Granted, $5 per ticket isn't much, but the university should strive to make games more available for students to attend, not solely in effort to dress up attendance for a national television spot.
Although a state-budgeted school, students are traditionally the backbone to college fan bases. MVC powerhouse Loyola allows students into games for free, without question or warrant to the amount of money raked in from regular ticket sales.
ISU Athletic Director Larry Lyons has even acknowledged the staggering decline of attendance at sporting events in past reports.
Although ISU basketball's attendance averaged 5,256 fans through its first 13 home games (the most in the Missouri Valley) it is still down seven percent from the latest 10-year average.
WGLT reporter Eric Stock reported in early February that Lyons believes the solution to this problem is improved seating in Redbird Arena, rather than increased accessibility to its on-campus fan base.
"If you can make the building a little more comfortable, make the building a little bit more accessible and hopefully your teams are competitive so that people will want to come out and watch them, and then try and find ways to attract students when they are on campus," Lyons said.
According to a 2017 NCAA poll conducted by USA Today, the NCAA's 2016-17 financial report shows that ISU's athletic department generated $27,144,172 in revenue while dishing out $25,144,172 in general expenses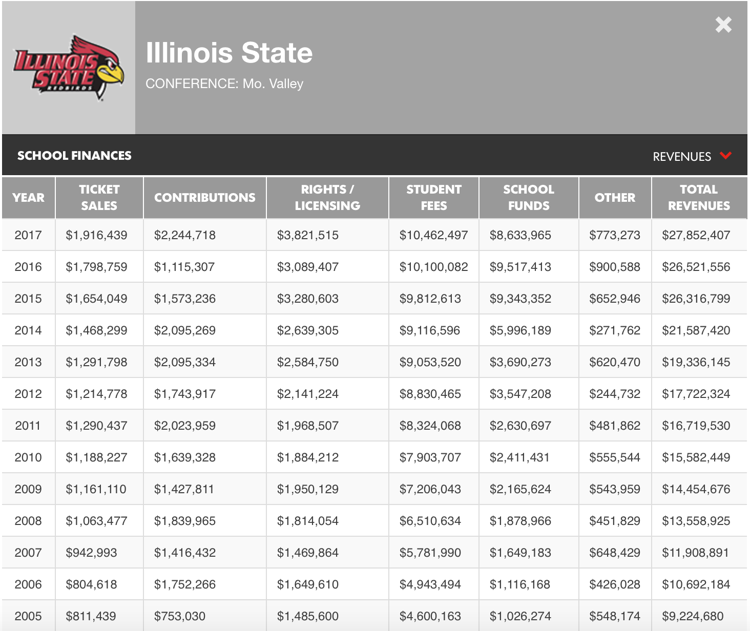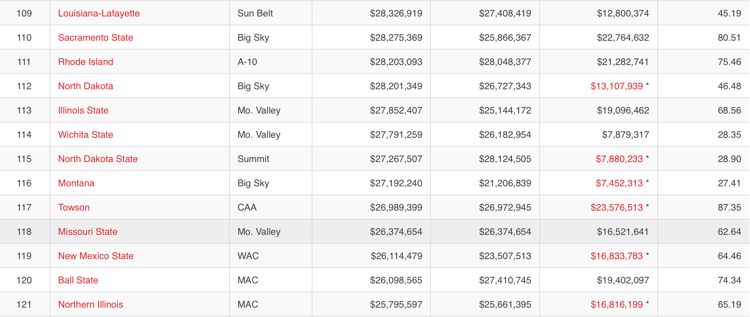 These expenses include coaching and staff salaries, scholarship packages, facilities and miscellaneous payments which support things like recruiting, team travel, equipment, fundraising and marketing costs, facilities and grounds maintenance, security, etc.
The revenue totaled in the athletic department's 2016-17 fiscal year comes from student fees, school funds, rights/licensing, contributions/donations and ticket sales.
Roughly $2 million remained in leftover funds generated from the athletic department's documented revenue and expenses.
It would cost roughly $32,000 to fill a 400-seat student section 16 home games a year for men's basketball.
As more money comes in, various high-level donors who are dead set on producing NCAA Tournament status provide influence to both the team's trials and tribulations.
When triumph is not achieved, more money is instead funneled to acquire fabricated success, entirely used as a pawn to revive a program that's best days were 30 years ago.
With players feeling unmotivated and underappreciated due to a thinning fan base, it feels as if this was almost expected to happen.
If you only assume to have fans show up on nights where free pizza is offered, an incentive, then as a school, ISU has missed the point entirely.
Alongside ISU's $360,000 winter installation of new LED lights in Redbird Arena, whispers of a new indoor athletic facility is set to be built sometime this summer.
Lyons has previously stated that the price tag would be in the $25 million range.
Just like with anything, a strong support system ultimately caters toward more positive outcomes, but without it, ISU will continue to run into March every year on one leg, striving to keep false hope alive.
However, it seems as though students will be somewhere else.
The point is simple: make the student fee free and attendance will spike in some sort of way. I can count on two hands how many home games were with 40-50 students or less in the student section this year.
Winning is the cure for hardship, obviously, but tell me as a player you wouldn't want more fellow students in the stands cheering you on. Tell me it's not a boost to play a bit better?
It is a factor to the culture surrounding ISU basketball, that students would rather spend their money elsewhere. Why not just eliminate that when it's possible to do so?
Access garners the opportunity for progress. The school and the program needs to take advantage of the fan base that is only a few steps from the doors of Redbird Arena.
Think of the stereotypical, financially deprived college student with $30 in his/her bank account, but wants to be a part of the fandom. They won't spend the $5 for any home game.
I don't see a scenario where ISU doesn't draw a bigger student crowd if the games were free for students. If anything it would be more of a reason to go and watch.
This is not the MAIN reason why the program is slumping by any means, we've seen the problem on the court, but it's a reason nonetheless.