ST. LOUIS - Before tip-off at Illinois State's third meeting this season against Drake at Arch Madness, senior forward Milik Yarbrough shouted in shoot-around, "Let's work" joking and teasing his teammates with a wide grin.
ISU's leading scorer made a decision last year after falling to Loyola in the Missouri Valley Conference Tournament championship: returning for his senior season in effort to complete the team's "unfinished business."
The 'Birds have seen this before: a Drake team that has been dominant in both non-conference and MVC play, clinching a shared conference title with Loyola this past week.
ISU attempted to do something never done before in Valley history. A Thursday team striving to win four-straight games to achieve a bid to March Madness is definitely a tall order.
With the word "Family" spread across the Redbirds' warm-ups, completing unfinished business conjured overwhelmingly high expectations.
But, the Redbirds' business will instead remain unfinished.
Illinois State was the four-point favorite heading into Friday's contest as Drake suffered the loss of shooter D.J. Wilkins days before the trip to St. Louis.
Striving to exploit the Bulldogs' weakness, the 'Birds were unable to cash in, embarrassingly falling in the second round to Drake, 78-62.
"We didn't match their competitiveness," senior Keyshawn Evans said, teary-eyed as he reflected playing in his final game in a Redbird uniform. "They kind of came out with their heads on fire and we kind of came out a little passive and not aggressive. It bit us in the butt."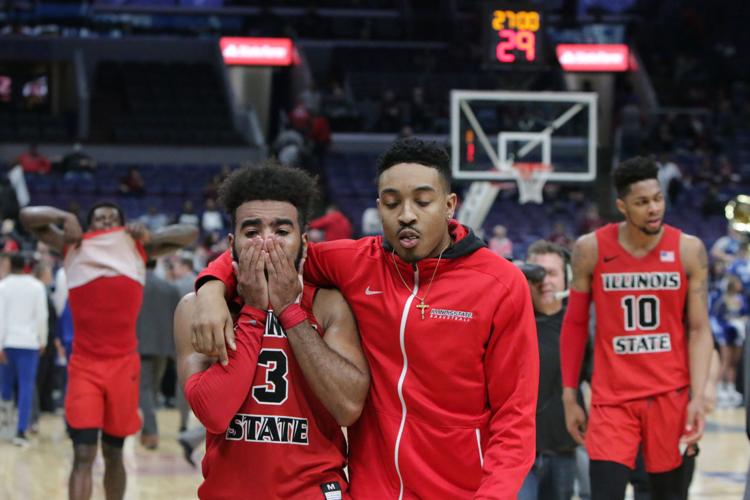 Another slow offensive start seemingly plagued ISU down the stretch while Drake caught fire early and harnessed it throughout the entire game, knocking down three-after-three.
Yarbrough finished with another sub-par performance, racking up nine points with seven rebounds and three assists. 
Senior forward Phil Fayne led the Redbirds' scoring effort with 18 points, as junior transfer Josh Jefferson found eight points coming off of his injury. 
Fayne, hit with emotion struggling to fight back tears, talked about his final moments playing for Illinois State as well as the future of the program held in the hands of its younger members.
"We're still brothers at the end of the day, and like [Evans] said, one season doesn't really define our careers," Fayne said. "We've got a lot of standout guys that are going to be great contributions to the team [next year]. It's a great learning experience for everybody."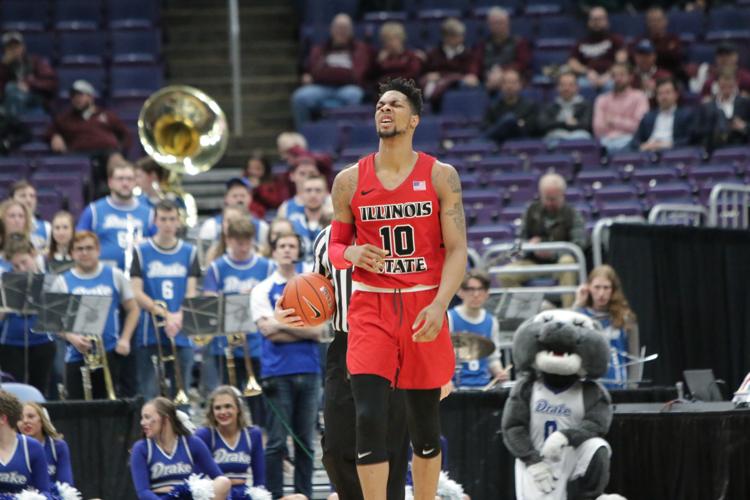 "We're still Redbirds always," Evans added. "At the end of the day, we're sad that we lost. I think it's important to keep the culture and just to keep the program going. I still think we'll be better next year."
The Redbirds' frustrating loss ultimately took shape the same way as it has all season, understanding how to handle adverstiy rather than success.
ISU fell behind early to Drake's quick three-point prowess as the 'Birds trailed 6-5 following a long three from senior William Tinsley. 
Continuing a 14-2 run midway through the first half, Drake kept its foot on the gas as the 'Birds seemed clueless and complacent, reminiscent of Valparaiso earlier this season, trailing 24-9.
Drake forward Nick McGlynn suffered an apparent knee injury midway through the first half. Offering some sort of silver lining for the Redbirds, it did not seem spark anything offensively.
Without two top-scorers in McGlynn and Wilkins, that makes Drake vulnerable, right?
Knocking down three more three-pointers, the Bulldogs found themselves with a 20-point lead heading into the locker room. Illinois State shot only 25 percent (7-of-28) from the field at the half, marking one of its worst shooting performances all season. 
Freshman Rey Idowu led the team with five points, senior Phil Fayne had four points and Yarbrough had zero as ISU trailed 37-17 at halftime.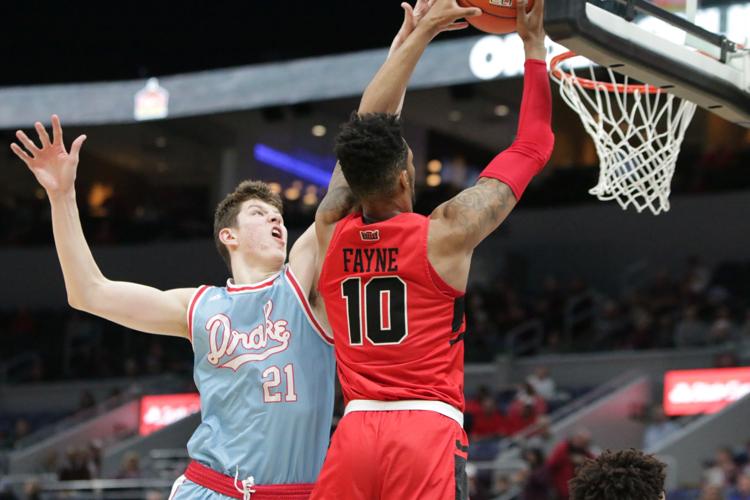 Chipping away at its 20-point deficit, the Redbirds eventually created buckets from Fayne and Yarbrough cutting Drake's lead at 40-27.
Finding some momentum, senior point guard Keyshawn Evans ignited Illinois State's offense with his first three-pointer of the night at 16:30, striving to shave some points off of the Bulldogs' 43-31 lead.
Drake forward Tremell Murphy seemed to be the catalyst for it all, putting together a 20-point night midway through the second half. Murphy finished with 26 points, five rebounds and one assist.
As ISU's defense resembled the dysfunction seen in the regular season, the Redbirds seemingly had no answer for the Bulldogs' fast-paced pressure. 
Struggling to come within reach of its 12-point deficit, Illinois State fought to climb back every possession as Drake continued to assert its 56-42 lead.
At every turn, Illinois State looked defeated. Just when it seemed like it found life in making a comeback, that energy was spoiled by another Drake dagger. Shot-for-shot, the Bulldogs found a huge win in a team effort as the Redbirds revealed themselves to be collateral damage. 
Drake continued to pour it on, shutting the door on ISU's postseason hopes once and for all, defeating the 'Birds 78-62.
With Drake fans' chants bouncing off the walls of Enterprise Arena in St. Louis, the Redbirds season was over as a MVC Tournament title for Muller and company will simply have to wait for some other time.