Illinois State University senior golfer David Perkins led his fellow Redbirds to a three-way tie for a fourth-place finish with his first career medalist honor at the Golfweek Conference Challenge in Cedar Rapids, Iowa, Sept. 15-17.
In the last round of the tournament all eyes were on Perkins when, after shooting a bogey on the second hole, he found himself above par for the first time of the tournament. Maintaining his composure, he followed it up with nine consecutive pars only to slip up on the twelfth hole recording another bogey.
Now, sitting two above par with six holes left to play, Perkins' lead seemed vulnerable. However, the senior closed strong, shooting three birdies and three pars to finish the round with a one under par, securing the top spot of the tournament.
Perkins' top finish has been a long time coming, the senior has recorded ten total top-ten finishes while at Illinois State. The senior was one of only two golfers in the field of 92 athletes to shoot under par in all three rounds of the tournament. Perkins shot a 10-under-par 206 for a three-round total that was three strokes better than the next golfer.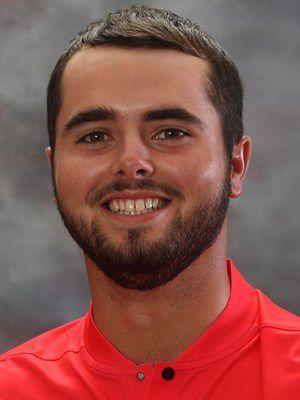 The rest of the team got off to a slow start in the early rounds of the tournament. After the first round, the Redbirds sat in ninth place in the team standings.
"Dave [Perkins] played brilliantly and saved us today," head coach Ray Kralis stated after the first round. "This is a golf course that requires familiarity and some precision, and another round under our belt will help us going into tomorrow."
Kralis proved to be correct as the Redbirds closed strong in the second round, moving up to a five-way tie for fifth place. Senior Joel Durnford improved from his start by finishing the second round one under par, improving his total to four strokes over par. Dunford was joined by freshman Felix van Dijk at four over par heading into the last round.
The duo of Durnford and van Dijk helped secure the Redbirds a fourth-place finish. The pair both shot a one-over 73 in the last round to end the tournament at five-over par and tied for 32nd overall.
Ball State won the team title with a three-round score of 853 (-11), Campbell was second with 868 (+4) and San Jose State claimed third with 869 (+5). Iowa and Arkansas State tied ISU for fourth-place with 871 (+7).
The Redbirds tee off next on Sept. 30-Oct. 1 at the Bearcat Invitational hosted by the University of Cincinnati at the Coldstream Country Club.