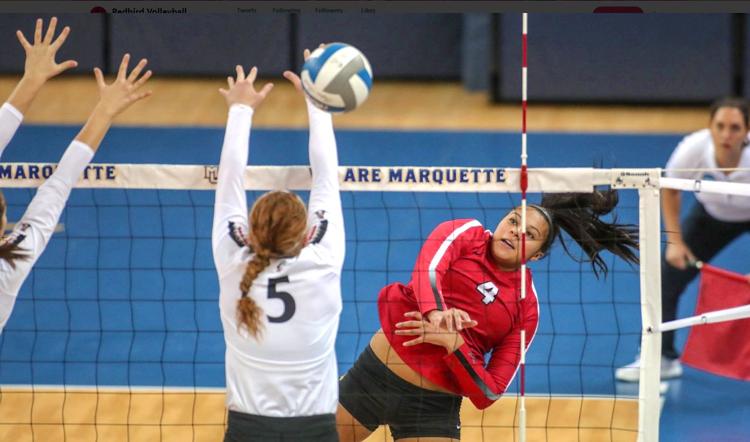 In the final set of Illinois State's first-round berth in the NCAA Volleyball Tournament, the Redbirds' season hung in the balance of just one play at match-point.
Down 24-22, the Bearcats' high-flying offense brought an abrupt end to ISU's rollercoaster ride of a season, as the Redbirds were cut out of the tournament all too short Friday night at Marquette University.
Cincinnati swept Illinois State in three sets in their first NCAA Tournament appearance since 2014, marking the eighth time in program history the 'Birds have been swept in first-round contention.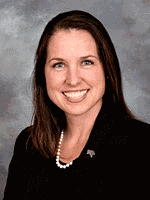 "I want to start by saying congratulations to Cincinnati. I thought they played a great match," ISU head coach Leah Johnson said. "Secondly, I want to say how proud I am of our team. We put a lot of work in this year and we saw three attackers in double-digit kill. Offensively, we hit .351 to their [Cincinnati] .400 – that's an incredible display of offense. That's NCAA Tournament volleyball."
Illinois State finished the 2018 season with an overall record of 25-8 and 16-2 in the Missouri Valley Conference. The 'Birds also captured a perfect 9-0 record at Redbird Arena as well as achieving a share of the MVC crown with Northern Iowa.
The Redbirds boast a 14-time MVC Defensive Player of the Week in senior libero Courtney Pence, as her total of 2,778 career digs hoists the crutch of her historic NCAA career.
Pence also broke the Missouri Valley Conference all-time record for career digs with 2,665, Nov. 9 against Loyola.
2,778 digs | One of the best to ever put on the libero uniform. Congratulations @CourttyyP3 on a historic NCAA career! pic.twitter.com/0mo2rQxQCr

— ISU Redbirds (@ISURedbirds) December 1, 2018
Although the 'Birds playoff road may have ended sooner than expected, an untethered love for the game turned this season into a historic one. Johnson admires the team's work ethic as well as its senior leadership, leading the charge to compete in "the hardest of matches."
"Initially, I want to give kudos to our senior class. They really set the bar in the offseason, because success starts before the first whistle blows in August," Johnson said. "You build that mental toughness, you build that comradery, you work your tails off before there's even a match on the line. That transferred into season and I thought [our senior leadership] did a great job keeping this team focused on our goal ... That set the tone for the future."
A season summarized in one photo.Thank you @RedbirdVB for an unforgettable ride! pic.twitter.com/YQ9mzTllJD

— ISU Redbirds (@ISURedbirds) December 1, 2018
The Redbirds were down senior outside Lexi Varga in Friday's contest, as she was seen nursing an apparent ankle injury in Monday's practice.
While Varga's absence may or may have not stinted the 'Birds playoff chances, the frequent starter's presence was surely missed in a game of this caliber.
Illinois State looks back upon a historic year still champions of the MVC title, as the Redbirds' brighter days lie only ahead of them.
Set One (CIN 25, ISU 19)
The Redbirds started off red-hot with a two quick kills from senior Ali Line, as the Bearcats traded off points most of the set.
Cincy ignited a 4-0 run to lead the 'Birds 7-3 when ISU called its first timeout. Senior outside Lexi Wallen and sophomore setter Stef Jankiewicz aided ISU's charge to close Cincy's two-point lead.
The 'Birds found life in freshman hitter Marissa Stockman late in the first set, but the Bearcats' lead proved to be too much to handle.
Illinois State called its final timeout trailing 21-16, while sophomore outside Kaylee Martin emerged towards her team-high five kills. ISU continued to show life late with another big kill from sophomore middle Syndey Holt.
With things looking promising for the Redbirds, it was not enough as the Bearcats' overwhelming offense ousted ISU, 25-19.
Set Two (CIN 25, ISU 22)
Martin continued to showcase her net presence, slicing a few quick kills to keep a two-point range on Cincinatti.
Senior libero Courtney Pence led the charge for the Redbirds' comeback effort as ISU trailed 6-5 within the first five minutes of the set.
A tradeoff of points, a dig from Pence and a succesful conversion gave the Redbirds their first lead of the match at 9-8.
Check out some 📸 from the first set ⤵️ pic.twitter.com/aEvwJZT2sv

— Redbird Volleyball (@RedbirdVB) November 30, 2018
After an unsuccessful Cincinnati challenge, the Redbirds rallied and found some life to take the lead. At one point, the 'Birds found a four-point lead only for it to be thwarted by the dominant Bearcat frontline.
Slightly trailing at 19-18, the Redbirds strived to make stops at the net as newcomers Stockman and Martin thwarted any big advantages for the Bearcats.
After a few back-and-forth exchanges, the 'Birds drew the match within two as ISU eventually fell 25-22 to Cincinnati, who now led 2-0 heading into the third set.
Set Three (CIN 25, ISU 22)
With retaliation in place, the 'Birds weighed their final hopes on the shoulders of of a late-game sweep.
Illinois State's last NCAA Tournament win came in 2014 as the Redbirds defeated Marquette 3-2 coming back from a 2-0 deficit.
This was the Redbirds' first tournament win since 1996 under legendary head coach Julie Morgan as ISU strived to repeat history.
Stockman stepped up late with two kills of her own to break the tie as the Bearcats remained poised under pressure.
The final frame of the match included seven ties before either team reached 10, as the Bearcats managed to hold a 10-8 lead.
Cincinnati called its first timeout of the set after the Redbirds found life with a four-point run of their own, leading 17-14.
After more back-and-forth play ensued, Cincy led 21-20 as ISU called its final timeout to gather and re-group.
With their season on the line, the 'Birds held a 22-21 lead until Cincinatti hitter Jordan Thompson used her power to split the Redbird defense once more.
At match-point, ISU's historic year was met with a test of adversity, as the Redbirds fell to the Bearcats 25-22 to end their season.