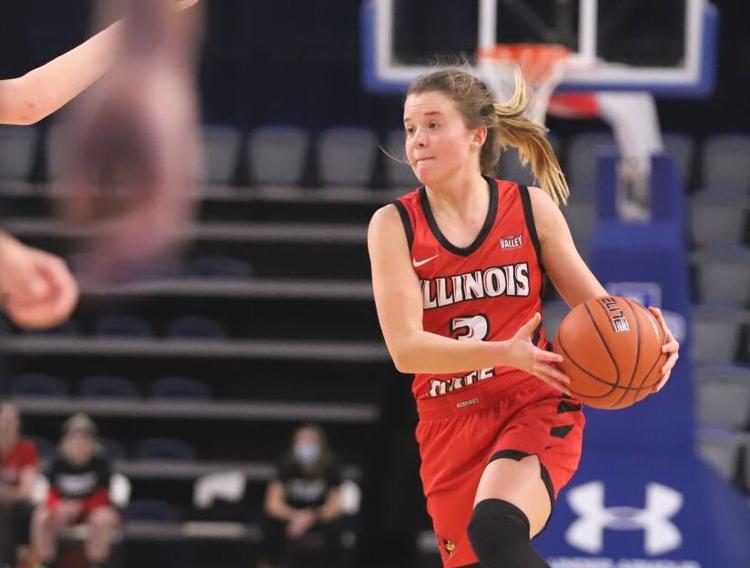 After rescheduling their initial meeting due to COVID-19 protocols, Illinois State University women's basketball will finally face Valparaiso University at Redbird Arena on Jan. 14 and 15.
The Redbirds are ranked No. 37 in the latest update of the NCAA NET report heading into the series. They are one of five Missouri Valley Conference teams in the top 100, while the Crusaders finished seventh in the MVC preseason poll.
Here are five things to know before the Redbirds take on the Crusaders.
Redbirds bounce back
Illinois State swept Indiana State University on the road after kicking off its MVC slate 0-2 against University of Northern Iowa.
The Redbirds shot 70.8%, 17-of-24 from the floor in the second half to secure a 74-60 win on Thursday. Leading scorer Juliunn Redmond put up 18 points on 7-of-8 shooting and going a perfect 3-of-3 from behind the arc along with four rebounds and three assists. Three other Redbirds scored in double figures, including Mary Crompton, Paige Saylor and Maya Wong. Crompton and Saylor's performances were significant after their struggles to score in the UNI series.
"I thought we were OK Thursday," head coach Kristen Gillespie said. "We had some good looks early on, but we were pretty good defensively and I think that's something within our program, our culture, and who we will always be as a really good defensive game."
On Friday, the Redbirds held the Sycamores to only 32 points, a program record for fewest points allowed in a MVC game in their 62-32 win in Terre Haute, Indiana. Crompton had a game-high 13 points, shooting 55.6% (5-of-9) from the floor and 60% from behind the arc.
"I thought we got outstanding looks," Gillespie said. "But once again, our defense was spot on and we shortened up the turnovers."
Defense on lock
Speaking of defensive games, the Redbirds' win at Indiana State on Friday was the second time this season that Illinois State held a team to under 40 points. The first time was their 69-38 victory over University of Nebraska Omaha on Dec. 17.
ISU has held its opponents to under 40% shooting from the field in six of seven games this year. Here's how the Redbirds are currently ranking nationally on the defensive end:
· Field goal percentage defense (34.1 – 24th in NCAA, 1st in MVC)
· Scoring defense (56.0 – 27th in NCAA, 1st in MVC)
· Scoring margin (19.1 – 25th in NCAA, 1st in MVC)
The Redbirds are now one of seven teams in the country to hold multiple opponents to under 40 points this year. The list also includes Arizona, Baylor, Campbell, Milwaukee, North Carolina and Rutgers.
Frederick delivering for the Crusaders
Junior Shay Frederick had a career-best 27-point effort at Wisconsin. Frederick also had a game-high 20 points in Valpo's Thursday victory against UNI. Thirteen of her points, which came in the fourth quarter and nine came in a three-possession slate, secured the lead and win. She has scored 20+ points in three straight games, the first time a Crusader has done that since Valpo's current assistant coach Dani Franklin in December 2017. Frederick has scored in double figures in the fourth quarter alone three times this season and seven times in her career. She now leads the MVC in assists, with 5.1 assists a game. No Valpo player has led their league in assists since the 2008-09 campaign.
Series History
The Redbirds lead the all-time series with the Crusaders with 7-3 and holds a 4-2 advantage since the Crusaders joined the MVC.
ISU has a 3-2 record when playing in Normal, but the Crusaders took the last meeting with a 78-70 win at Redbird Arena on Feb. 16, 2020, snapping the Redbirds' four-game win streak over the Crusaders.
Redmond recorded her third career double-double, putting up a team-high 20 points and a career-best 14 rebounds for the Redbirds.
Departed seniors Lexi Wallen and TeTe Maggett also joined Redmond in scoring double figures. Wallen finished with 17 points and eight boards and Maggett added 11 points, five rebounds and two assists.
Valparaiso's Addison Stoller had a career-high 25 points and 10 rebounds in the win.
How to watch
Both games will air on ESPN3 at 4 p.m. Fans can also tune into game action on WJBC AM 1230. Live stats will be updated on StatBroadcast.