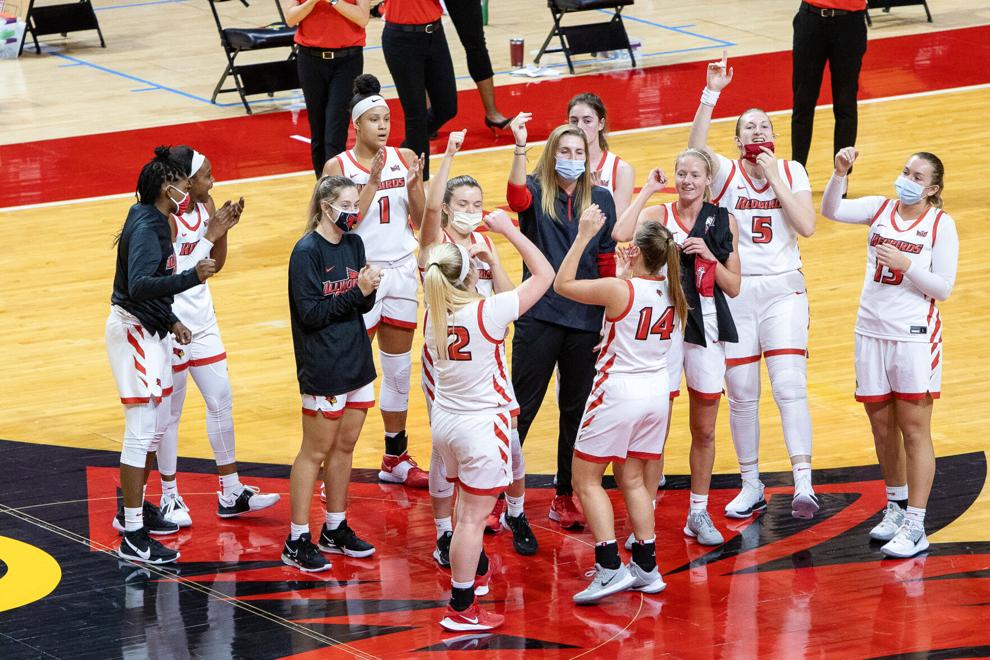 Illinois State University women's basketball will open its 18-game Missouri Valley Conference slate this weekend in Cedar Falls, Iowa. The Redbirds will take on the University of Northern Iowa Panthers in the McLeod Center on Jan. 1 and 2. Tipoff for both games is set for 2 p.m. with each game airing via ESPN3. Here are five things you need to know before the Redbirds take on the Panthers to kick off 2021.
Schedule switch-up
Illinois State was originally scheduled to face the Valparaiso University Crusaders at home this weekend, but due to positive COVID-19 cases within the Crusader team forced a delayed series. The Redbirds will now look to host Valpo on Jan. 14 and 15.
In the meantime, the Redbirds will play Northern Iowa — whose first MVC series against Missouri State was also postponed. This means the Redbirds will now open their conference regular season on the road.
An undefeated run
Illinois State is among just 26 Division I schools that are undefeated thus far in their 2020-2021 seasons. Of those programs, only 20 sit at 3-0 or better on the year. The Redbirds finished the nonconference season at 3-0 and will enter league play as one of those 20 teams.
In their undefeated run, the Redbirds have defeated both Saint Xavier and Omaha at home and picked up a road win against in state rival Western Illinois.
Panthers on the prowl
The Panthers hold a 3-4 record with victories against Creighton, Wichita State and No. 21-ranked South Dakota State University.
Kari Rucker leads the Panthers, averaging 11.3 points and 3.1 assists per game. Megan Maahs follows Rucker with a 10.1 points per game average. Rucker is No. 16 on UNI's all-time scoring list with 1,106 career points.
Head coach Tanya Warren is in her 14th season at the helm of the Panther program, holding a 246-181 record. UNI has made nine postseason appearances, including three NCAA Tournament appearances in her tenure.
Iowa natives' homecoming
Two Redbird starters make a return to their home state this weekend, looking to help lead the Redbirds to victory in Iowa. Mary Crompton (Iowa City, Iowa) and Lexy Koudelka (Nevada, Iowa) have both averaged in the double-digits and played successful games in their home states.
In Crompton's first complete season as a Redbird, the guard averaged 14.5 points in contests that took place in Iowa, setting her season highs in points (18) and three-point field goals made (6) at Drake on Feb. 22. She also set the freshman record for three-pointers made in a season in Feb. 20's overtime win at UNI, hitting her 53rd triple of the year.
Koudelka averaged 11.0 points last year in games played in Iowa — up from her season average of 4.0 ppg—posting a team-high 14 points in the Feb. 20 OT contest.
How to watch
Both games will air on ESPN3 at 2 p.m. Fans can also tune into game action on WJBC AM 1230. Live stats will be updated on UNIpanthers.com.