DJ Horne is no stranger to being underestimated.
The recruitment trail was pretty dry for Horne, a Cary North Carolina native.
No division 1 team showed interest until Dan Muller and the Illinois State Redbirds brought the 6'1" point guard for a visit. Horne and ISU were an instant match with the point guard committing before the visit was over.
"I felt like I was underrated in my AAU and schools overlooked me. The fact that ISU gave me that first offer when I had none meant a lot to me," Horne said. "Coach Muller giving me that first opportunity made me want to come here and play hard for him."
When Horne visited in November, Muller noticed Horne's overlooked skill.
"I just kept watching him and I thought he had a whole lot of talent," Muller said on Feb. 12 after Horne's game-high 16 points. "I just thought he was going to be really good. But he is more talented than I thought.
Taking that chance on Horne has turned into a pleasant surprise for ISU. Horne has played in all 30 games and ransk second in assists (42), three-point percentage (.409), steals (22) and third in points per game (8.8).
A big part of Horne choosing ISU had to do with an early bond with Muller.
"Just building that relationship with coach Muller through the recruiting process was big," Horne said. "I think our relationship has grown a lot. Coming in he was very hard and I was like why is he doing this. But he just wanted me to get better. Sticking with the process 'Chopping wood' as he says."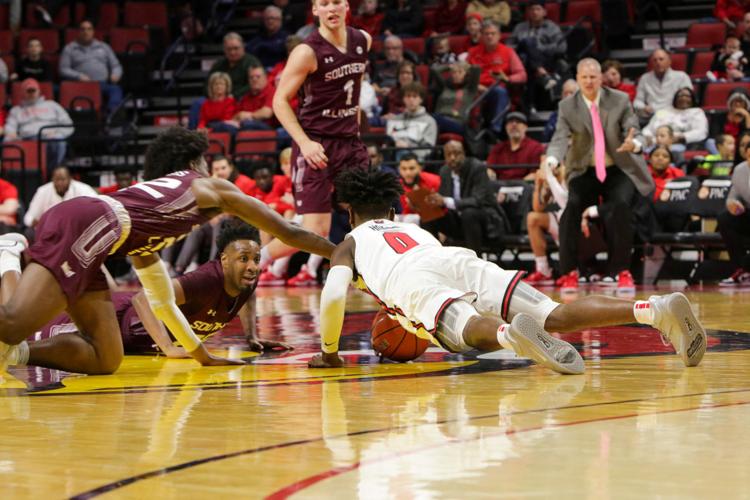 At the beginning of the season the Redbirds had a hole to fill at point guard and several options to fill it including Horne. Unsurprisingly Horne lost the opening day starting point guard spot to Ricky Torres, a senior transfer from Wichita State.
"When you come in as a freshman you think you are not going to play. We had some more experienced guys coming in so I thought I was going to come in and having a learning year," Horne said. "The fact that I was thrown into the fire has only made me better."
Through consistent defensive play and offensive promise, Horne earned the starting spot for the first time on Dec. 3 at Texas Christian.
While Horne remained consistent on defense, it took time to gain that offensive reliabiltiy. After posting 13 and 14 point performances in his first two starts, Horne went stone-cold shooting just 2-of-19 in the next three games.
Horne learned that a change of roll came with a change in mindset.
"I thought whenever I was going to be in a game to be ready off the bench," Horne said. "Now it is more being consistent and not playing like a freshman anymore, playing older than I am."
Horne tuned the corner offensively to open Missouri Valley Conference play against the now No. 1 seed Northern Iowa. Fresh off ISU's worst loss of the season, Horne broke out for 22 points leading the Redbirds 76-70 over the Panthers.
With the change from non-conference to MVC play, Horne reached a turning point. He improved from 4.9 points per game to 11.3 ppg in the MVC.
"Being mentally tough has been a big takeaway this season," Horne said. "I have had mental slip-ups and the coaches say something. I can see how being focused the full 40 minutes makes a difference."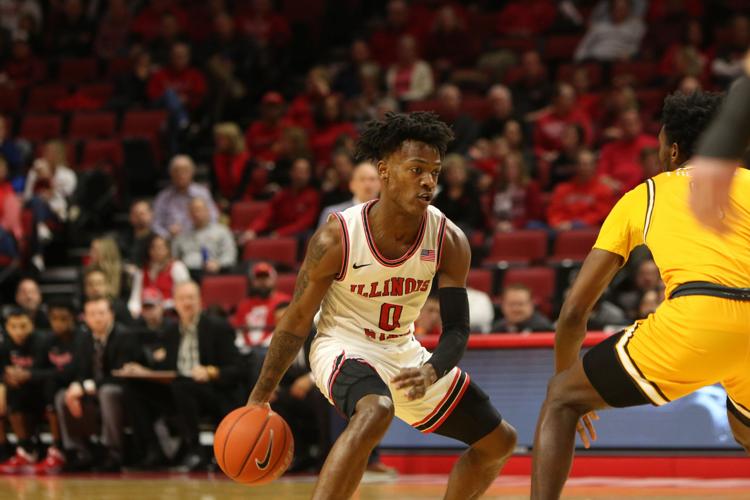 The joy from beating UNI not last long as the Redbirds went on a seven-game losing streak. Starting with a 67-64 loss to Missouri State and ending on Jan. 29 with a 77-66 win against Evansville. Over that seven-game stretch Horne averaged 8.8 ppg.
Horne views that time as a learning experience.
"You just try to learn from it and try not to make the same mistakes moving forward," Horne said. "It definitely is hard because we have lost a lot of close games this year. But I think it will only make me better."
Horne along with fellow freshmen Antonio Reeves and Abdou Ndiaye will be tasked to be key scorers in the ISU's upcoming MVC Tournament first round match-up with Drake.
But Horne remains confident after taking down the Bulldogs 57-54 on Feb. 22 at Redbird Arena.
"Going into this you have to think every team is 0-0," Horne said. "We are going into the tournament playing good basketball again. We just beat Drake and I feel like we have their number right now. Whichever team we get I feel like it is about us and what we have going on."
As part of the No. 9 Redbirds Horne is once again underestimated. Horne does not doubt ISU's chance to make a surprise run in St. Louis.
"I think we are the No. 1 team that could surprise just because we are playing well right now," Horne said. "I feel like everyone is still locked in despite our record."
"Typically you think a team that is playing poorly going into the tournament is not going to flip a switch and just start playing well. So for us to be playing better going into the tournament is going to give us some momentum."
Fresh off a season-ending career-high 24-point performance, Horne is ready to prove the doubters wrong again when the Redbirds take the court at versus Drake 6:30 at the Enterprise Center in St. Louis.