NUTS AND BOLTS
REDBIRDS
Illinois State (2-0, 0-0 MVFC) coming off a comeback victory over Northwestern on the road last week 9-7. It took a last second field goal for the Redbirds to complete its first win over a B1G opponent. ISU's defence held Notherwestern's powerful run game to 86 yards.
PANTHERS
Eastern Illinois (1-1, 0-0 OVC) is coming off a come-from-behind FBS victory themselves, after defeating Miami (Ohio) last weekend. Eastern fell to MVFC oppenent Western Illinois 38-21 in week one. The Panthers rushed for 142 yards last week, averaging 4.1 yards per carry, and threw for 174 yards.
          PLAYERS TO WATCH
REDBIRDS
Dalton Keene was all over the field last Saturday at Northwestern. The defensive lineman had two pass breakups and had a strong push up -front all afternoon. Keene recorded four tackles and one sack in the victory. Keene will be pumped up in front of a filled Hancock crowd.
PANTHERS
Mitch Kimble has thrown for 473 yards and five touchdowns on the young season. The Panthers will need the 6 foot 3 quarterback to stay poised against a Redbird defense that surrendered just seven points last Saturday. Kimble threw three touchdowns last Saturday in the win over Miami (OH). Kimble has completed 60.7% of his passes this season. Last week Kimble led the Panthers with 49 yards rushing as well.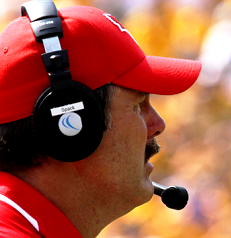 SPACK'S COMMENTS
"We try to get right back on the horse on Sunday. I told the players enjoy the victory Saturday, but be ready to move on quickly ... We got right back into preperation and worked on some of the things we thought we didn't do well in the game that need improvement ... I would be surprised if our team didn't handle the success maturely"
          ON THE AIR
TV: Broadcast live at 2 p.m. Saturday on Comcast Sports Net Chicago
RADIO: WJBC (AM 1230) and WZND (FM 103.3)
          ONLINE
@JCTSports     @rkelly1122    @The_Vidette     @Vidette_Sports    @RedbirdFB
---
DOWNLOAD THE VIDETTE MOBILE APP FOR IN-GAME DETAILS
            THREE KEYS TO ISU WIN
Do not come out lazy After an emotional win last week over Northwestern, ISU must not underestimate the Panthers and come out ready to play. Othwerise, it might be another nailbiter.
Bread and butter Quarterback Jake Kolbe needs to go back to the well again and again, finding preseason All-American wide reciever Anthony Warrum who dominated against a B1G secondary last Saturday, hauling in nine passes for 116 yards. Warrum should have no problem finding space in the less talented Panther secondary.
Defensive front seven Last week the Redbirds' defensive, which was undersized against Northwestern, won the battle in the trenches most of the afternnon. The talented Wildcats rushing attack had just 86 yards on the ground Saturday. If the Redbird line can create the same push at the point of attack, the Eastern running game will be held in check all afternoon. EIU does not have one player over 100 rushing yards through the first two games this season.
          THREE KEYS TO EASTERN WIN
Quick Start If the Panthers want to pull off the upset, they will need a quick score or a forced turnover to give themselves the momentum early and take the sails out of the ISU crowd.
Win the turnover battle If the Panthers can play turnover free football and not make it more difficult on themselves, it will make it a lot easier to come steal a win from the Redbirds. Putting pressure on Jake Kolbe and forcing mistakes will be the best chance at making the Redbirds turn it over.
Balanced attack Keeping a nice balance of run and pass to keep the Redbirds defense on its heels all game is important if the Panthers want to have success against the ISU defense coming off a confidence building game. Kimble being a dual-threat quarterback will need to make good decisions on when to throw, and when to run to give the Panthers a chance to confuse the Redbird defense