NUTS AND BOLTS
REDBIRDS
Illinois State (2-2, 0-1 MVFC) is coming off another crushing loss to Indiana State. It is ISU's first time losing back-to-back games since the 2013 season. The Redbirds have never lost three-consecutive games during coach Brock Spack's eight-year tenure. 
BISON
North Dakota State (3-0, --0 MVFC) had last week off but the Bison are coming off a huge win against Big Ten foe Iowa. NDSU leads the all-time series against ISU 6-2, having won the previous four match ups with ISU including the 2014 FCS National Championship game. 
          PLAYERS TO WATCH
REDBIRDS
Anthony Warrum had a slow start but he hauled his first two touchdown passes of the season last week at Indiana State, while catching a career-high 10 receptions for a season-best 151 yards through the air against the Sycamores. Expect the All-American to have another big game against the Bison.
BISON
Easton Stick was a member of the 2015 MVFC All-Newcomer Team. He went 8-0 as last year's starting QB after Carson Wentz went down because of injury. Stick is the first sophomore captain since 2005 QB Steve Walker. Stick is a young but proven winner. The Redbird defense will need to have a perfect performance if they want to bother Stick. 
          SPACK'S COMMENTS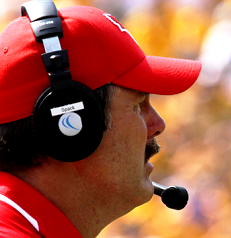 "These guys are good. They've been good every year since I've been here in all phases of the game. It's hard to find a weakness against them. They're well coached and their system is in place."
          ON THE AIR
TV: Broadcast live at 1 p.m. Saturday on ESPN3
RADIO: WJBC (AM 1230)
ONLINE
@JCTSports     @The_Vidette     @Vidette_Sports    @RedbirdFB
---
DOWNLOAD THE VIDETTE MOBILE APP FOR IN-GAME DETAILS
            THREE KEYS TO ISU WIN
Start Strong This has been a key since Week 1 and the Redbirds have came out flat-footed four straight weeks. Slow starts have plagued the Redbirds and they cannot afford to come out lackadaisical at NDSU or they will be eaten alive at the Fargodome where the Bison rarely ever lose.
Establish the ground game With a healthy Jake Kolbe, the Redbird running backs will need to establish their presence early and often. ISU has four capable tailbacks but if they aren't able show they can produce, it will be another long day for the Redbird offense. Without the run game, ISU becomes one dimensional and Kolbe a sitting duck in the pocket.
Secondary must stop Stick Stick is a young quarterback but he has shown he can throw the long ball. He has just one touchdown this year and will be hungry to throw some bombs against the Redbirds on Saturday, which is also NDSU's homecoming. The Bison have a handful of experienced options at wideout. ISU's secondary will need to contain the passing game to have a chance at an upset. 
          THREE KEYS TO NDSU WIN
Protect the Dome The Bison are 55-37-3 all-time on homecoming. NDSU has won five straight homecoming contests after last season's come-from-behind win over Northern Iowa. 
Force Turnovers The Redbirds have been turnover prone especially in late-game situations the last two weeks. If the Bison are able to force the Redbirds into a couple of mistakes, it will be game over for ISU. 
Balanced attack Keeping a nice balance of run and pass to keep the Redbirds defense on its heels all game is important if the Bison want to have success against the ISU defense coming off a confidence building game.