Illinois State University athletics announced that the sale of beer and wine will be headed to concession stands in general seating areas at Hancock Stadium and Redbird Arena during the 2019 fall season.
This decision comes after being vetted and approved by the ISU administration and other key internal campus and student government stakeholders. This follows a decision from the NCAA Executive Council to allow the sale of alcohol at NCAA Championship events.
ISU Athletic Director Larry Lyons sees this as an opportunity to enhance the fan experience.
"We are primarily concerned about fan engagement and fan involvement. That is the driving force to make the game atmosphere and the enjoyment of the game at a higher level. Expanding the beverage options is just one way to do that," Lyons said.
"Fan enjoyment comes down to how well we are playing, but if we can do things around the games to make it more enjoyable for fans, it is certainly up to us to do those things."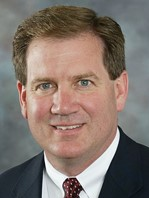 After years of not allowing alcohol sales at NCAA sporting events, the state of Illinois has recently changed its policy.
Now public Illinois colleges are allowed to make their own decision on the matter.
Northern Illinois University was one of the first Illinois colleges to allow the sales of alcohol, dating back to 2015.
Western Illinois University, Southern Illinois University and the University of Illinois have all joined the club in recent years with success.
Schools that have implemented alcohol sales are seen to have a revenue spike of $50,000 to $100,000.
The success of other colleges helped factor into this decision, according to Lyons.
"While making the decision we did consider the local, regional and national landscape so the decisions made at other schools in Illinois was a data point factored into our decision," Lyons said.
BREAKING: Beer/Wine sales are coming to Redbird Arena & Hancock Stadium, beginning this fall.https://t.co/McuLMLlLYP

— ISU Redbirds (@ISURedbirds) July 18, 2019
While the NCAA is allowing the schools to make the call on the matter, there are still regulations that come with it. Alcohol can only be served at events that are deemed community functions and not just student functions. There are also regulations on how much each person can buy and where it is sold in the stadium.
The addition of alcohol is one part of a series of moves to increase fan enjoyment. Joining renovations to Redbird Arena's lower bowl, games will have a different look this season.
Redbird fans can get their first taste of the new beverage options during ISU football's home opener against Morehead State on Sept. 7.