Illinois State University Director of Athletics Larry Lyons posted an open letter to the Redbird community Wednesday.
In the letter Lyons addressed the COVID-19 pandemic and social injustice.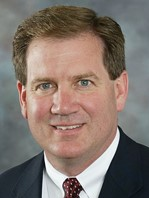 "None of us has all the answers, but we will continue to seek them together," Lyons said. "It is my job along with that of our leadership team to LISTEN and to create an action plan to be put into place. I've asked that some within our leadership team be the driving forces behind our action plan, which has already been set into motion, and to come up with immediate, short term and long term goals for our department regarding diversity and inclusion."
The full letter can be read below.