Illinois State University runner Grace Beattie set herself apart when she became a Missouri Valley Conference Champion in February.
The redshirt junior has overcome many obstacles in her career so far, including multiple injuries and second-place finishes. However, the cancellation of college sports due to COVID-19 may be the most impactful of them all.
"At first it didn't feel real," Beattie said.
"And now I've had to accept it. And though it's hard to accept, it's understandable. My mom always tells me, 'You have 24 hours to sulk and pout about a bad race, and then you have to move on.' It took way more than 24 hours.
"After about four days, I was like, 'You know what, there's a lot [of worse outcomes], I could be sick, I could be dealing with this personally with a family member or myself.' So, I just have to be blessed that I have an opportunity next year to return." Beattie said.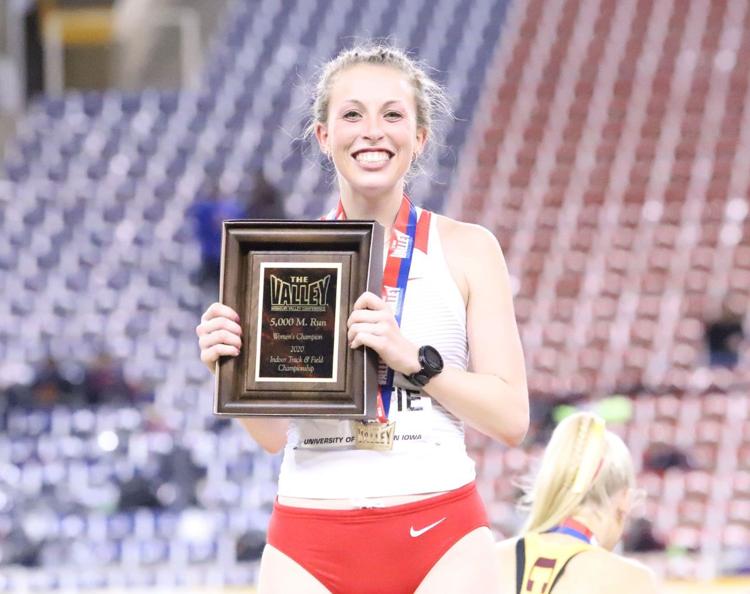 Beattie overcame early-season illnesses and setbacks to finally establish herself as one of the conference's elite in early February; she ran a 4:52.32 mile at the Adidas Classic. The Missouri Valley Conference named her Track Athlete of the Week for her conference-best time at the event.
"My reaction to that was a, 'Hey Grace, you're back!' kind of feeling," Beattie said. 
"But getting out there and winning that race was pretty motivating for me. A girl I beat in that race was a 10-second faster steeple-chaser than me, and steeple chase is my main event in outdoor."
Beattie defeated 18 others in the 5k to win the MVC Indoor Championship (16:50.96) and avenged her second-place finish from 2019.
"It was a good feeling," Beattie said. "I have gotten second in the mile, the steeple chase, the 3k, the DMR and the 5k. And finally, I won my outdoor title last outdoor, and this indoor I was like 'I'm not going home with another second-place medal.' It was tough, but it was the best feeling I've ever had, regardless of what race."
She has another year of eligibility left, but in the meantime will be focusing on her studies as a social work major. She wants to help those suffering from addiction.
"I'm going to get my master's degree, which is awesome, because I got into the master's program here," Beattie said.
"I want to eventually be able to open up my own practice, but right now I'm currently doing my clinicals at an addiction and treatment facility. I want to, eventually, have my own treatment facility for my own practice regarding addiction counseling (drugs, alcohol, eating addictions)."
In addition to relying on her family for support, she uses them as motivation; in addition to her parents, Beattie has four siblings who run collegiately.
"I have three older sisters and I have a twin brother who run collegiately," she said. "My twin probably is my most inspiring figure. He runs for Utah State University; he's a very different runner than I am. He's a really relaxed runner and kind of takes things as they come. But, I'm more of a 'Hey, if this isn't going great, then everything's ruined' type of runner. He really showed me, 'Hey, you can do it, you just have to relax and believe in yourself'. And my older sisters, it helps having siblings who competed because when you feel sorry for yourself, they're like 'Hey, you beat Kayla and Maura's run in the same spot' … so I just have to follow in their footsteps and know that all of them were able to do it and all three of them were successful now. My parents actually met running in Division I college, so that's pretty cool."
Finally, Beattie looks to get out and accomplish even more in the next running season, as well as in the classroom.
"I'm definitely looking forward to getting back into the classroom and have clinicals," she said. "Because that's really when my cross [country] season went poorly, trying to balance the clinicals with the practice, and trying to not walk away with the stress of being a social worker … I'm really looking forward to reaching some pretty big goals … I said when I got here 'I am going to be a cross country runner' … there is no reason I shouldn't be a title-contender in cross if I can win it on a track."
Head coach Jeff Bovee shares a similar ambition, and says the program wants "to contend for a team title in cross country and win at home and then for Grace to qualify for the NCAA Championships outdoors in the steeplechase."