Injuries are a devastating occurrence within sports. Not only is the injury aspect half the battle, but the mental side to comprehend the countless months of recovery can take a toll. Illinois State University tennis star Jelena Vujicic knows firsthand this toll.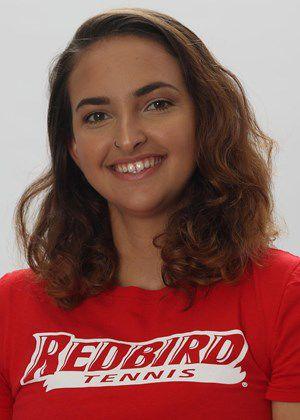 Vujicic is a senior at ISU and is coming off of an injury-riddled junior season, playing in zero games throughout the entirety of her third year.
Last fall, Vujicic was dealing with back issues that resulted in a bulge on one of her discs, sidelining her for fall semester play.
Seemingly ready to get back on track in the spring semester, Vujicic took one wrong step and slipped on ice. The diagnosis dealt was a bone bruise on her knee, not allowing her to walk for over a month.
Vujicic never recalls sustaining a major injury throughout her previous 15 years in tennis. Being affected by the unbearable pain was something relatively new to her.
The time away from tennis was difficult for Vujicic, struggling to keep her mind right while injured.
"It was very hard to keep my mind very positive, especially after everything that was happening with all the injuries," Vujicic said. "I felt like I didn't do a lot for my team last season because I couldn't play."
Any injury suffered is incredibly frustrating to handle, but never experiencing an injury takes it to a whole new level of frustration.
The intense rehabbing and away time from the court was irritating Vujicic. Not being alone was key, as she had several people with her on her journey back to tip-top shape.
"My coach was always there for me, and my trainer always kept me positive and pushed me to go to rehab," she said. "That helped a lot to push through the six months of not playing. My teammates were there for me. They were always there to tell me that I'm an important part to the team and that's what pushed me last year to keep going and keep working to get better."
Coming back from any injury can be tough, but competing in doubles allowed Vujicic to form a bond with fellow teammate and partner Tara Damnjanovic. The duo has gotten off to a hot start this fall, currently sitting at 4-0.
"We're doing really well together, and we are very good friends off the court," Vujicic said. "We are from the neighboring country (Croatia/Serbia), so we speak the same language and that's what kind of connects us as well on a different level. We push each other to get better, not just work the baseline but as well as the net. She is very important to me, she pushes me, sometimes when I am down on myself, she is always there to pick me up and help me out and vice versa."
Going through any major injury can show certain sides of yourself that you had never known before. In preparation for the fall season, Vujicic looked back on the injury and commented on her growth.
While being out of action for several months, this allowed Vujicic to explore her future. She realized in her time away from tennis that her body had a limit, and that limit was on the horizon.
"I didn't think my body could survive one more year," Vujicic said.
Instead of getting hung up on her injury, Vujicic set her sights on her major, public relations.
"I am currently working on getting into grad school; I want to stay for another two years at ISU," she said. "I want to get my master's degree and get a grad internship within the athletic department. I feel like I can't stay away from it, because tennis has been with me since I was four or five years old, so it would be hard for me to make a sudden break and stop doing it forever."
Knowing her body would not survive the grueling hours of competitive tennis for much longer, Vujicic aimed to stay within the athletic department to stay close to the sport she loves so dearly.
"I'm going to try to focus on my life and my professional career, and personally go into a different direction than I did for the past 15 years," Vujicic said.
Vujicic may be ready to pack up the racket and call it a career in tennis, but she is excited to be able to start her next phase of life in Bloomington-Normal.
"Bloomington-Normal kind of became my new home and the school as well. The athletic department, they all kind of offered me a home away from home," Vujicic said.
Being in the present still permits Vujicic one more season of tennis. She is already showing out on the tennis courts throughout the fall with her 4-0 doubles record currently. She described in simple terms how she wanted to end her senior year.
"I want to go out with a bang," Vujicic said.