With COVID-19 cutting spring sports short, the NCAA approved granting an extra year of eligibility to players whose season was discontinued. This meant Illinois State University baseball player Ryan Hutchinson was allowed to return for his seventh season and help the Redbirds continue to contend for a Missouri Valley Conference Championship.
Hutchinson had redshirted his freshman year, then had an injury that allowed him to medical redshirt for a year and was also granted another redshirt year due to COVID-19.
He says the decision to return for his seventh season was not hard as he had found a job in Chicago. However, restrictions due to COVID-19 shut down all nonessential businesses, which included Hutchinson's job.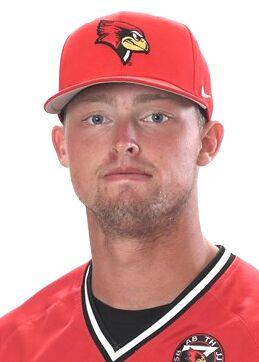 "It wasn't that hard. I had a job lined up in Chicago and essentially COVID comes through and they have to shut everything down including their recruiting and hiring process. So, my job was essentially taken off the board by COVID," Hutchinson said.
Then, when Hutchinson saw that the NCAA granted another year of eligibility to all spring athletes, he made his decision to return to ISU baseball.
"When the NCAA came out and said they were giving all spring athletes another year of eligibility back … I talked to Stevey (head coach Steve Holm) and I talked to Wally [Crancer] and we got a couple of things figured out. So, it wasn't too hard of a decision for me," Hutchinson said.
Hutchinson says his one doubt about returning is going through the exhausting conditioning period. Yet, he is keen to return to the baseball field and is ready to work as hard as possible once on it.
"Now I've been given an opportunity to really go for it and I know this is really what I want to do. So, the only doubts I've had are —man — you've got to go through the conditioning process again, but I'd be working out if I wasn't playing baseball anyway. So, I might as well go all out, get another year of baseball and play as long as I can," Hutchinson said.
While recommitting, he also set out two personal goals for the upcoming season. Hutchinson listed his health as his top priority in his return.
"Stay healthy, I had the broken wrist in 2019 which cut my season pretty short and even this past spring I hurt my shoulder at Oklahoma and only got half the games that we got even with the shortened season," Hutchinson said.
"Baseball-wise I'm not too worried. I'm just going to go out and play my heart out and give it everything I got one last time. The big goal is to have my body in the best shape possible to withstand the 60-game season."
The second goal he set was to be a better leader within the locker room since he is in his seventh year.
"I'd like to be a more outspoken leader on the team, being the old guy. Helping the guys when needed and keeping guys accountable. Just making sure however many guys we have pulling on the same rope and moving in the same direction," Hutchinson said.
In addition to setting personal goals, Hutchinson said that the team goals remain the same as last season. He says that the team wants to play hard every game and compete for a Missouri Valley Conference Championship.
"The expectation for this upcoming year is the same as it was last year: go out and compete, expect to win every game and contend for a conference championship."
Having high expectations for this upcoming season, Hutchinson hopes to be a key leader for the Redbirds. Just as important though, he also looks to be an important player for a team that looks to win it all.