Screams and chants of "Black Lives Matter", "George Floyd", "no justice, no peace" from restless, emotionally-drained, sweating-profusely, and visibly heartbroken citizens flooded neighborhoods. Tear gas, mace, pepper balls and rubber bullets dispersed into large crowds of protesters. Streets filled with scuffles between protesters and enraged law enforcement dressed in riot gear, shields, helmets and batons. This was the scenery of a protest in Indianapolis, where Illinois State University track and field athlete and Indianapolis native Jordan Wilkerson stood anticipating the final moments of his life.
"In that moment, I was willing to die that day and take my last breath," Wilkerson said. "For everyone in this, every Black person in this country who had been fighting tirelessly and have died."
In America 2020, racial injustice and deadly pandemic are the forefront of the headlines. Black men and women falling victims to police brutality within weeks apart. The tragic events have left the Black community across the country in a state of mourning, devastation and fighting for justice and end to racism relentlessly. The Black Lives Matter movement has become the biggest civil rights movement in history.
For Wilkerson, these events have fueled a flame in his heart to join the frontlines of the movement, both at home in Indianapolis and on ISU's campus. Wilkerson has become one of the more vocal leaders on campus for Black Lives Matter. He's become a go-to voice for news outlets across Illinois, demanding ISU Athletics and the entire university acknowledge and support Black student-athletes and the Black student population while calling for change.
Wilkerson was born in Gary, Indiana, a predominately Black neighborhood about two hours outside of Indianapolis.
"We lived there for a little bit, but it got a little a little too much going on," Wilkerson said. "The school systems weren't up to par, there's a little lot of violence and stuff like that."
Wilkerson and his family then relocated to Indianapolis around middle school. Wilkerson attended Chapel Hill Seventh and Eighth Grade Center where he first started running track. Wilkerson accumulated a long list of achievements on the Redbird track and field team. In the 2019-2020 season with the Redbirds, Wilkerson recorded a personal-best time of 22.89 seconds in the 200m at the Iowa State Classic and repeated as the MVC Champion in the heptathlon, recording a personal-best 5,255 points to break the Illinois State track and field school record.
Despite the success Wilkerson has earned as a track and field athlete at ISU, he despised the sport but joined the track team because of the extra push from his mother.
"My mom put me in track. I actually hated track honestly," Wilkerson said. "That was just something that she made me do because she wanted me to stay fast during football season. I played football throughout high school. I started in like seventh grade, but I used to hide in the bathroom and hide from workouts and stuff. I just really hated track, but I just stuck to it. I'm a person who sticks to whatever I do and I just put my all into it."
He graduated from Ben Davis High School, a school with a large, diverse student body and fair representation among the staff. Wilkerson said the community was very tight knit and embraced one another. He developed close relationships with teachers whom he still communicates with today. But the transition from home to a PWI like ISU left Wilkerson ill at ease.
"My first weekend, I didn't leave my dorm and I didn't want to leave because it was just weird for me to be around faces that aren't familiar to me," Wilkerson said. "I will say the athletic student body made it easy for people just coming in from Chicago, Indianapolis and to feel at home."
Wilkerson earned his undergraduate degree in business methods for entrepreneurship at ISU and is now studying sports management as a graduate student. His goal is to become a real estate owner.
"Actually, me and my brother are in the works of starting our own real estate company," Wilkerson said. "I eventually want to start a nonprofit as well. But that's really my entrepreneurship goal."
But for now, Wilkerson has one goal he's focused on: helping his peers bring equality and change to ISU to help all students feel seen and supported in the fight for social justice.
I promise to all my black athletes on campus and black students that i will fight for equality and stand firm in my position of BLACK LIVES MATTER! NO FOLDING IN ME 🖤

— Jordan Wilkerson (@Jwilk_47) August 27, 2020
Recently, ISU Athletics Director Larry Lyons said "All Redbird Lives Matter" in a meeting with the students in athletics. The comment sparked concerns from student-athletes and coaches supporting their players. Wilkerson, who was in class and not in attendance for the meeting, found out about Lyon's comment from his teammates on social media.
"That's how you know how impactful that statement was," Wilkerson said. "I didn't even hear it live. I saw it on Snapchat and my teammates were mad about it. So, it was it was hurtful. And it was insensitive."
Sports organizations around the country like the NBA and NFL and collegiate institutions have released statements, commercials, and other methods to address social justice issues and stand in solidarity with the Black Lives Matter movement. ISU released a Black Lives Matter poster with Black student-athletes, including Wilkerson, on the cover. However, many have questioned whether these statements from sports organizations reflect a genuine support for Black athletes and Black student-athletes or are performative activism to save face and protect themselves from scrutiny. For example, NBA player LeBron James has called on NBA owners and administration who have been reluctant to speak out to have a more active role in addressing racial injustice and to stand alongside Black athletes advocating for change. Hockey player Evander Kane called out the NHL on social media for their lack of response to the Jacob Blake shooting.
Wilkerson said he's admired professional athletes for using their platform to bring awareness to racial issues and wants to model the same actions on campus. He said the coaches, trainers, other student athletes, and other staff in ISU Athletics have done a phenomenal job supporting the athletes of their advocacy and the pain as they share tearful testimonies during the meetings. But it is the ones in the top level that's left him concerned. 
Wilkerson said in the first meeting with the students, Lyons remained silent. He heard little to nothing from Lyons up until the meeting where he first made the offensive statement. "For his first statement to be something like that, that almost [portrayed] what he felt," Wilkerson said.
"I felt like [we] got spit in our face. And especially for me, because I told everyone, and I've said this in multiple interviews, that I didn't want to be a part of any movement that was not genuine and real. I didn't want to be a face of anything, because that's not who I stand for. And I stand hard for my people. I'm not going to be a poster child; I'm not going to be a token Black person, so it looks like 'This is what we're doing. These Black figures in these places, and we actually supporting this,' then they show something different."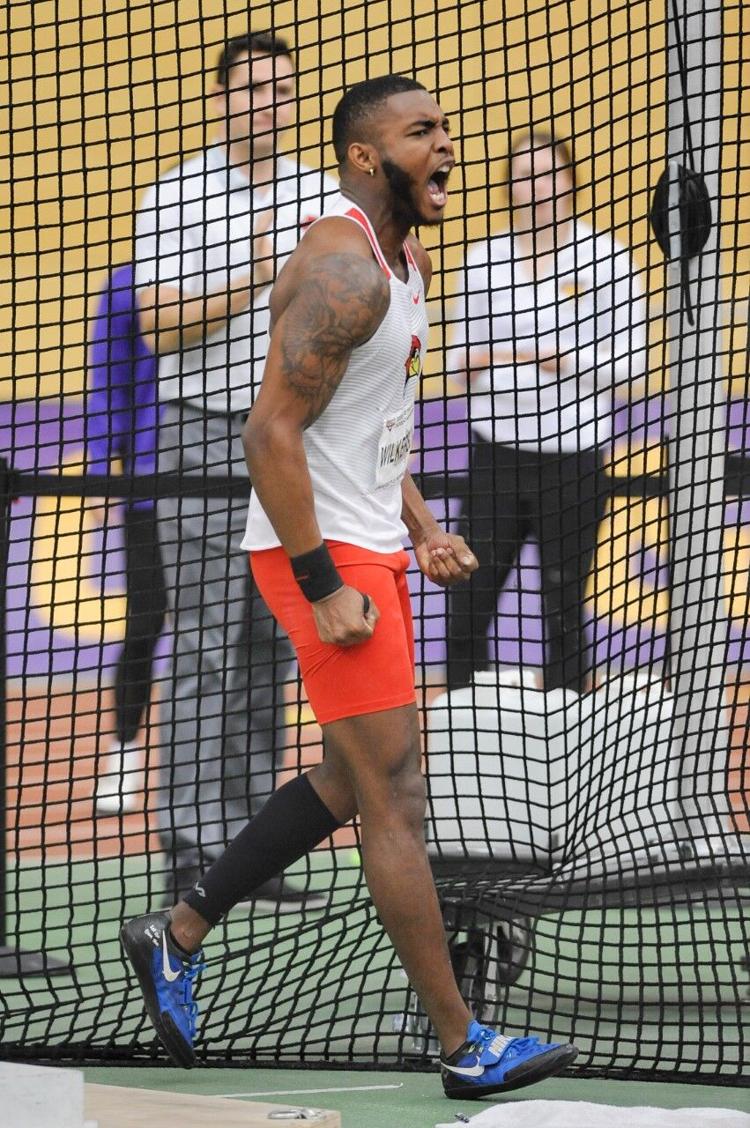 While the students have gotten an outpouring of support, some, along with administration, have remained silent and deviated from conversations surrounding Black Lives Matter. Wilkerson said he believes people see the movement as political rather than a way to empathize with the pain and experiences of the Black community. He said it's frustrating that people lack the empathy for those experiencing trauma even when Black students are explaining their pain.
"We can't explain, or they can't feel the same pain that we feel, but let's educate them on those matters," Wilkerson said. "And I thought we did that. And to a degree, I feel like it's not our job as oppressed people to educate the oppressors."
Wilkerson shared his own fears as a Black man. While working a delivery job in a small town in Indiana, a state known for a heavy KKK presence, Wilkerson felt uneasy navigating through the town simply because he is Black.
"Knowing that if something was to happen to me there, the justice system wasn't on my side," Wilkerson said. "My mom would have probably never known what happened to me. They would have probably covered it up. And it was so scary because I'm like, I'm just here to do a job and I can't even feel comfortable in my own skin just because I'm Black."
Together we stand. pic.twitter.com/KpyqazjLZM

— Jordan Wilkerson (@Jwilk_47) August 30, 2020
Following Lyon's statement, ISU student-athletes announced a boycott for the upcoming season and a short list of demands for administration to meet to call off the boycott. The demands call for minority representation in administration, athletic trainers, mental health resources geared toward minorities, and public support for Black Lives Matter from the athletics department. Wilkerson said they kept the list short for athletics and administration to initiate a conversation with them about other demands and next steps.
"We don't have any Black representation or not even minority representation in this administration," Wilkerson said. "My biggest thing when talking to the administration, it's like, how are you guys formulating progressive acts and making plans for an athletic environment to be more beneficial for Black athletes if you have no one on your board who's Black? Where are you getting these plans from? You don't even know what it feels like to be Black. So, it's no way that you can accurately give us a plan and accurately implement a system that's going to be beneficial to us if you don't even know what it's like."
Unity. Come out 🖤 #BlackLivesMatter pic.twitter.com/uc7nhKK2Go

— Jordan Wilkerson (@Jwilk_47) September 2, 2020
Fast forward to Sept. 4. ISU student-athletes, dressed in all black, led about 300 students, staff and community members on a march for Black voices from the north entrance of Redbird Arena to the steps of Hovey Hall on the Quad with an overflow of "Black Lives Matter" and "no justice, no peace" chants. Wilkerson, who spoke for about 14 minutes, was the last speaker of the evening. He spoke on a number of topics.
"It takes a different type of people to get killed, enslaved, hung, spat on, restricted from resources and opportunities, ridiculed, used and to be treated less than humans to get back up and fight for equality and is something that I'll always be proud of as a Black man," Wilkerson said. "We are a special type of people."
Mid-speech, Wilkerson paused for a moment, becoming emotional. Applause and a "take your time, Jordan" came from the crowd as Wilkerson wiped his tears and continued speaking.
"It's traumatic talking about this every single day," Wilkerson said after his speech. "I've been getting interviewed like five times a day. It's just emotional when you're talking about that. And it's a little different when you actually see those words come out and you can really feel the pain in here. I could feel even though I wasn't even looking up. I never looked up, but I can just feel it and they just move my spirit. Like I said, I'm passionate about this."
Following the march, Wilkerson said he hopes athletic administration heard them and is willing to push forward to make change and be on the right side of history. Until then, Wilkerson said he will remain dedicated to being a leader for equality and Black Lives Matter while the momentum is high. He said being a graduate student, being a Redbird, and wearing Redbird gear doesn't prevent him from potentially being a victim to police brutality. He said he's content with all that he's achieved as an athlete during his time at ISU, but sports are not a priority for him right now.