At the conclusion of the Illinois State football spring showcase on April 13, a sea of red filled the turf at Hancock Stadium.
Family, friends and fans surrounded their favorite players on a beautiful spring afternoon. Among the crowd was a smiling Jeff Proctor, a transfer running back from San Bernardino Valley College in California.
Despite impressing in his ISU debut with 100 rushing yards on 17 attempts along with two touchdowns, Proctor has one established mentality heading into the 2019 season.
"I just want to win, bro," Proctor said.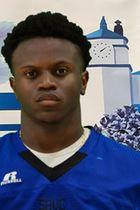 With All-American running back James Robinson watching his new teammate on the sideline, Proctor showed last Saturday why ISU head coach Brock Spack was interested in such a speedy back to compliment Robinson.
"He has very good speed," Spack said when asked why they became interested in Proctor. "He's very sudden, he's a great change of pace back, he's dynamic.
He's an older guy, and kind of fills the gap between James and the freshmen coming in."
For that, Spack and running backs coach Khenon Hall were all over the 5-foot-8 Proctor, who finished his two-year career at San Bernardino compiling over 2,000 all-purpose yards as a running back and kick returner after transferring from Iowa State.
"I got to Iowa State and things didn't go how I thought they would," Proctor said. "I went out to [California] and did my thing and then coach Hall called me and gave me a chance to come play here [ISU]. I took my visit and I loved it. I love the energy surrounding the program this year."
The energy that Proctor is referring to comes from a powerhouse program looking to return to the playoffs after a two-year drought. The Redbirds certainly have high expectations heading into the 2019 season after a disappointing late stretch to last season.
Admittedly for Proctor, the transition from junior college ball to ISU was not easy, despite the positive energy surrounding him.
"When I got here obviously it was different than JUCO [junior college]," Proctor said. "There were 5 a.m. workouts, it was more of a grind. Then when spring ball started everything was a lot faster than JUCO. Coach Hall kind of helped me get my tempo going. He got me right."
Hall, who was Proctor's main recruiter during the recruiting process, echoed Proctor's willingness to become a better player in the ISU system.
Along with wanting to win as a main priority this year, Proctor also hopes to do anything he can to contribute to the team's success.
"I'm just trying to contribute to the team," Proctor said. "Help any way I can, whether it's special teams, offense. It doesn't really matter."
Luckily for Proctor, Robinson has stepped in as a mentor despite not participating for most of the spring.
"Actually, he has helped me out a lot throughout the spring, getting me right with all the plays," Proctor said of Robinson. "Some things I'll do wrong and he'll tell me, 'Look for this, look for that'. I've actually started seeing those things talking to him. He's experienced, so having him in my corner helps a lot."
With both of these players having a unique style of running, both speedy and physical in their own way, the Redbirds' coaching staff hopes that Proctor and Robinson will coincide nicely.
As far as the future goes beyond this season, Proctor is keeping it simple.
"I just want to help the team win a national championship," Proctor said. "We got the talent, we got the coaches, we just gotta put it all together now. That's all I'm really worried about right now, man. Just helping any way possible, just playing my role here."
The Munster, Indiana, native has not had an easy journey to Normal, but he will certainly be getting his fair share of opportunities in the backfield this season for the Redbirds, who hope to return to being the national powerhouse they were just a few years ago.