Imagine being on the cusp of your rookie season after having been selected No. 12 overall in the 2020 National Women's Soccer League Draft. The excitement, thrill and anticipation of having the next stage of your life right in front of you after all of your hard work has been noticed.
Then, a pandemic strikes. Several unnecessary deaths inspire a movement and, out of nowhere, the franchise that drafted you is moving.
Illinois State University alumna Kate Del Fava's rookie year has been unlike any other.
As the soccer ball has continued to roll throughout 2020 and into 2021, the former Redbird has kept pace and persevered through every obstacle in her path.
"Obviously having my rookie season be such a crazy year wasn't what I expected, but I wouldn't trade it," Del Fava said.
"I feel like I learned so much as a person and a player during my first year and I'm excited to see how I can use my first year of experience to grow and develop this upcoming year and season."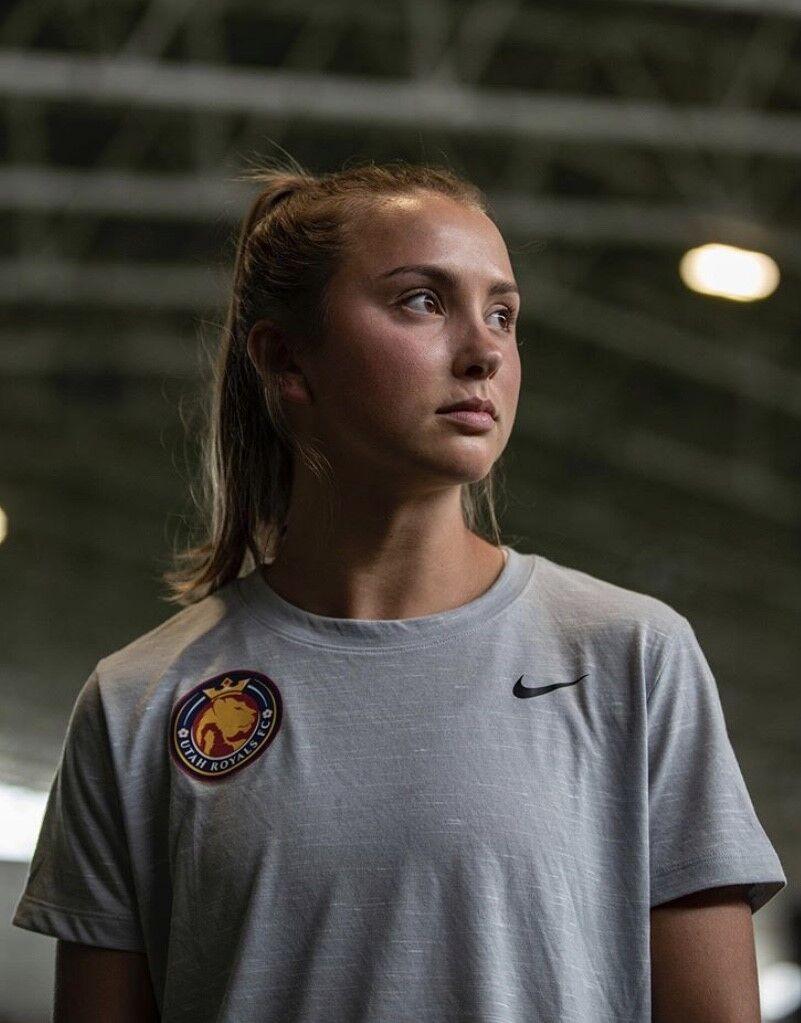 With her draft date taking place on Jan. 16, 2020, Del Fava had two months of normalcy as a first-round pick for the Utah Royals FC. When March rolled around, COVID-19 began to spread across the world. Del Fava stayed fortunate, as the NWSL continued play for its Challenge Cup season beginning on June 30, 2020.
"The COVID-19 pandemic has hit everyone in the world extremely hard and I'm just grateful that I was able to even have a rookie season among all the chaos that the pandemic brought. Even though it wasn't a typical NWSL season, I feel lucky to have been able to play at all during 2020," Del Fava said.
Del Fava was officially added to the Royals on June 18, 2020, as only three rookies were added to the active roster. Before Del Fava's season began; however, a nationwide movement sparked that the midfielder could not ignore.
Breonna Taylor died on March 25, 2020. George Floyd was killed two months later. As a new member of a professional athletic league, Del Fava chose to use her platform to speak out against the injustice rather than remain quiet.
Besides retweeting about Utah Royals news or Illinois State soccer, the content from Del Fava's Twitter suddenly shifted, and became directed toward the Black Lives Matter movement.
Soon to follow was Del Fava's decision to stand for change come her season debut. Except she did not stand but knelt alongside her teammates.
Bigger than soccer. #blacklivesmatter pic.twitter.com/V90ue9Jgvo

— Utah Royals FC (@UtahRoyalsFC) June 30, 2020
She continued to kneel prior to every game this season, and her passionate support for the BLM movement has stayed true to this day. Del Fava is paid to play soccer, but she has taken it upon herself to do what she can to benefit those around her.
"I felt it was incredibly important to support my teammates as well as voice my own support of the BLM movement. I plan to continue to kneel, donate, voice my opinion and most of all support my teammates in whatever ways possible," Del Fava said.
Nearing her one-year anniversary with the Royals organization, Del Fava played in six games between June 30 and Oct. 3. Del Fava's time in Utah — while memorable — ended abruptly when the franchise announced on Dec. 7 that it was moving to Kansas City.
🤩🤩🤩 #WePlayForKC https://t.co/5WcB303uay

— Kate Del Fava (@kdelfava) January 12, 2021
The first-year attacker noted that there was an investigation into the culture in the Salt Lake State, which led to the purchase by Kansas City.
The Royals can re-establish a team in 2023 under new ownership if they so desire, but Del Fava's journey now resides on the Missouri border.
"Utah was such a beautiful place to live and I'm so grateful to have had the opportunity to live there for a year of my life. I'll definitely miss the mountains but I'm super excited to start this new journey in KC," Del Fava enthusiastically explained.
Her rookie season has been a test unlike anything she could have experienced during her time as a Redbird, but Del Fava asserts that her time at Illinois State has shaped her into the woman she is today. As the NWSL held the 2021 Draft on Jan. 13, Del Fava heads into her second season now known as a Crest.  
Although identifying differently by jersey this season, the rookie season unlike any other will not be lost on Del Fava. 
"I'm focused on 2021. Being as fit and prepared as I can be going into preseason on Feb. 1. I'm hoping for a safe and successful season coming up and then just taking it year by year and playing soccer as long as I can," said Del Fava. 
"I feel lucky to be in my dream profession!" 
Through all the turmoil over the last 10 months, Del Fava has not lost sight that she is still living her childhood dream. The funny thing about dream's is that they always seem too good to be true, but Del Fava's rookie ride will only continue the aspirations she could not have imagined.