To be a good team in any sport, a leader is essential. Someone who steps up, brings the group together, guides his/her teammates to have success.
In the game of basketball, the leader is most often the point guard. The point guard is the floor general. The one calling out plays, calling teammates out for being in the wrong place, being vocal.
A true point guard was one of the biggest missing pieces for Dan Muller and company this past season. Because of this, one of the biggest focuses for Muller and his staff should be developing a point guard to be a floor general.
Think of Illinois State legend Paris Lee for a second. Lee was a starter right off the bat for Muller, eventually becoming a menace defensively and the 2017 Missouri Valley Conference Player of the Year. Lee was a major reason that ISU had a historical run during that season, averaging 13.0 ppg, 5.0 apg, and 1.9 spg.
Lee is what I would consider a true point guard. He held his guys accountable, played hard and didn't hold his head down when things were going poorly for him and his team. He was the one that ignited a spark in his team when they needed it the most, and could be relied on in clutch situations to get the job done. That is a leader.
The past couple of seasons, the Redbirds have lacked such a fierce leader. The year after Lee graduated, they had a couple players show promise in that regard, but neither really performed as expected.
Keyshawn Evans, a junior at the time, hit his stride. He averaged 15.2 ppg on 41% shooting (41.9% from three), nearly a 10 point increase from his sophomore campaign.
Even then, though, Evans was more of a catch and shoot type of guard. He was not really the floor general the Redbirds needed.
This past season, Evans was primarily a defensive player after averaging a disappointing 7.7 ppg on 33.5% shooting (33.3% from three).
Senior transfer Jerron Martin and freshman Elijah Clarance were the only two other guys from a couple seasons ago that saw limited point guard time.
Neither one of them were on the roster for the 2018-19 campaign. Clarance had some promise, but decided to turn pro overseas after having a forgetful freshman campaign.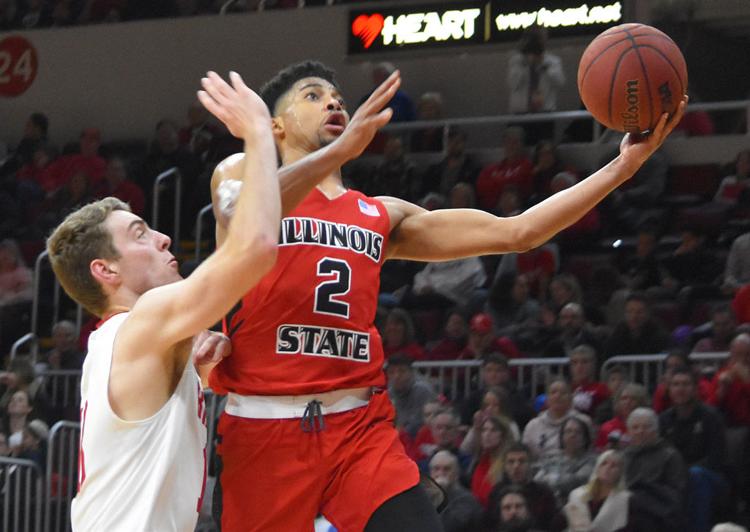 Other than these three, junior Zach Copeland was the only guy who ran the offense this past season for the 'Birds.
Copeland was decent in his role as a point guard, but again seems to be more of an off guard type player, despite shooting 34.4% from the field (31.7% from three).
A major question this offseason will be the emergence of Copeland as a leader of the team. Can he become the point guard that the Redbirds have desperately needed the last couple of seasons? He certainly has the capability, but may be better suited in an off-guard role.
Junior transfer Josh Jefferson is another guy who saw limited time in the point guard slot this season, but he is more of a shooting option than a lead guard.
Jefferson elected to put his name in the transfer portal at the season's conclusion, and committed to the University of Wisconsin-Green Bay. Jefferson will sit out the 2019-20 year before his senior season.
Another name to keep an eye on is incoming recruit DJ Horne. Horne, a 6-2 point guard from Raleigh, North Carolina, is a tough, gritty playmaking lead guard. He seems to have that Paris Lee-esque personality, a guy who wills his team to win.
But, can a guy like Horne step in right away and follow in Lee's footsteps as a starting freshman point guard in the MVC? Time will tell.
Another point guard on the ISU roster is Bloomington High School graduate Lijah Donnelly.
Donnelly, a walk-on from Illinois-Springfield, will join the team after sitting out last season due to transfer rules. Donnelly has two years of eligibility remaining, but it would be a surprise if he was more than just a role player.
Muller indicated that he had plans to search for another point guard or two to add this offseason in either the junior college or high school market, and has done so since the season's end.
Former Wichita State point guard and junior college All-American Ricky Torres signed with the Redbirds in mid-May.
Torres was third on the team in assists last year with the Shockers after playing in all 37 games (10 starts). 
The 6-3 Torres averaged 17.2 points, 4.7 rebounds, 8.1 assists and 1.7 steals at Missouri State University-West Plaines in the 2017-18 season as a sophomore. His freshman season he averaged 11.2 points, 3.8 rebounds and 5.7 assists per game. Torres was recently granted a waiver by the NCAA to play immediately this season.
Another potential option would be signee Antonio Reeves, a 6-4 guard out of Simeon High School in Chicago. Reeves was known to play multiple positions in high school, averaging 21.7 points, six rebounds and three assists per game. While Reeves seems to be more of a shooting threat from the perimeter, can he develop into a point guard if need be?
A plus for Muller and his team is that they will be taking a trip to Italy over the summer, which gives players like Copeland and Horne the chance to develop a little more as point guards. The team will play games and hold practices there.
This also allows newcomers like Torres and Reeves to get accustomed to Muller's system and possibly develop into the needed point guard. It will be important for guys like Reeves and Horne to learn from veterans like Copeland and Torres as well.
So, in what is likely Muller's most important offseason as a head coach, will the Redbirds take a step forward? A big part of that will be the emergence of a point guard.
Whether it is a current roster player or an incoming guy, the Redbirds need a true point guard to lead the team.
While the Redbirds seem to have some options at the position, developing a guy like that will go a long way in future ISU basketball success.