The Illinois State University men's basketball team will look very different next season. Three Redbirds made the decision to end their careers. Redshirt junior Matt Chastain and redshirt sophomore Taylor Bruninga decided to forgo their remaining eligibility due to recurring injuries. Sophomore Rey Idowu announced via Twitter that he decided to transfer to the University of Tulsa for his remaining eligibility.
"Rey is a guy who we loved, and he came and did a great job for us in every aspect on and off the court," head coach Dan Muller said. "I think Rey was looking for a role that was a little bit bigger than the one we foresaw him having coming back next year. And in the end decided that it was best for him to go somewhere else to play."
For both Chastain and Bruninga the decision to retire was a difficult one; both suffered injuries that kept them from participating in a full capacity in past seasons.
"The injuries have been affecting me since I was a freshman in high school and over time, they have just gotten worse, and they have been happening more often," Chastain said. "My injuries include five knee surgeries as well as continuing back problems throughout this last season. I have had two ACL surgeries in my left knee as well as three meniscus tears. In my right knee I have had two meniscus tears, one of which I had surgery on this last January. I had my first ACL surgery when I was a freshman in high school."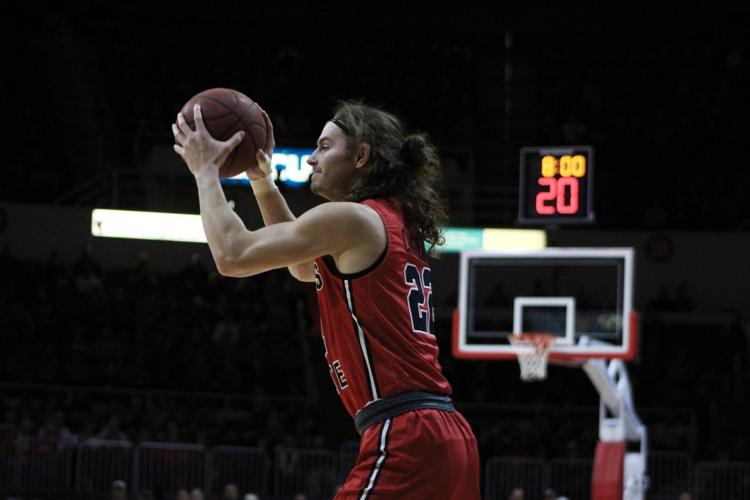 "He's just been in pain a lot," Muller said. "He can't really practice in full, couldn't the last two years and just made the difficult decision. He thought it was best for him physically to not be competing at the Division I level."
Chastain's decision wasn't made hastily, LeRoy native consulted a group of trusted advisers before coming to his conclusion.
"This was an extremely tough decision," Chastain said. "It was something that I did not want to do because I have been playing basketball ever since I as 5. After talking with coaches, my parents and the trainer I decided that for my future health that it would be best to stop playing."
For Bruninga, the process was very similar.
"He's got the one, foot injury which is one of the worst surgeries and injuries that you can get," Muller explained. "There is a lot of complications with that specific surgery on the navicular bone—that was what he had. That was the main reason we waited so long on surgery last year because if a stress fracture can heal it is much safer than if you have to do surgery. Once you go in it is always risky."
Bruninga's injury happened in a preseason practice last year.
"I was on crutches most of the year and eventually had surgery in February," Bruninga said. "I rehabbed and played the first few games of the year and then was sidelined for most of the middle of the season until the last nine or 10 games."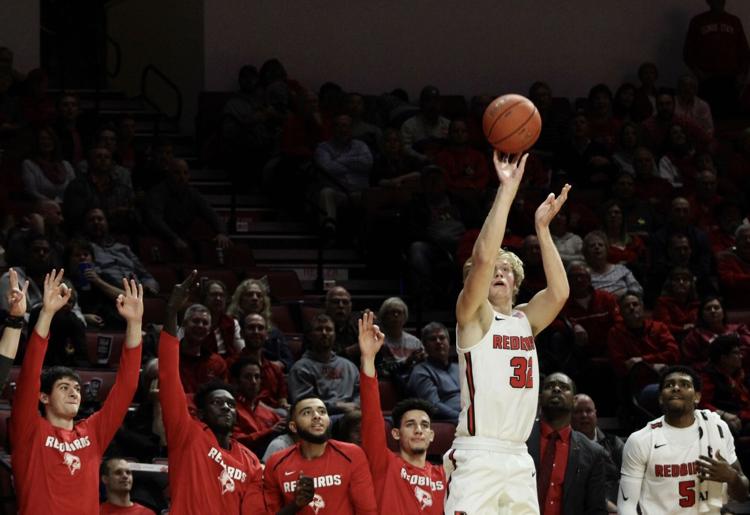 Even after surgery, chronic issues kept him from fully coming back.
"Taylor was the guy who was practicing for 30 minutes a day, had to take multiple days off just to compete," Muller said. "I think everyone could see that he wasn't his full self. He thought about it and talked to doctors here in town and specialists across the country and Taylor decided that it would be best for him physically if he didn't keep playing."
Like Chastain, Bruninga consulted medical professionals, family members and coaching staff before deciding to retire.
"It was a difficult process but after hearing multiple opinions and visiting a specialist in Green Bay I decided it was the best decision for my future health," Bruninga said.
Muller confirmed that although they will no longer be competing, both Bruninga and Chastain will remain on scholarship and finish their degrees at ISU while also contributing to the team in other ways.
"I will try to be at as many practices as possible and will be on the bench for games," Bruninga said. "Basically, trying to mentor and leader while not being able to physically play in the games or practice."
Looking forward, Muller knows the positions left by Chastain and Bruninga need to be filled and thinks new recruits and returning players will be vying for those roles.
"Harouna Sissoko is a kid who sat out and redshirted last year who is kind of that similar — 6'6, 6'7 — athletic and tough, so he'll have an opportunity to have an impact on the team next year," Muller said. "We've got some guys coming in next year who definitely — at that four-spot especially, and the three-spot— will be expected to contribute and take up some of the slack of losing both of those guys."
Despite losing three players, the team's goals remain the same.
"So, for next year — of course — it is to get back to our winning ways and be there in competition for seeding and conference positioning for post season play," Muller continued. "To protect home court, we lost a lot of really close home games. We will have a young team in some ways next year, we will have enough returners and guys that have been in the program but we'll still bring in some very talented young guys and we want to help them grow, get better and just see if we can put ourselves in position in St. Louis to — like everybody wants to — go to the tournament."
As for Chastain and Bruninga, apart from helping the team where they can, they hope to earn their degrees.
"I plan on graduating with my master's in accounting next May," Chastain said. "After I graduate, I'm not sure what I will be doing. I am going to speed time in the next year in order to figure out a job for when I graduate."
Bruninga plans on finishing his agriculture business degree and use it to get a job in agriculture sales or crop insurance.
Although the decision to end their basketball careers was tough, both Chastain and Bruninga have fond memories to look back on.
"My favorite memory is our trip to Italy we were able to see a new culture and see a lot of history with the team," Chastain said. "I also value all the moments in the locker room and off the court and I will forever remember these moments."
"All the road trips and hanging out with my teammates," Bruninga said about his favorite memories before adding, "Thank you to all the redbird fans for the support throughout my career."
Again, Muller commended both Chastain's and Bruninga's careers.