NORMAL —Yes, nuggets. Missouri Valley Conference Swimmer of the Year Kierston Farley-Sepe claims that she is "fueled primarily on Chick-Fil-A nuggets."
In fact, Farley-Sepe has such a strong passion for nuggets, she has coined the term as her own. The swimmer's Twitter handle even includes "nuggets."
"I just love Chick-Fil-A nuggets, and the word has just come to mean so much to me," Farley-Sepe explained with a chuckle. "It's like my own way of saying 'oh darn' or 'dangit'"
Those close to the talented swimmer know the term matches well with her bright and bubbly personality. According to newly hired head coach Caitlin Hamilton, Farley-Sepe's energy within the team is nothing short of contagious.
"Kierston is so bubbly and is just always happy," Hamilton said. "You can always hear when she enters the room and she brings this ray of sunshine with her wherever she goes. She's the type of athlete that when you find it, you capitalize on it."
The senior Redbird certainly brought the energy to the Missouri Valley Conference Swimming and Diving Championships. She earned three individual crowns in the 200-meter individual medley, the 400-meter individual medley and her personal favorite event, the 200-meter butterfly. She also teamed up with some Redbird teammates to earn runner-up honors in the 400-meter freestyle relay. Accumulating over 30 points for the Redbirds, Farley-Sepe earned the most points of any swimmer in the league.
However, Farley-Sepe's success in the water is less a result of her bubbly spirit, and much more in part due to her competitive, selfless drive.
"She is just so good at flipping that competitive switch and getting into her zone," Hamilton said. "But then, she does everything for this team. She would never admit that an individual award was on her mind. She did everything she did this weekend for the team."
The senior swimmer also played a large role in shaping the team's culture. With an entirely new coaching staff heading into the season, it was up to the seniors to maintain a positive attitude and unite the team in the face of change.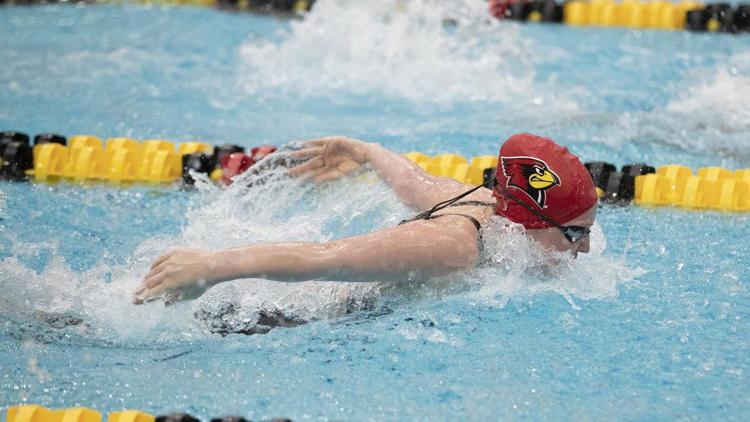 "Change is always different and it's hard. The team just really stayed positive and open to the possibilities of what this team can be. Everyone really bought into the process, and that started with my wonderful classmates," Farley-Sepe stated.
The swimming and diving program at Illinois State University experienced major changes to their culture as an impact of the coaching changes. The team's focus switched to leaving the program better than they found it and, no matter the end result, being proud to be a Redbird swimmer. On a women's team, culture is an ever-present topic, and one that requires constant attention.
"With women, culture is something you can never stop working on. It always requires time and attention from both coaches and athletes. Kierston has truly been the spearhead of that for us," said Hamilton.
Farley-Sepe is far from unfamiliar with change. A transfer from Kentucky, she has seen change before and, therefore, has seen the positive benefits that accompany it.
Interestingly enough, the senior took a chance on Illinois State, having never seen the campus in person before transferring to the university.
"So, my parents actually went on the visit at ISU for me while I was still at Kentucky," Farley-Sepe laughed. "They called me that night and raved about how much I would love it here. I had to trust my parents' judgement."
Despite all the unknowns, Farley-Sepe quickly fell in love with Illinois State, as her parents claimed she would. She went as far to say she wished she had started her collegiate career as a Redbird.
However, the senior instead ended her career as one, and in true "nugget fashion," as she put it. Her personal motto for her senior year was to "leave it all in the pool" and have no regrets about her season.
"Looking back on the last four years--they went by so fast! I really try not to be too hard on myself and be satisfied to an extent with my career. I just try to remind myself of how far I've come."
"I'm not sure yet what my future holds, but hopefully lots of nuggets!"