The last two seasons of Illinois State University men's basketball have had exceedingly different expectations. 
Last season's team was expected to be a force to be reckoned with while this season's team is projected to be an also-ran in the Missouri Valley Conference. But last season showed expectations are just that, as the Redbirds stumbled to a 9-9 finish in conference good for sixth place in the MVC. 
With a new group of players, head coach Dan Muller sees this team as a much different team than last year's. 
"Not surprisingly a lot of the older guys have been the most consistent, not that our freshmen have been bad, but those guys lead with injury and focus. I think we will have a defensive identity," Muller said. 
"We are looking to move the ball more and we have moved the ball better than we ever have. I really like how the ball is moved. We have been more of an isolation team the last handful of years with our personnel. I do think this team will share the ball better and more. But the defensive end is where I will hang my hat on our identity."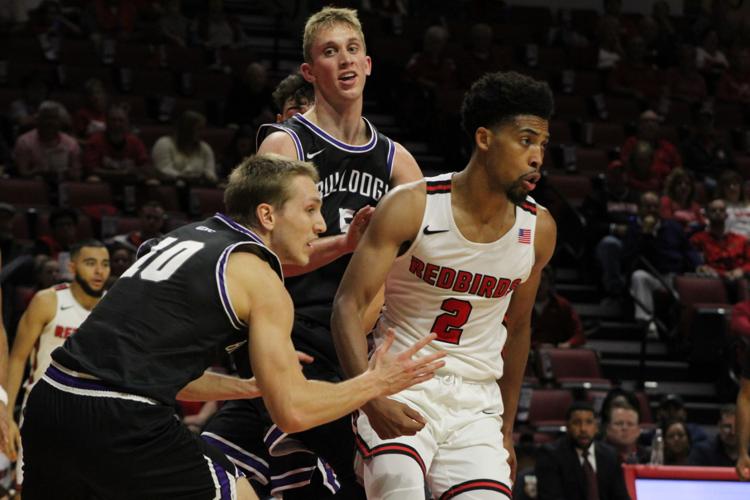 Most of that disappointing team is gone with only Zach Copeland, Matt Chastain, Taylor Bruninga and Rey Idowu as the only holdovers. Copeland— the now-senior guard— will look to lead a new Redbird team as the lone returning starter from last season. 
Copeland's time starting last year gives him ample experience to lead a young Redbird team. 
Muller sees a change in mindset for Copeland as a huge asset this season. 
"He has been 1000% times more coachable. He leads our team in competitiveness, effort; his voice and understanding have been better," Muller said. 
"He has been one of our leaders and is really an everyday guy on the court." 
Along with Copeland, the Redbirds return the sophomore Idowu and junior guard Chastain, as well as Bruninga. 
But only one of the three will see the court to start the season. Both Bruninga and Chastain will be out to start the season due to injury. 
With more playing time, Idowu will be able to build off his successful freshman season. Coming off the bench last season, Idowu played in 33 games averaging 2.9 points a game and 2.6 rebounds while shooting at a respectable 59% clip. 
More time on the court will likely raise those numbers. In the Redbirds exhibition game against Truman State, Idowu put up eight points and 10 rebounds over 24 minutes. 
Getting playing time off the bench last season has given Idowu great experience for this season. 
"I learned a lot for sure playing with guys like Malik (Yarbrough) and Phil (Fayne). Just to be able to see the consistency that you need to be successful in college basketball," Idowu said. 
Idowu will play a key role on both the offensive and defensive end this season. 
"I think this team has the chance to be very special on offense and defense. I think everyone has bought in with a lot of high energy and a good competitive spirit if we can keep that up, we can do well this season." 
With a new crop of players, the Redbirds need to replace a lot of scoring from last season. Last year's top five scorers in Malik Yarbough (16.7 points per game), Phil Fayne (15.9), Copeland (9.3), Josh Jefferson (8.7) and Keyshawn Evans (7.7) are mainly gone with just Copeland returning.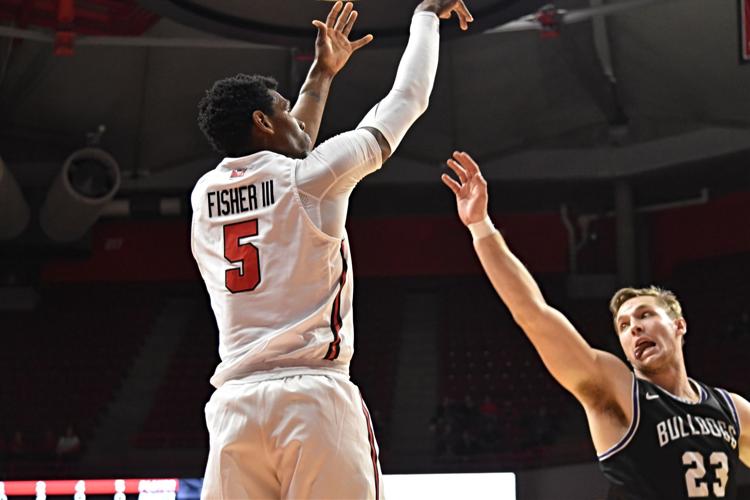 Despite most of last year's scorers being gone, ISU looks to replace them with transfers, Jaycee Hillsman, Keith Fisher II and Rickey Torres and freshmen weapons Antonio Reeves, DJ Horne. Along with Idowu vying for more looks. 
"I am guessing we will have a good handful of guys that can score 7-12 points. Because we are sharing the ball and have guys who can play multiple positions, I think we can have different scoring leaders each night," Muller said. 
Muller points out the skill level of the redshirt junior Fisher. 
"He brings emotional energy and a level of toughness you cannot teach. He is vocal and loud and confident," Muller said. "As a player, he is pretty versatile he can drive he can shoot he ca guard he is a good all-around player. The thing he needs to work on more is his shooting."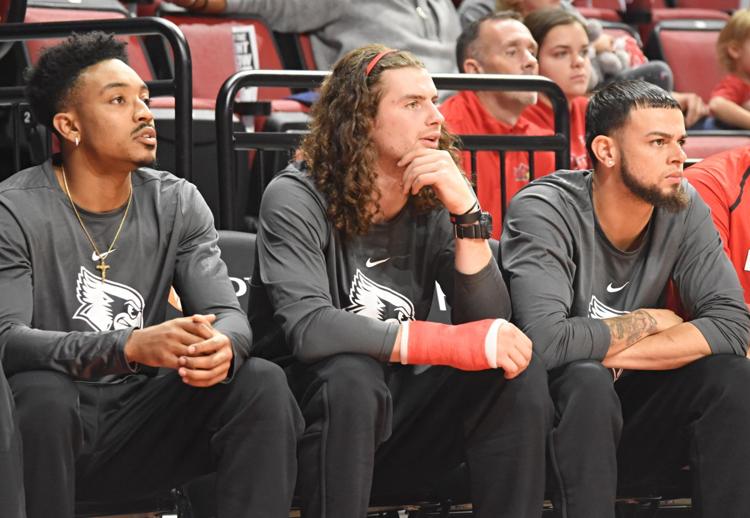 A small injury bug hit the Redbirds before the season started. Matt Chastain, Taylor Bruninga and Rickey Torres will all start the season injured. 
Chastain and Bruninga have already seen playing time from as a Redbird. Last season as a sophomore, Chastain averaged 3.5 points and 4.2 rebounds a game starting 15 games and playing in 31 games. 
Once he returns from a broken hand, Chastain looks to be a leader. 
"I'm Just trying to help the younger guys learn as much as they can as quick as they can. Trying to help our young and new guys get up to speed," Chastain said. "I think our team chemistry is very good this year. We move the ball very well. The new guys are picking up on the new stuff very quickly." 
The redshirt sophomore Bruninga will return to the Redbirds after missing all of last season and taking a redshirt year. During his freshman season, Bruninga averaged 4.9 points and 2.4 rebounds. 
The 6' 8" forward gives the Redbirds a unique weapon when healthy. 
The Redbirds could have a weapon off the bench in 6'9" redshirt freshman Abdou Ndiaye. During a partial season at The Nation West Christian Academy in Port St. Lucie, he averaged 27.2 points, 14 rebounds and four blocks per game. 
Muller raves not only about Ndiaye's shot-blocking ability but his overall skill. 
"Abdou has been good. I point out how much he has improved since the summer. He brings something that no one else has with his shot-blocking ability," Muller said. "He is versatile defensively he can move his feet and do other things, so it is not just blocking that he brings to the table, but his shot-blocking is an elite asset." 
The Redbirds will be thrown into the fire right away facing three teams in their first four games that made the NCAA tournament last. Opening day starts on Wednesday, Nov. 6 with Belmont University. 
The Bruins are a difficult test returning 10 players from last year's tournament team. The biggest test from the Bruins will be a pair of second-year players in the form of Nick Muszynski and Grayson Murphy. 
"We don't have a lot of time for a learning curve we start with a hard schedule," Muller said. "I am hopeful that we will hit the ground running. I think we will learn a lot about ourselves the next couple weeks."